The Hitman's Bodyguard Tops Worst Weekend Box Office In Years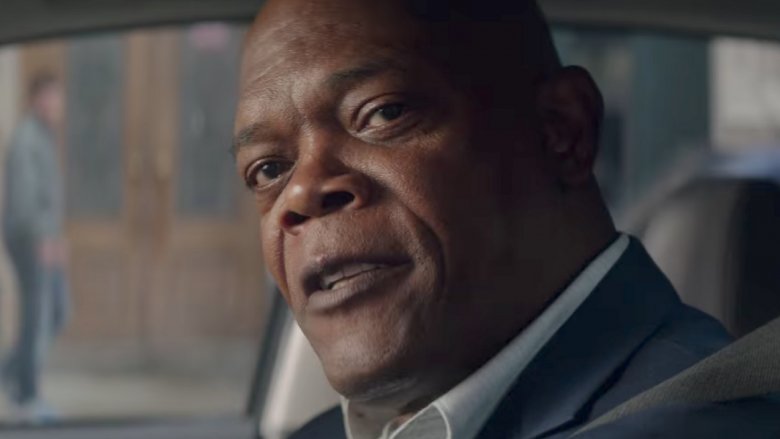 Hollywood is not going to be happy with this weekend's box office results. According to The Hollywood Reporter, the numbers posted during this dismal weekend at the movies are the lowest since the Sept. 21-23, 2001 weekend, when the nation was still reeling from the events of 9/11.
The Ryan Reynolds and Samuel L. Jackson action comedy The Hitman's Bodyguard won the weekend for the second time in a row, bringing in just $10 million. The movie, which stars Reynolds as an executive protection agent tasked with guarding Jackson's hitman against the advances of a dangerous dictator, was not a favorite with critics, earning a 39 percent on Rotten Tomatoes, but it impressed viewers, earning a 75 percent audience score on the same platform.
Second place also went to another holdover, the Conjuring spin-off Annabelle: Creation. That movie, already in its third week in theaters, took second place with a measly $7.3 million. While this is a good showing for the haunted doll movie, which only cost $15 million to make, it's extremely low for a number two finisher. Third place went to one of the weekend's few new releases, the critically panned animated film Leap!. The movie, which stars Elle Fanning, Maddie Ziegler, and Carly Rae Jepsen, wasn't necessarily a huge flop with a $5 million haul, but it was nowhere near enough to rescue a struggling weekend. 
One of the few rays of light was Jeremy Renner and Elizabeth Olsen's Wind River, which has been out for a month while it continues to expand into wider release. In its biggest weekend yet, the film brought in $4.4 million from 2,095 locations. While that is not an amazing finish, it does show that the well-reviewed thriller could have some legs through later weekends.
Things weren't as sunny for the weekend's other new wide release, the Bruce Lee biopic The Birth of the Dragon. The movie, which followed Lee's fight with kung fu master Wong Jack Man, was not a hit with critics or audiences, earning a 27 percent on Rotten Tomatoes and a 63 percent audience score. This dropped it down to the eighth place spot, where it brought in just $2.5 million from 1,618 theaters.
There's no fighting the idea that this weekend was an absolute disaster for the box office. While this is thanks in part to Hurricane Harvey shutting down theaters in the south and to the Floyd Mayweather and Conor McGregor fight taking away viewers on Saturday night, it can also be blamed on disappointing new releases without much advertising push. Although the end of August is frequently a sleepy time at the box office, last year saw the release of the surprise horror hit Don't Breathe, which opened to $24.6 million. This year, Hollywood is finding no such luck, making the last few weeks a disappointing capper on a bummer of a summer.
You can view this weekend's full box office results (via Box Office Mojo) below. 
Top 10 Weekend Box Office Gross
1. The Hitman's Bodyguard: $10,050,00 (-53.0 percent), $39,614,004 Total Domestic Gross   
2. Annabelle: Creation: $7,350,000 (-52.9 percent), $77,880,384 Total Domestic Gross  
3. Leap!: $5,015,500 (– percent), $5,015,500 Total Domestic Gross  
4. Wind River: $4,410,610 (+48.2 percent), $9,840,823 Total Domestic Gross  
5. Logan Lucky: $4,366,894 (-42.5 percent), $15,034,307 Total Domestic Gross  
6. Dunkirk: $3,950,000 (-40.3 percent), $172,479,030 Total Domestic Gross  
7. Spider-Man: Homecoming: $2,725,000 (-36.0 percent), $318,843,082 Total Domestic Gross  
8. Birth of the Dragon: $2,501,100 (– percent), $2,501,100 Total Domestic Gross  
9. The Emoji Movie: $2,350,000 (-47.1 percent), $76,431,471 Total Domestic Gross  
10. Girls Trip: $2,266,745 (-42.0 percent), $108,072,270 Total Domestic Gross