The Best CSI Episode In Season 5
Look at "CSI: Crime Scene Investigation" as a whole, and you'll notice that the CBS forensic drama's Season 5 marks a very particular point in the long-running, franchise-spawning series' history. Gil Grissom (William Petersen), Sara Sidle (Jorja Fox), Warrick Brown (Gary Dourdan) and the rest of the old gang are still very much out and about, while the two major Season 3 additions to the show's main cast — Al Robbins (Robert David Hall) and Greg Sanders (Eric Szmanda) — have had time to ease into their roles. Notably, the fifth season shows some notable personnel changes, like the rise of Greg the field agent, which marks the most significant change for the character that would eventually rack up the most episode appearances in the show.
All in all, as "CSI" seasons go, Season 5 is a pretty solid one. But which of its episodes is the strongest? Let's find out!
Quentin Tarantino raises Grave Danger above the rest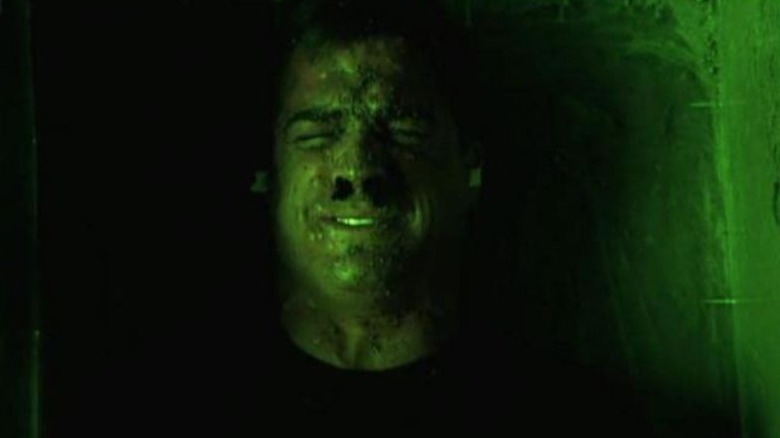 CBS
Every single "CSI" Season 5 episode has an IMDb rating of 7.2 or more, and no less than 10 episodes reach the four-star watershed of 8.0. However, there's no question of the most beloved episode of them all ... or, rather, episodes, because the season finale, "Grave Danger," is a two-parter. Both parts have a very cool IMDb ranking of 8.5, which is only fair, considering that a certain little-known director called Quentin Tarantino helmed the episodes. 
"Grave Danger" is essentially an incredibly claustrophobic race against time. A dangerous mastermind kidnaps Nick Stokes (George Eads) and buries him alive in a glass coffin. Meanwhile, the rest of the team has to find a way to save him, while being tormented by a live feed of his increasingly terrific ordeal. That's just the setup, mind you. Tarantino both directed and helped with the story, so both parts of "Grave Danger" are filled to the brim with increasingly nasty twists and shocking moments. This double episode is a truly fitting conclusion to a season, and a great, thrilling "CSI" story in its own right.