The CSI Episodes You Forgot Quentin Tarantino Directed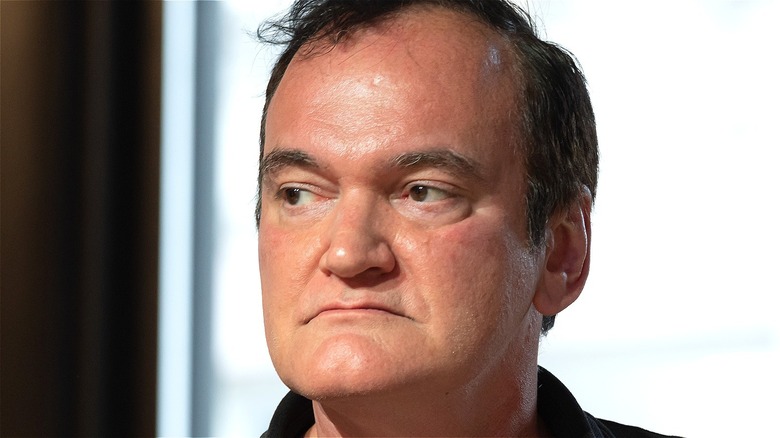 Noam Galai/Getty
Quentin Tarantino is an auteur writer and director known for long epics such as "Pulp Fiction" and "Once Upon a Time... In Hollywood." He has a distinct style and his movies are known for being chock full of homages and inside references. While he often writes his own films, Tarantino has shown in the past that he's willing to work with material that is not his own. For instance, Robert Rodriguez brought Tarantino on to direct a scene in his highly-stylized 2005 film "Sin City."
According to a piece in Wired, Tarantino enjoyed the experience. It also wasn't the first or the last time he lent his talent to another production. When looking at the director's filmography, you may be surprised to see Tarantino's name on an episode of the popular series "CSI: Crime Scene Investigation." But when watching the episode, it makes total sense that the director famous for his heightened content penned and directed the installment.
Tarantino directed the two-part Season 5 finale of CSI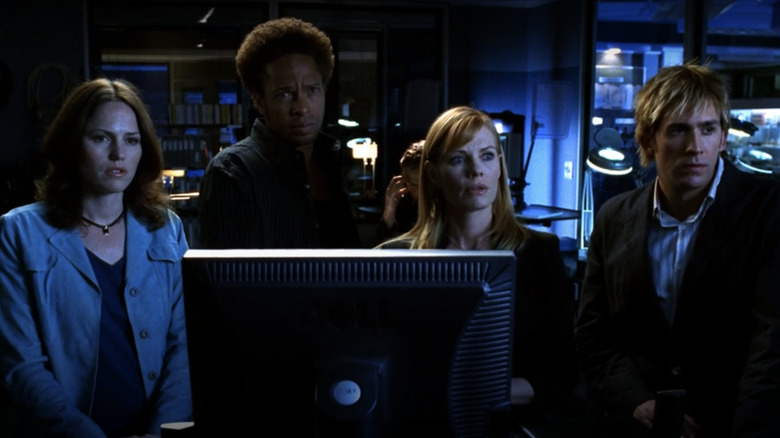 CBS/Hulu
It actually isn't so surprising that Quentin Tarantino would want to direct an episode of "CSI" considering he is a fan of the show himself. "It wasn't a challenge in that regard because ... I like the show," Tarantino said in a piece about his guest-directing gig (via Today). "I just wanted to do my episode of it." And that he did. 
Tarantino directed the Season 5 finale "Grave Danger." According to Today, the cast was well aware of Tarantino's appreciation for the show and they were excited at the prospect of him directing. Executive producer Carol Mendelsohn described Tarantino's mood on set as "pure joy." 
Not only did Tarantino direct the episode, but he also helped come up with the story. It became so involved that the original one-episode arc was stretched to two. The two-part episode sees the stakes higher than ever for the CSI team when Nick Stokes (Geroge Eads) is abducted at a crime scene. Gil (William Peterson) and Catherine (Marg Helgenberger) lead the charge to find Nick when they discover that a crime scene was staged in an effort to lure their colleague into a trap.
Tarantino loves burying people alive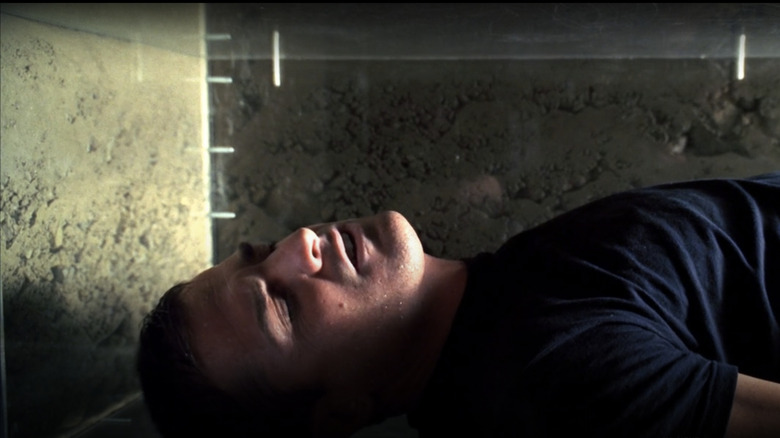 CBS/Hulu
It will be a long time before fans forget one of the most iconic scenes in the "Kill Bill" saga. After confronting Bill's brother Bud, The Bride (Uma Thurman) is captured and buried alive. Tarantino utilized this idea again in "CSI," and even took it one step further. While The Bride was buried in a wooden box, Nick is abducted and encased in a glass coffin. In the darkness, he can see his own terrified reflection as the perpetrator encourages Nick to shoot himself over a recorded cassette.
Even more disconcerting, Gil and his team have a live feed of Nick dying in his tomb. Not only are the circumstances horrific, but the storyline added emotional weight and consequences to the show. Nick's capture and potential death pushed the team to make moral concessions. Catherine implores her casino-owning father to give her $1 million for Nick's ransom, going against law enforcement policy. While Gil is the most moral and has the strictest principles, even he would do anything to get Nick back. These circumstances make the two-hour season finale anxiety-producing and compelling.