How Kellye Nakahara Went From Extra To A Star On MASH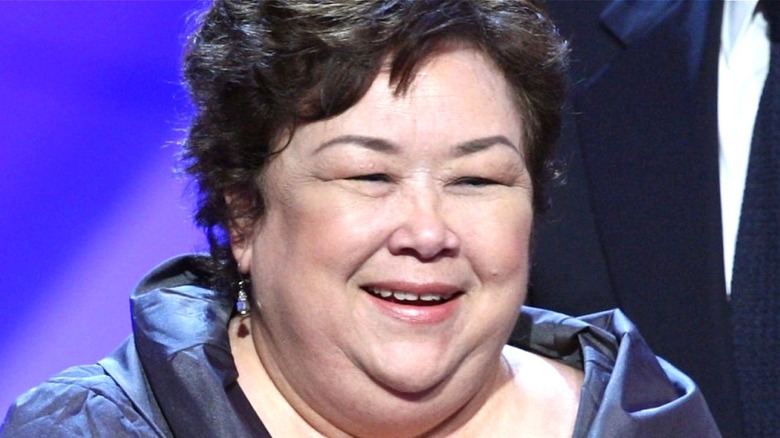 Alberto E. Rodriguez/Getty Images
During its 11-season run on Fox, "M*A*S*H" was pretty much the gold standard for both comedy and drama on the small screen. Like the Oscar-winning film that inspired it, "M*A*S*H" followed the travails of a mobile surgery unit amid the carnage of the Korean War. At the center of the fray was a crack team of doctors and nurses who got into all manner of kooky hijinks even as the toll of the war itself relentlessly bore down on each.
As it was, "M*A*S*H" was largely focused on Alan Alda's wise-cracking surgeon Capt. Benjamin "Hawkeye" Pierce, who, along with Loretta Switt's Major Margaret "Hot Lips" Houlihan, were the only characters credited in all 251 episodes of the series. There were obviously several other regular faces in the cast during the show's primetime tenure. But one of the more frequently, and perhaps unexpectedly credited players on "M*A*S*H" was a former extra who worked her way up to series regular.
Her name was Kellye Nakahara, and she ended up portraying one of the M*A*S*H unit's best-loved nurses in 171 episodes of the show. Here's how she went from extra to series star on "M*A*S*H." 
Nakahara endeared herself so deeply to the MASH team, they just kept beefing up her role
For much of her decade-long run on "M*A*S*H," Kellye Nakahara was, of course, credited as Nurse Kellye. During her early days, however, Nakahara was largely relegated to a background player with a nondescript name like "Nurse 1." But in a 2018 interview with NPR, the actor — who died in 2020 — admitted she more or less charmed her way into a promotion. "One of the scenes is me tap dancing, and it was really hilarious because I would think I was tap dancing and trying to practice tap dancing – which was awful – in my boots all the time while waiting for a scene to start," she recalled.
Nakahara went on to claim such off-screen antics were not only a hit with the cast and crew of "M*A*S*H," but ultimately began to inform her character. She said, "And all of the things that I really was off-screen, they put into my character. You know, a very, very competent person who was positive and upbeat and sweet." The actor told The Hollywood Reporter her character soon started getting more dialogue, and eventually even got a proper name, stating, "At some point, Alan (Alda) said he couldn't keep calling me Nurse 1. 'You're Kellye. Nurse Kellye." 
Indeed, Nakahara's charm helped change her first acting job from a background gig into a recurring, fan-favorite role. Thankfully, Nakahara always kept a dry sense of humor about her "M*A*S*H" breakout, telling NPR in that 2018 interview, "I just was so thrilled to be on that set ... we became such great friends that I think I was in every scene because I put myself in every scene ... and nobody told me to get out." Seems sometimes playing nice in Hollywood can get you pretty far indeed.