The Worst CSI Episode In Season 13 According To IMDb
Forged in the heat of gruesome investigations and high-stakes tension, "CSI: Crime Scene Investigation" ran for an impressive 15 seasons and over 337 episodes. "CSI" follows the exploits of a robust group of professionals that include blood splatter analysts, biologists, entomologists, lab technicians, detectives, and chemists, just to name a few of the skills and knowledge used by the Las Vegas based investigative unit.
Starring William Petersen, Marg Helgenberger, George Eads, Paul Guilfoyle, and Jorja Fox, "CSI" was at one point the most-watched show on the planet, with over 63 million viewers globally (via Mystery Tribune). Season 13 of "CSI" features several intense plots like D.B. Russell's (Ted Danson) kidnapped granddaughter, a harrowing mass murder at a restaurant, a slaying at a drug-fueled party, the pursuit of a cop killer, and a dead reverend that may be connected to the death of Warwick Brown (Gary Dourdan). With so many powerful events of Season 13 of "CSI," which episode could be considered the worst, at least according to IMDb?
According to IMDb users, Exile is the low-point of Season 13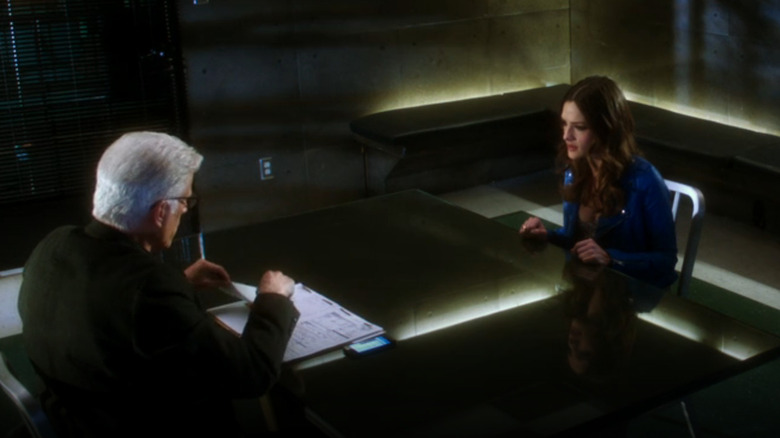 CBS
According to IMDb, the worst-rated episode of Season 13 of "CSI" is Episode 14, titled "Exile." IMDb scores are user-generated, and this particular episode received over 374 votes, with the overall average currently standing at 6.9 out of 10. 
"Exile" sees the "CSI" crew investigating the brutal murder of Cuban singer Silvana's (Sandra Vergara) sister, Marta (Alexandra Manea). It is revealed that Silvana and Marta are Cuban exiles, and they are essentially being stalked by a group called Los Gusanos, who want the singer to return to her country of origin, levying threats of physical harm and death should their words not be heeded. In typical "CSI" fashion, the members of the team exhaust several options and follow several leads, and at one point, believe that the leader of Los Gusanos is involved. However, it turns out that Silvana herself is the real killer, and that she was attempting to frame somebody else after she murdered Marta out of jealousy and spite. 
As for why "Exile" is rated the lowest, it seems that this particular mystery simply didn't resonate with viewers as much as other episodes that season. Considering there are several other Season 13 episodes that have scores only a few notches higher than "Exile," this might just be a situation where there, by definition, must be a lowest-rated episode, and this one happens to take the dubious honor.