The Saddest Death In CSI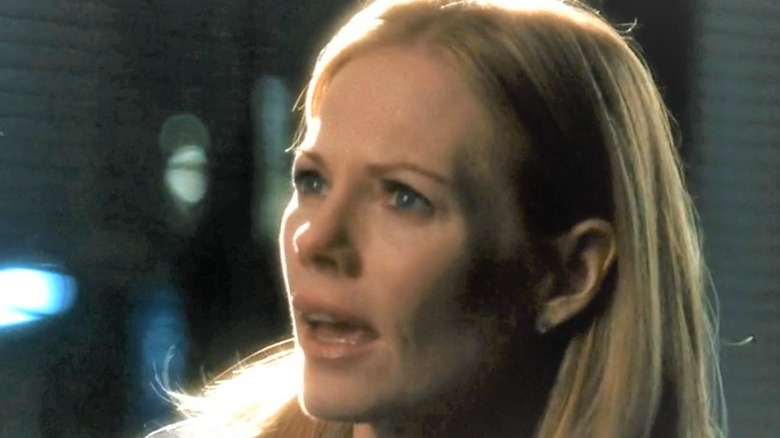 CBS
When it comes to the leaders of the popular crime drama television genre, "CSI: Crime Scene Investigation" can't be ignored. The original series ran from 2000 to 2015, and along the way, it launched various spin-off series, some of which gained their own impressive amounts of popularity. The series follows a unit of forensic investigators as they analyze some of the most gruesome crimes in Las Vegas, Nevada. In addition, the characters themselves resonated with viewers thanks to their unique personalities and backstories.
Throughout the course of its 15 Season run, "CSI" saw plenty of change, growth, and loss. As the show progressed, the inevitable cast adjustments were worked into the storylines along the way, whether through new characters being brought into the Las Vegas team or transferred out. Though sometimes, a cast member's exit was done in a much more somber fashion, with the character being killed off. These losses make for episodes that tug on viewers' heartstrings, and one death, in particular, was the hardest to bear for fans of the series.
Viewers are still distraught over the death of Warrick
In long-running shows like "CSI: Crime Scene Investigation," it's normal for characters to eventually make their exit so that the actors who play them can move along to their next endeavors outside of the fictional world. Or, in some cases, the actor and production simply decide it is time to part ways. Such is the case for actor Gary Dourdan, who played the investigator Warrick Brown on "CSI."
In a shocking Season 8 finale, Warrick is shot and left to die. This leads to a harrowing cliffhanger that isn't resolved until the Season 9 premiere when we see Warrick's final moments as he dies in the arms of his superior, Gil Grissom (William Petersen). Warrick's death still impacts fans today, with a recent Reddit post from u/ohsnapitsmesh reading, "this is the first time I've gotten emotional over a character death, he was my fave." Further down the post, the long-lasting effects of the loss were confirmed when u/themotherofsnitches wrote, "It's been years, and I'm still not over this death."
According to an Entertainment Weekly report from the time, Dourdan allegedly left on good terms with production. Whatever Dourdan's reasons for leaving may be, his character's death continues to strike fans right in their feelings.