The Worst Criminal Minds Episode From Season 8 According To IMDb
"Criminal Minds" may have ended after 15 seasons in February 2020, but it remains popular among fans of the police procedural genre. With the possibility of a long-awaited Season 16 on the horizon, many have been revisiting the series on streaming services.
Season 8 of "Criminal Minds" continues following the FBI's Behavioral Analysis Unit as they use psychology to track down murder suspects. This season tends to rank in the middle of the pack but is noteworthy for a significant (albeit temporary) casting change.
Fan-favorite character Emily Prentiss (Paget Brewster) briefly left the team and was replaced by Alex Blake (Jeanne Tripplehorn). The loss of Prentiss was felt by fans, who were also quick to embrace Blake. Because of this, the season is considered average among most fans.
Countless viewers have rated every episode of "Criminal Minds" on IMDb, and the rankings for Season 8 are surprisingly close. Every episode falls between a 7.2 and an 8.6 out of ten rating.
This is the lowest-rated episode of Season 8, according to IMDb.
Magnificent Light didn't impress Criminal Minds fans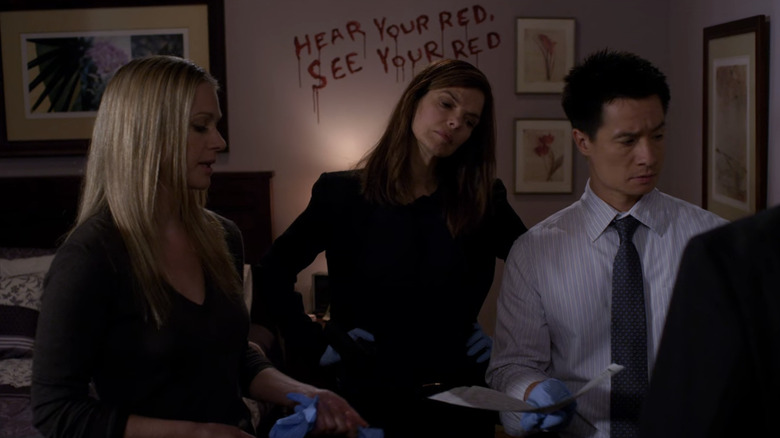 CBS
Based on nearly 2,000 ratings, "Magnificent Light" is the lowest-rated episode of Season 8. The episode currently holds a 7.2 out of 10 rating, which is relatively high considering the 875 one-star reviews it received.
"Magnificent Light" follows the team as they investigate fatal stabbings in Seattle, Washington, which are seemingly linked to a motivational speaker named Barry Flynn (Patrick Fabian). Nothing is quite what it seems in this episode as the team discovers that Flynn, who is self-isolating as part of a pre-show ritual, thus becoming a prime suspect, is also a victim in this fantasy-fueled crime spree.
In their four-star review of the episode, TheLittleSongbird pointed out that this isn't a bad "Criminal Minds" episode, but the writing is weak compared to previous episodes. They also add that several characters behave unusually, pointing to Penelope Garcia (Kirsten Vangsness), who they say becomes a caricature of her usual self in this episode.
Comparing it to a soap opera, they admit that the crime isn't intriguing, and the characters are shallow. "All in all, when describing 'Magnificent Light,' magnificent is not the right word," they concluded.