Every Criminal Minds Season Ranked Worst To Best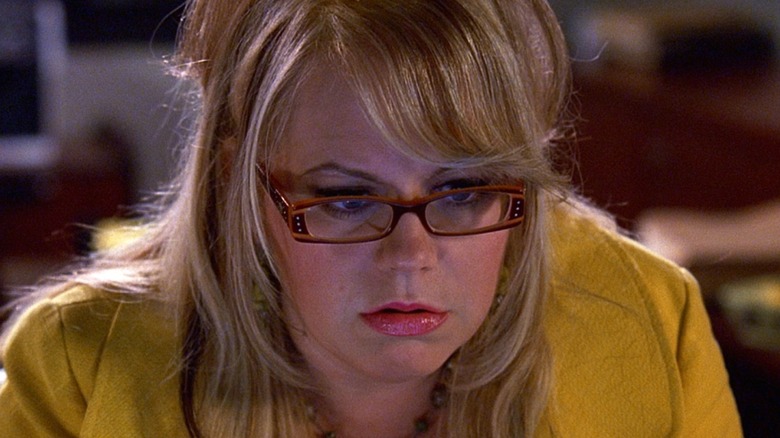 CBS
When it aired its fifteenth and final season in 2020, the CBS series "Criminal Minds" became one of the longest-running crime dramas in American TV history. For fans of the series who have been watching since 2005, the ending of the beloved FBI procedural was a hard pill to swallow. Luckily, the magical world of streaming means you can revisit the series any time you like and reminisce about your favorite episodes.
For a show that aired a stunning 324 episodes over its fifteen-year run, it's no surprise that some episodes are better regarded than others. While certain recurring killers -– season-long Big Bads in "Buffy the Vampire Slayer" speak -– make for compelling storylines, not all villains are created equal. Plus, the various casting upsets that have happened on "Criminal Minds" over the years mean that certain seasons have a harder time finding their footing than others due to the ever-changing lineup of the Behavioral Analysis Unit.
Frankly, if you haven't watched the series recently, it can be hard to remember what actually happens during each season. However, not to worry, we're here to jog your memory with an old-fashioned ranking. Since we're all about scientific accuracy at Looper, we've taken a statistically-minded approach to creating this ranking. Based on the average episode rating of each season on IMDb, here is our ranking of every season of "Criminal Minds" from worst to best.
15. Season 11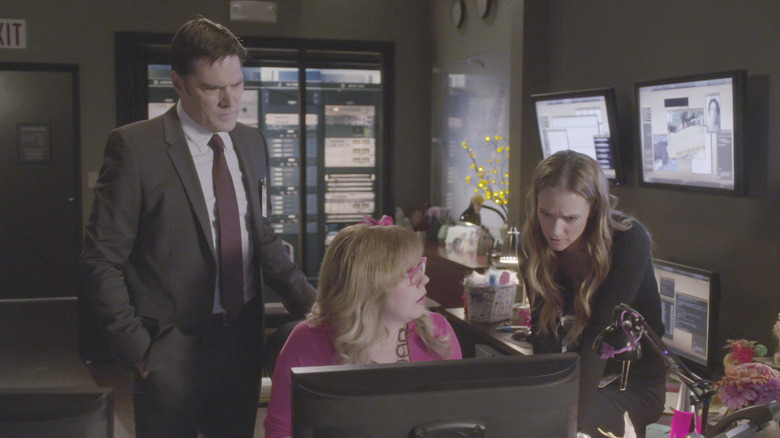 CBS
According to IMDb, Season 11 of "Criminal Minds" is the least-liked season of the series. There are a number of reasons why this is the case. Season 11 suffered a number of casting changes that upset the overall tone of the series. First, Kate Callahan, played by Jennifer Love Hewitt, left the show at the end of Season 10 because Hewitt wanted to spend time with her new baby. This was not hugely upsetting news for most fans, as Callahan was not a very popular character to begin with, but it meant there was another opening in the BAU. Luckily, this opening was filled by Hewitt's former "Ghost Whisperer" costar, the charming Aisha Tyler, who appeared as Dr. Tara Lewis.
Beyond that, A. J. Cook, who plays JJ, went on maternity leave at the beginning of the season, missing the first five episodes. In fact, when we do finally see JJ again, she's holding Cook's real-life infant son, Phoenix. Even more disappointing is the fact that Emily Prentiss only makes an appearance in one episode in Season 11, as actress Paget Brewster formally left the show at the end of the seventh season.
Season 11 did have a few high points though, such as the highest-rated episode of the season, entitled "Entropy," in which Aubrey Plaza plays a terrifying psychopath named Cat Adams who takes a particular interest in Reid. Plaza's thrilling performance is a welcome addition to a season that, for the most part, fails to satisfy.
14. Season 10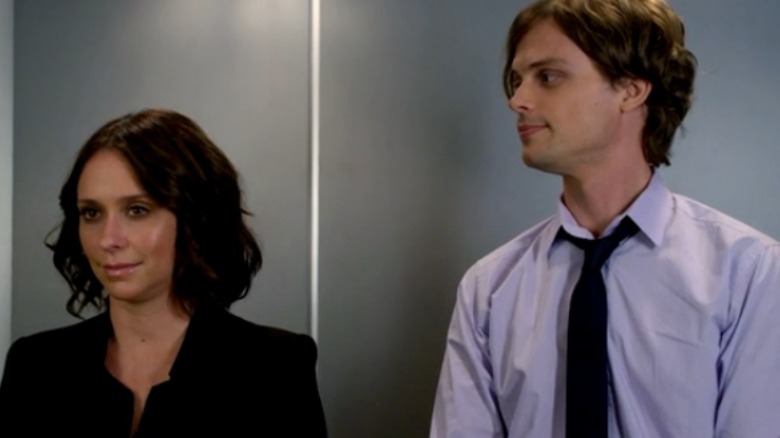 CBS
Season 10 saw yet another personnel change in the BAU when Alex Blake (Jeanne Tripplehorn) left at the end of Season 9 and was replaced by Kate Callahan (Jennifer Love Hewitt). Many fans were not happy with the addition of Callahan to the BAU, and fans even made a petition to get her off the show, although, in the end, she left because of her pregnancy, not the petition.
Casting changes aside, Season 10 just doesn't make an impact like some of the earlier seasons of the show do. Especially when compared to Season 9, which ended with Reid's life on the line after a shootout in Texas, Season 10 cannot deliver the same emotional punches. This season did focus slightly more on some of the agents' love lives -– namely Hotch's (Thomas Gibson) relationship with Beth (Bellamy Young) and Morgan's (Shemar Moore) with Savannah (Rochelle Aytes) -– but we never knew enough about these relationships to become invested. Morgan's relationship with Savannah also resulted in him (mostly) leaving the show after she became pregnant with his child. 
On the plus side, Season 10 does mark the first appearance of Mr. Scratch (Bodhi Elfman), a character who comes into play in later seasons.
13. Season 12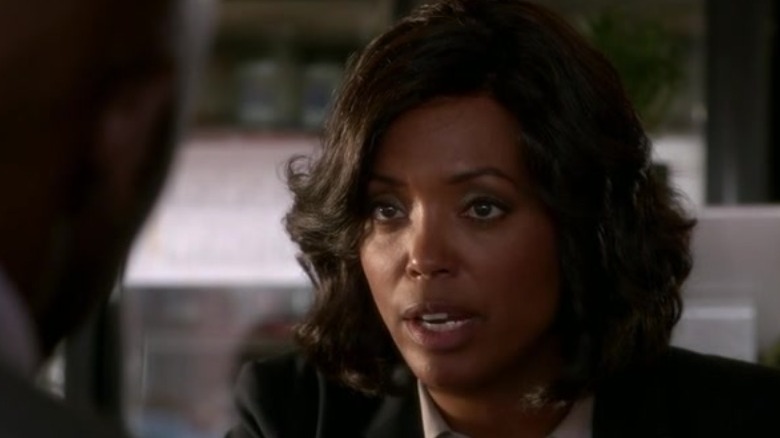 CBS
The best thing about Season 12 of "Criminal Minds" is the return of Emily Prentiss after her extended absence. The reason for her return, however, was rather controversial, as Season 12 included even more shake-ups to the BAU team. After Thomas Gibson was fired following an altercation between him and a writer, Prentiss steps in to take Hotch's place as chief of the BAU. Season 12 also sees the return of Dr. Lewis and the addition of Luke Alvez (Adam Rodriguez) as a replacement for Morgan. Stephen Walker also joined the team during this time, but actor Damon Gupton was let go after only one season.
Season 12 also features more of Mr. Scratch, or Peter Lewis, but this storyline likely did not go as planned due to Gibson's abrupt exit from the show. In fact, the reason given for Hotch's departure is that he and his son have to go into witness protection due to the threat Mr. Scratch poses. In an unusual turn for the series, much of the first half of the season follows the team trying to track down and capture thirteen serial killers who escaped at the end of the previous season. While the thrill of watching the team catch dangerous killers is a large part of the show's appeal, this plotline isn't particularly inspired. The season does start to pick up near the end when Reid gets sent to prison by Cat Adams, but it's not enough to redeem the season.
12. Season 13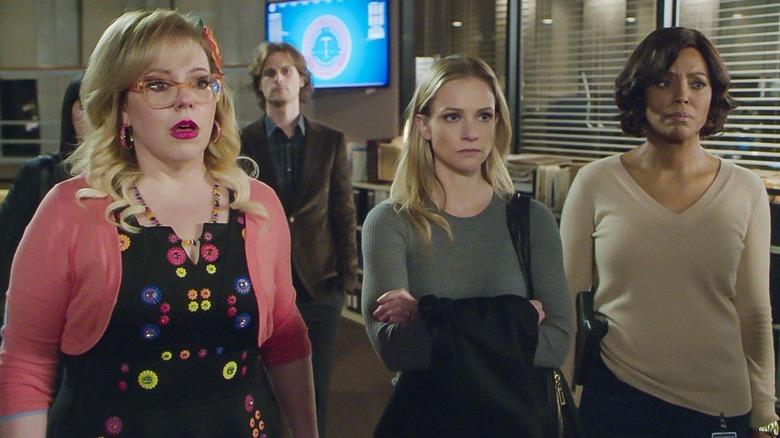 CBS
Season 13 of "Criminal Minds" begins right where Season 12 left off — with the team dealing with the aftermath of Mr. Scratch's attack and Reid's time in prison. Season 13 also sees yet another shake-up at the BAU, with the addition of Matthew Simmons (Daniel Henney), who previously appeared in the canceled spin-off "Criminal Minds: Beyond Borders." Though the team does seem to have found their footing to some extent in Season 13, it's just not quite as compelling as earlier episodes.
Even though he left the series two seasons earlier, Morgan returns for a single episode to help Garcia (Kirsten Vangsness) when a case they come across relates to the time Garcia was shot in Season 3. Despite some moderately interesting storylines revolving around our beloved BAU members, parts of the season still tend to feel like filler. As is often the case with "Criminal Minds," the first few and the last few episodes are the best of the season, as they often relate to a larger problem the team must overcome. 
There is also a somewhat amusing (and terrifying) episode in the middle of the season about clowns directed by Matthew Gray Gubler himself, part of a tradition in the later seasons of cast members each directing their own episodes.
11. Season 14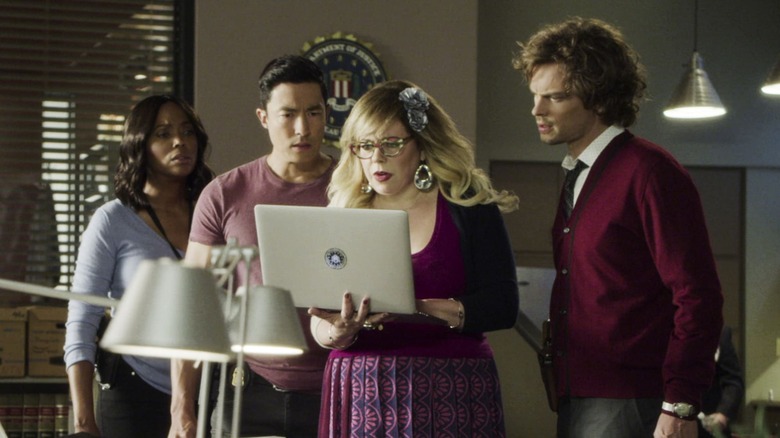 CBS
Season 14 was the second-to-last season of "Criminal Minds" and only contained 15 episodes (instead of the 22 or 23 of a regular season). However, despite the abbreviated nature of the season, the first episode, entitled "300," was the three-hundredth episode of the show.
The season begins with Garcia once again traumatized (it's no wonder she left the BAU in Season 15) in the wake of a kidnapping. We also learn more about some of our team members, especially JJ, who, in one of the best episodes of the season, revisits the trauma of her sister's suicide while working on a case. One mid-season episode also delves into Emily's past with a case related to one they worked on many years ago, leading to, once again, even more flashbacks.
It makes sense for a show with over a dozen seasons under its belt to start looking backward, and these episodes aren't unwelcome in a series that can sometimes breeze past all of the terrible things the agents have endured. The problem with this season is mainly that you can tell why the show is doing this, rather than it feeling like a natural progression of the story. Interestingly enough, Season 14 actually ends on a rather joyful note, with Rossi (Joe Mantegna) remarrying his ex-wife Krystall (Gail O'Grady). It's not a bad way to do a finale, but it does make one wonder what the season would have been like had CBS ordered more than 15 episodes.
10. Season 6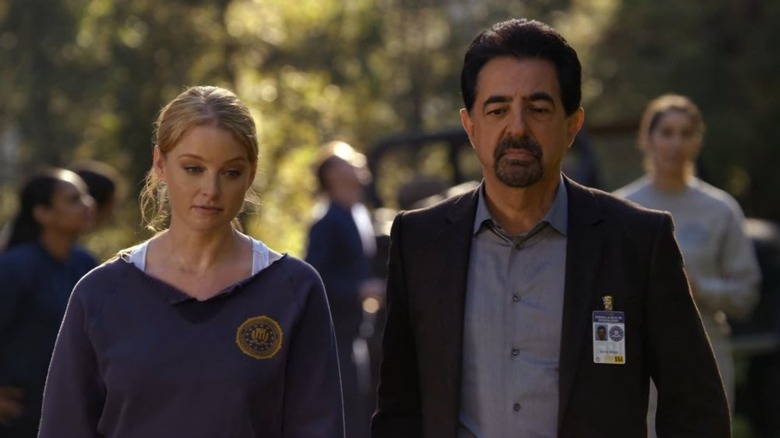 CBS
Season 6 featured yet another lineup change for the BAU team. Paget Brewster and A.J. Cook were fired from "Criminal Minds" after Season 5, and fans were not happy. There was even a petition to bring A.J. Cook back, and she did return to the BAU in the last two episodes of Season 6. Brewster was contractually obligated to appear in 18 of the 24 episodes of Season 6 but left after Season 7. 
Brewster told the AV Club that she felt they were fired because executives wanted new women on the series to keep it fresh. Sure enough, producers brought on newcomer Ashley Seaver (Rachel Nichols) to replace JJ. Fans were not happy with this replacement, however, and Nichols was let go after only one season. The idea that "Criminal Minds" could replace JJ with another woman was the biggest mistake of the season, and it was a decision that continued to reverberate for many seasons. 
Thankfully, some interesting arcs help prop these episodes up. At the end of Season 6, Prentiss fakes her death to escape Ian Doyle. It's an exciting plotline made all the more interesting when we learn that JJ knew the whole time that Prentiss was still alive, and we're glad Prentiss was able to come back the following season. However, these casting changes had a clear effect on the quality of the season, and the loss of Cook and Brewster posed a nearly insurmountable challenge for the show's writers to overcome.
9. Season 8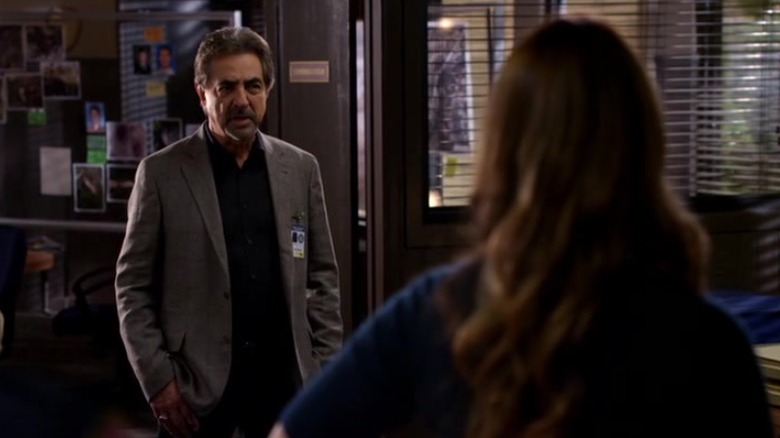 CBS
Season 8 was the first season of "Criminal Minds" without Emily Prentiss since she joined the team at the end of Season 2. Her replacement was Alex Blake, a linguistics professor at Georgetown. For the most part, Blake is a welcome addition to the team, even though Prentiss' absence is felt throughout the season. It's fun to see someone on the team whose intelligence is perhaps on par with Reid's, especially since Reid is usually all alone in his (typically brilliant) ramblings. In fact, Blake was fans' favorite temporary team member, according to a Reddit poll on the subject.
Season 8 is a fairly average season as far as "Criminal Minds" goes, with the worst aspect of the season being the lack of Prentiss. However, the addition of Blake, along with some pretty interesting and intense episodes, brings the season to a median place in our ranking. One particularly emotional plotline occurs in the middle of the season when Reid's girlfriend is kidnapped and eventually killed. The best episodes of "Criminal Minds" are often those where a team member is personally affected by a case they're working on, and this storyline certainly fits that description. 
It's an intriguing plot for Reid in particular, as he is the team member who is the most cerebral, sometimes at the expense of his more emotional side. Finally, the season also ends with another rather shocking twist in the death of Erin Strauss (Jayne Atkinson).
8. Season 5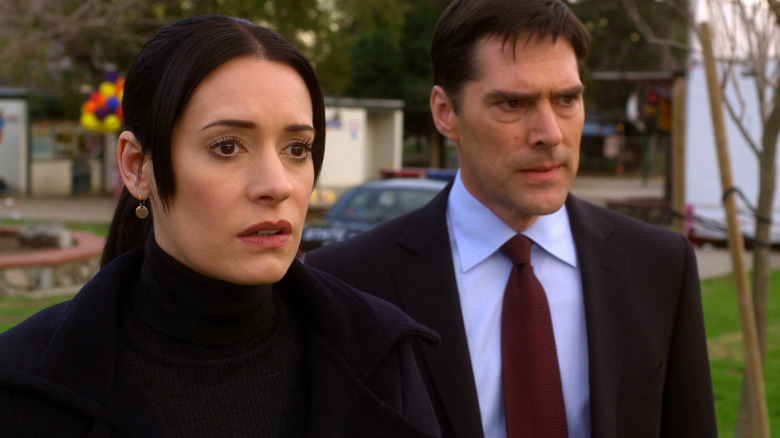 CBS
Season 5 is a pretty solid set of episodes of "Criminal Minds." This season delves more into the agent's personal lives –- such as the case that takes them to Rossi's Long Island hometown -– and has some fearsome killers. One such killer is the Reaper (Thomas Howell), who takes an interest in Hotch and his family. A significant part of the season follows Hotch's secret quest to catch the Reaper, which ends with the team furiously trying to hunt him down before he can harm Hotch's family. Season 5 also brings back a memorable antagonist from Season 1, the Fox (Neal Jones).
A lot of Season 5 is fairly Hotch-centric, which could be positive or negative depending on your opinion of him. Both the Reaper and the Fox are interested in getting to Hotch, which causes him to question his place at the BAU. Hotch also has to deal with the loss of his ex-wife, Haley, this season, one of the more shocking moments thus far. 
Even if you're not a fan of Hotch, it's still interesting to see such a stoic character grapple with the difficulty of his job. However, it's also kind of annoying to watch Hotch go off on his own instead of taking his problems to the team — the same mistake Elle (Lola Glaudini) made in Season 2. On the plus side, there are no sudden lineup changes this season, giving it some consistency.
7. Season 9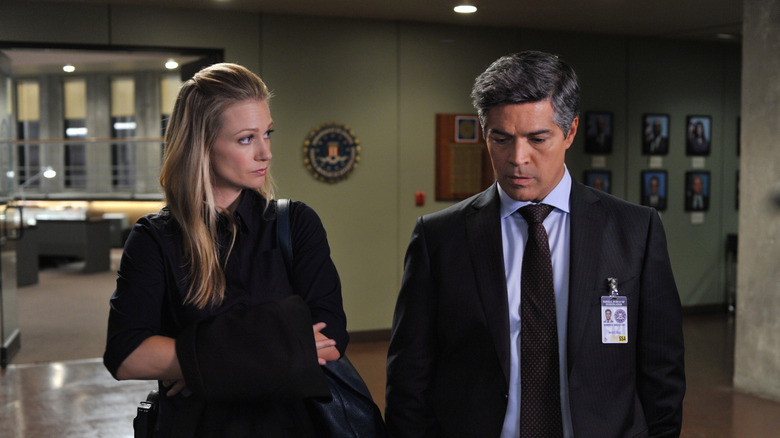 CBS
In Season 9 of "Criminal Minds," we finally learn about what JJ was doing in Season 6 while supposedly working at the Pentagon. After Strauss' death in the previous season, Mateo Cruz (Esai Morales) replaces her as the new section chief. It's clear that Cruz and JJ know each other, but neither will reveal the nature of their relationship. It's finally revealed -– in the 200th episode of the series –- that they worked together on a secret mission to apprehend Osama Bin Laden, during which JJ suffered a miscarriage. To be honest, it's kind of laughable that they tried to write off JJ's absence by saying that she was busy apprehending one of the most infamous terrorists of all time, but we'll at least give the writers credit for taking a big swing here.
We really can't complain too much, because JJ is such a lovable character that any chance to learn more about her life is always welcome. In addition to the revelation about JJ's miscarriage, the 200th episode also sees the return of Prentiss and Strauss (in a flashback, of course). For Prentiss fans, it's wonderful to see her again, but it also makes her absence throughout the rest of the season more apparent. The highest-rated episodes of the season make up the two-part finale in which the team travels to Texas to try and catch the Preacher (Brett Cullen), which serves as a satisfying bookend to the season.
6. Season 7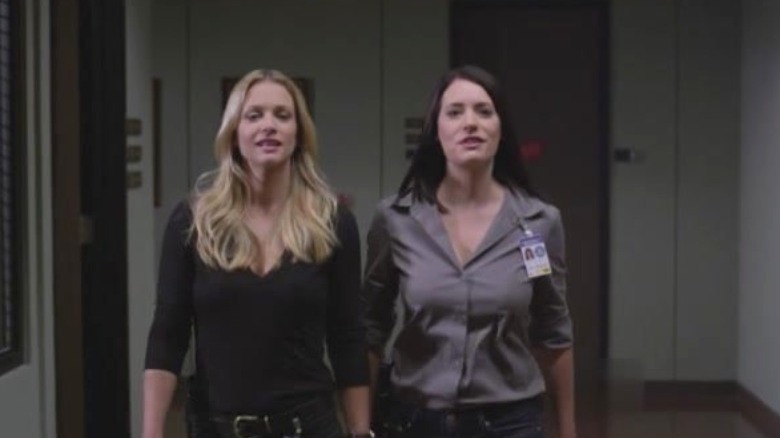 CBS
The best thing about Season 7 is that it sees the return of both JJ and Prentiss to the BAU. The worst thing about Season 7 is that it sees the exit of Prentiss once again. Prentiss' return is by far the most interesting storyline in Season 7, as the rest of the team are understandably hurt that Hotch and JJ knew she was alive the entire time but said nothing. As Morgan eloquently puts it in the first episode of the season, "Any issues? Yeah, I got issues."
Of course, as the team so often does, the BAU is able to recover from this betrayal and Prentiss once again joins the team. In addition to the very emotional first two episodes of the season, the last two episodes of Season 7 are some of the best, as is often the case with "Criminal Minds." Season 7 also sees the return of JJ's husband, Will LaMontagne (Josh Stewart), as we learn more about JJ's home life. In the two-part season finale, Will gets shot and is taken hostage by a team of dangerous bank robbers. Overall, Season 7 offers some thrilling story arcs alongside some hard-hitting emotional revelations for the entire team.
5. Season 1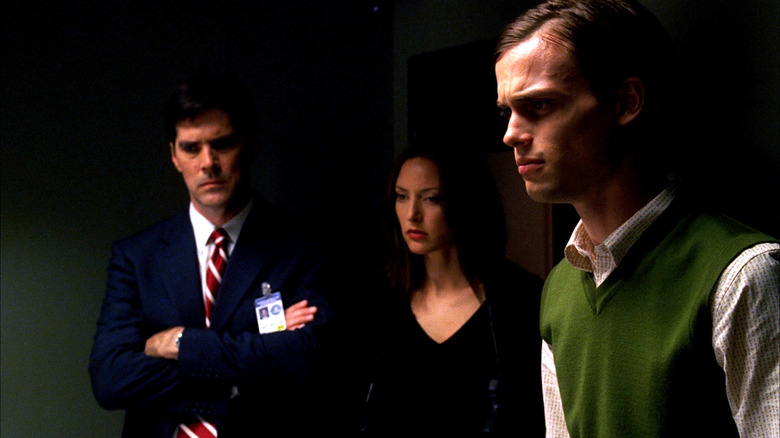 CBS
Season 1 is where it all begins. The original lineup of the BAU consisted of Hotch, JJ, Spencer, Morgan, Gideon (Mandy Patinkin), and Elle. For fans of "Criminal Minds," there's something nostalgic about the original team and earlier seasons when everything was just a little bit simpler. While Gideon may be a divisive character, he's extremely important to Reid and his development as an agent, and Mandy Patinkin does a great job portraying him. Elle is also controversial in the "Criminal Minds" universe, but maybe that's also what makes these early seasons so interesting -– the characters are complicated.
The killers in Season 1 aren't quite as horrific and long-lived as some of the killers in later seasons, but the storylines of Season 1 still pack a punch. Plus, the plot still feels fresh at this point, and there isn't the sense of melodrama that sometimes tends to overtake the later seasons. It's just good, scary, fun. Season 1 also ends with an especially dramatic cliffhanger wherein Elle gets shot by an unsub in her own home, and the shooter writes on the wall with her blood. Clearly, this is the kind of stuff fans want to see from "Criminal Minds," even if Elle wasn't the most popular character.
4. Season 15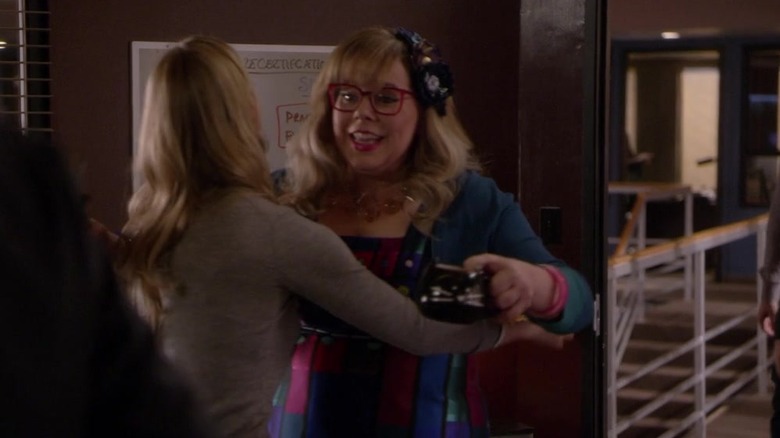 CBS
Season 15 was the final season of "Criminal Minds" on CBS. Whether it is because the season is actually good or because fans were simply overwhelmed by nostalgia, Season 15 is the fourth-highest-rated season on IMDb. Much of the season deals with the characters deciding what their futures will look like. A good portion of the season focuses on Reid, who has been through so many traumatic events over the years that it's a relief to finally see him trying to deal with his experiences.
Season 15 also opens with the fallout of a rather divisive plotline from the end of Season 14, which sees JJ telling Reid she's always loved him while they are held at gunpoint. A lot of fans weren't happy with this story, and luckily it (kind of) gets dealt with in Season 15 when JJ tells Reid she does love him but will never leave her husband and kids. We also get to see a lot from Garcia in the season finale, who, like Reid, has struggled a lot with her mental health as a result of her work at the BAU. Garcia is the only team member who leaves the BAU –- despite Prentiss and JJ receiving job offers -– and the season does an admirable job of wrapping up over 15 years of storylines.
3. Season 3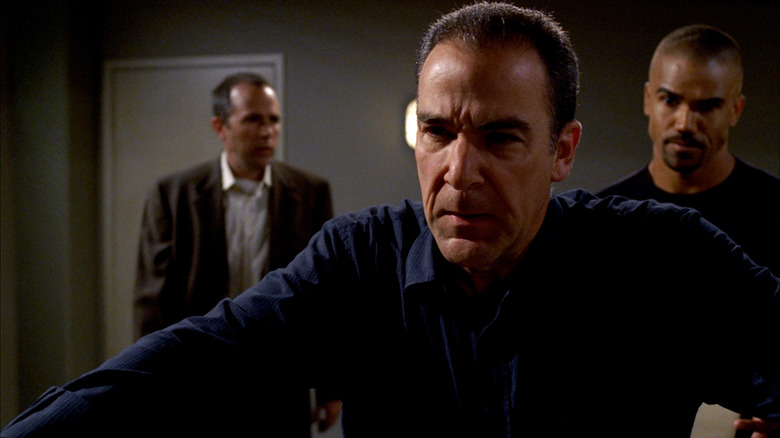 CBS
Season 3 is that sweet spot in "Criminal Minds" where the long-standing lineup of the BAU has finally coalesced and the stakes have begun to get even higher than in previous seasons. Gideon leaves the BAU at the beginning of Season 3 because of the trauma he experienced following the murder of his girlfriend, and he is replaced by former BAU member David Rossi. There seems to be something of a consensus that fans like Rossi more than Gideon -– he is a bit more cheerful, after all –- so Rossi's addition to the team was a welcome change for many. Prentiss, who joined the team in Season 2, also appears in every episode of Season 3.
Season 3 features a very distressing two-part episode wherein Garcia gets shot –- the start of her many traumas on the show –- and Hotch struggles with his home life, eventually getting divorced from his wife, Haley. In classic "Criminal Minds" fashion, the season also ended with a cliffhanger in which the BAU must figure out if a series of random shootings are the work of a team of killers. Season 3 stands out for being the one that introduces us to the team we would come to know and love and delivers high-stakes action along the way.
2. Season 4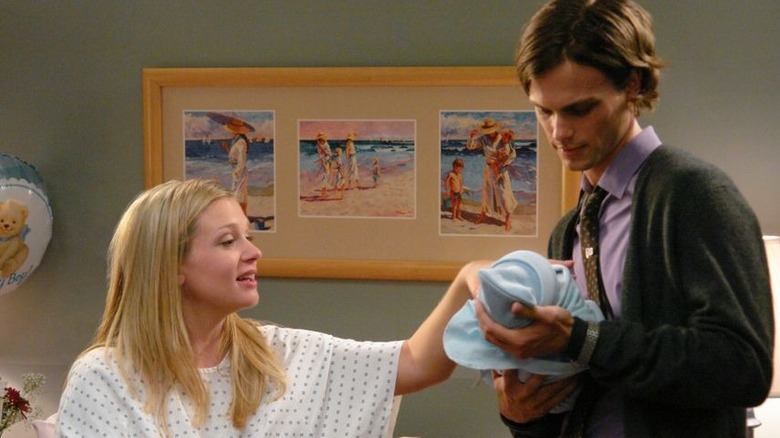 CBS
Like Season 3 before it, Season 4 features all of "Criminal Minds" most beloved team members and some pretty horrific villains for the team to fight. The season picks up where the Season 3 finale left off, with the team trying to catch a group of terrorists. Season 3 also sees JJ's having her first pregnancy and going on maternity leave after the birth of her child. The now-divorced Hotch must also face down the Reaper, who reappears in later seasons.
There are some pretty thrilling moments that make Season 4 a top-notch season. These include an episode where Reid and Prentiss go undercover in a cult, several episodes where Reid spends time in Las Vegas with his mother, and one case involving an anthrax attack. We also get to learn more about the agents' pasts this season, which is always an exciting addition to any episode. Jane Lynch is featured in several episodes in Season 4 as Reid's mother, and her recurring role is one of the most important in the whole series. It's a classic season with tons of thrills and chills that still resonate today.
1. Season 2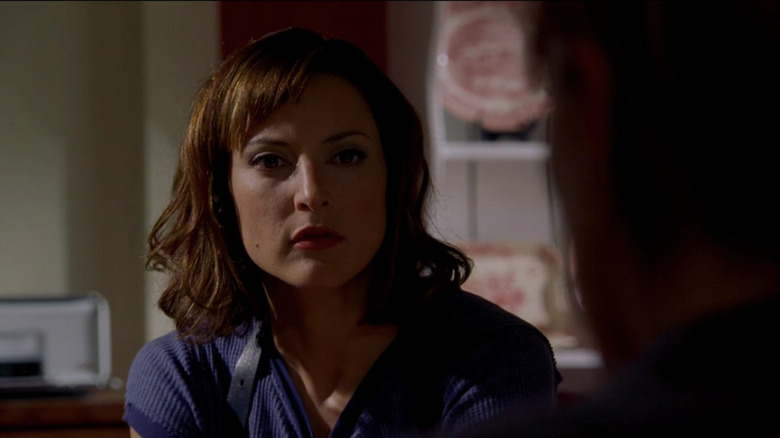 CBS
Like many other seasons of "Criminal Minds," Season 2 features some pretty significant personnel changes. However, unlike later seasons, Season 2's lineup changes were largely well-received by "Criminal Minds" fans, which likely contributes to its top spot ranking by IMDb users. While Elle was not particularly beloved by fans, Prentiss, on the other hand, would go on to become a favorite of the team. This is also the only season where we get to see Prentiss and Gideon together, which makes for an interesting dynamic on the BAU.
Despite how many fans feel about Elle, her exit from the series was pretty gripping and made for compelling television. After being attacked and shot in her own home in the Season 1 finale, Elle is traumatized, which leads her to shoot another unsub who attacks women in their homes. When Hotch confronts her, she displays no remorse for her actions and eventually quits before Hotch can discipline her. 
Season 2 also features a riveting storyline for Reid, who gets abducted and tortured by a serial killer, and an emotional case for Morgan, who must confront the abuse he experienced as a child. The thing fans seem to love most about "Criminal Minds" is the characters and the journeys they go on, and Season 2 starts to develop each character more fully, making it no surprise that it's such a highly-rated season.