Anya Taylor-Joy And Alexander Skarsgård Had More Fun On The Northman Set Than You Think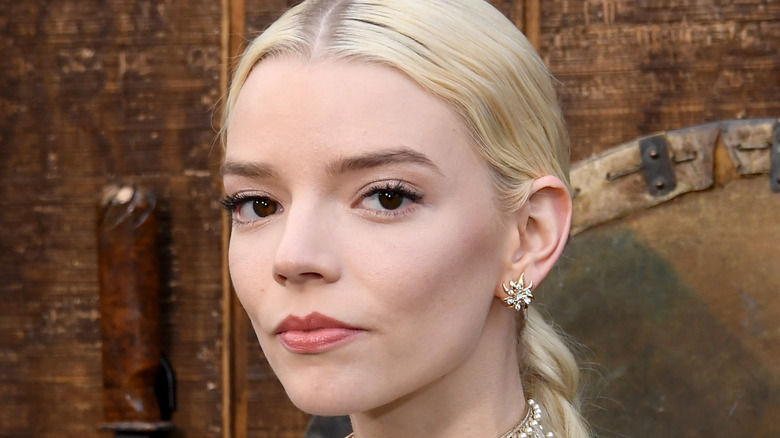 Jon Kopaloff/Getty Images
Director Robert Eggers' films have become notable for a certain aesthetic. Previous films "The Witch" and "The Lighthouse" are stark, specific, and at times daunting. During the events of "The Witch," a Puritan family is tormented by the specter of a witch who lives in the woods near their settlement, culminating in young girl Thomasin (Anya Taylor-Joy) being seduced into signing her name in the Devil's book. Though her character suffers during the course of the movie, Taylor-Joy had no problem returning for Eggers' new film, "The Northman." Just as "The Witch" delves into real-life experiences of 17th century New England, "The Northman" drops viewers into an uncompromising vision of 10th century Iceland. 
Taylor-Joy joins Alexander Skarsgård, who plays Amleth, a Viking prince whose kingdom was stolen from him by his uncle, Fjolnir (Claes Bang). Amleth swears revenge and embarks on an odyssey to reclaim what is rightfully his through gore and mayhem. With such brutal subject matter, it stands to reason that not every day on set would be a walk in the park. Thankfully, this time around, Taylor-Joy had a secret weapon to combat the intensity her material: Alexander Skarsgård. 
The actress recently shared her experience working with Skarsgård, and explained how he brought quite a bit of levity to an apparently brutal shoot.
The two actors had a better time than their characters
According to the critics, "The Northman" is as blood-soaked as it is immersive. The nonstop, adrenaline-pumping film features Alexander Skarsgård and Anya Taylor-Joy in many high-intensity situations as Amleth journeys on his quest for revenge. But even though the subject material is dire, the actors had quite a different experience actually making the movie.
"We're so lucky because we really like each other. We just have a very good sibling-like relationship. And we had a blast," Taylor-Joy told Access. "There were definitely moments where directly before action we were just laughing our heads off." The actor also went on to say that the two of them had such a good rapport on set that it wasn't always easy to remember to get back into character when the cameras started rolling again.
This is glaringly different from the experience of the movie itself, according to the reviews. The contents of the film leave little time for reprieve as Amleth races at breakneck speed towards his end goal of killing Fjolnir no matter the consequences. True to Robert Eggers' talent, it seems that "The Northman" will be everything that it is promised when it hits theaters on April 22nd.