The How I Met Your Mother Reference You Likely Missed On BoJack Horseman
For six seasons, "BoJack Horseman" — Raphael Bob-Waksberg's show about a talking horse — explored heavy topics such as self-worth, addiction, and death against the backdrop of a cast of colorful characters. Set in an alternate Hollywood where many characters are talking animals, the animated series follows the life of the titular horse (Will Arnett), a washed-up actor who used to be the lead on a '90s sitcom called "Horsin' Around." Since his successful years in the comedy world, BoJack has become a joke to his peers. His dream to star in the serious drama "Secretariat" is fraught with obstacles and the fact that no one can take him seriously. Things start to look up when he joins forces with Diane Nguyen (Alison Brie), whom he hires to ghostwrite his memoir. But the closer BoJack gets to self-actualization and maybe even being a better person, he often backslides.
"BoJack Horseman" is a unique telling of the pitfalls of humanity. These topics are serious and definitive of the series, especially in the final episode of the show (via Vox). However, its humor cannot be discounted either. Just as in life, "BoJack Horseman" has dark moments interspersed with comedic and sometimes absurdist moments. Some of these moments even draw from sitcoms themselves, with one reference to the fan-favorite CBS show "How I Met Your Mother."
BoJack refuses to be as nostalgic as Ted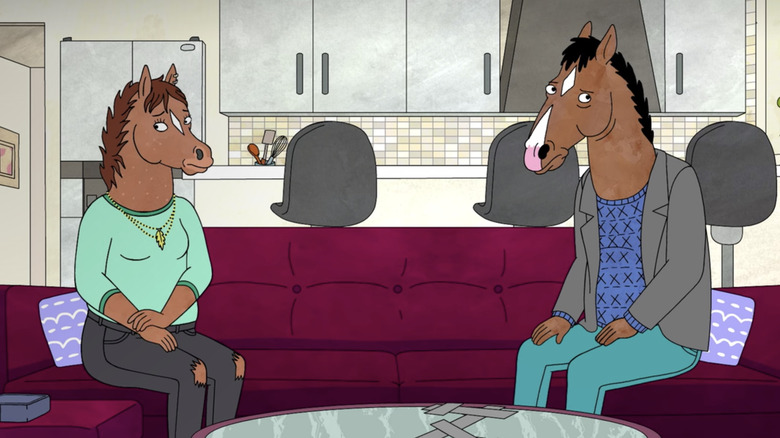 Netflix
"How I Met Your Mother" aired for nine seasons and became one of the most beloved sitcoms of the era. Starring Josh Radnor as Ted Mosby, the series follows Ted's exploits to find love as an older version of himself –- voiced by Bob Saget -– explains to his children how he met their mother. Though ultimately, the series finale was more about how Ted Is asking his kids' permission to date Robin (Cobie Smulders) once again, Ted is a romantic who searched for a wife for a long time.
On the other side of the fence, BoJack Horseman is not a romantic. In fact, he is shocked when a young girl named Hollyhock (Aparna Nancherla) shows up claiming to be his daughter. The thought of having to be selfless and take care of a teenage girl sends BoJack into a tailspin, but Hollyhock is only interested in hearing about her mother. Instead of any honest communication, BoJack quips, "What do I look like, Josh Radnor?" As one of the most successful sitcoms of the past decade, it makes sense that BoJack would be aware of "HIMYM." But his attempt at a joke is met with deafening silence from Hollyhock.
"Nothing for Josh Radnor," BoJack muses. "How quickly we forget." Sadly, this is the way of many sitcoms. "How I Met Your Mother" concluded in 2014, the same year that "BoJack Horseman" premiered. Even with Hulu's sequel "How I Met Your Father" renewed for a second season, some of the best are indeed forgotten.