How RHONJ Fans Really Feel About Teresa Giudice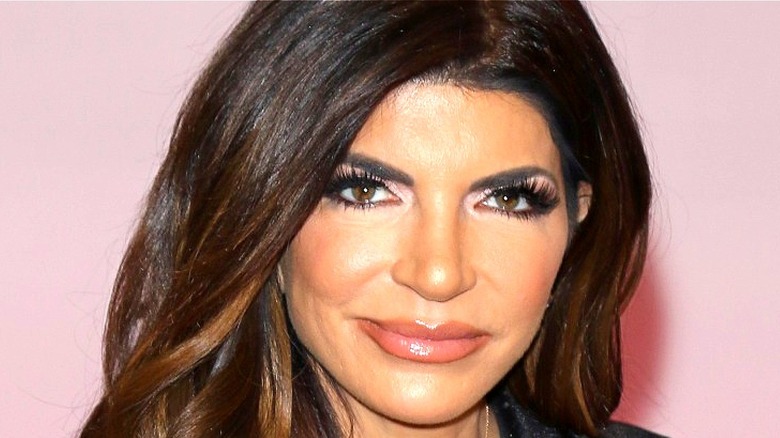 Jim Spellman/Getty
Since Season 1 of "Real Housewives of New Jersey," Teresa Giudice has been central to the show. She put Bravo's series on the map when she flipped a table during her debut season and has brought her own specific kind of drama to the show every year since. Unlike most of the other "Real Housewives" cities, "RHONJ" relies heavily on Teresa's family dynamics. Her sister-in-law Melissa Gorga, the wife of her brother Joe Gorga, and her cousin Kathy Wakile joined the show in Season 3, adding longtime family tension to a show already filled with plenty of reality TV fodder. 
Teresa has arguably had one of the most tumultuous reality TV careers of all time. In 2014, she was sentenced to 15 months in federal prison after she and her then-husband Joe Giudice pleaded guilty to 41 counts of fraud (via New York Times). Following her sentence, Joe served his own time in prison and was subsequently deported to his birthplace of Italy. Teresa and Joe got divorced, but currently co-parent their four daughters.
Teresa is in a totally different place in her life during the current season of "RHONJ." She's newly engaged and moving out of her longtime home. Although things are good, that doesn't mean she's not involved with the "Real Housewives" drama as always. Fans online have plenty to say about Teresa's behavior as of late, and their comments don't always align with #TeamTre.
Real Housewives fans have mixed feelings about Teresa
"Real Housewives" fans are pretty divided when it comes to Teresa Giudice. Considering that her wild life story has provided so many great seasons of TV, some fans like u/iliketoeatwatermelon on Reddit consider her to be the greatest housewife of all time. "I know a lot of people don't like her but you can't deny her impact. 'RHONJ' is nothing without her," they wrote. Others like @j70446263 on Twitter go as far to say that "Real Housewives of New Jersey" is the Teresa Giudice show. 
Others, like u/whoknows324 on Reddit, do not understand the Teresa hype. "I don't understand how she's a fan favourite at all. I'm no Melissa Gorga fan but Teresa seems extremely jealous of her," u/Fearless-Dot9534 wrote of their love/hate relationship with the star. 
Some viewers, like u/Destineigh14, go as far as to give Teresa the title of worst Real Housewives star of all time. "I appreciate her ability to bring some mess into the seasons but her inability to apologize, admit when she's wrong, or just to be a good friend/sister is sickening to me," they wrote. Many people agree, including U/IrishHazel who believes they will always be #TeamGorga for as long as the families are on the show. "I don't see myself EVER coming around to liking her," they wrote about Teresa.