The Real Housewives Of New Jersey Season 12 Release Date, Cast, And Trailer - What We Know So Far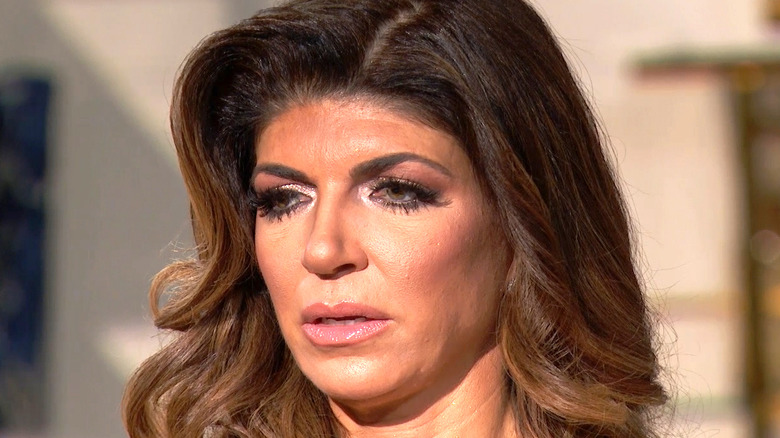 Rodolfo Martinez/Bravo
Consider this an official petition to change the state of New Jersey's nickname from "The Garden State" to "The Most Dramatic State," because if the past 11 seasons have taught us anything, it's that Bravo's "Real Housewives of New Jersey" knows how to bring the drama. That's right: We're 11 seasons into one of the most epic "Real Housewives" franchises to ever exist. For more than a decade, audiences have watched family secrets come out into the open, long-held grudges devolve into tables flipping and punches thrown, screaming matches unfurl at fashion shows and cookouts, and serious legal battles plague the lives of at least one prominent family. The drama at the heart of "RHONJ" is not for the faint of heart, but it is some of the compelling television to exist in the "Real Housewives" world. 
The drama was especially potent this year, during Season 11. The "RHONJ" cast had to muster through a summer marked by the COVID-19 pandemic, thus forcing them to take trips close to home and keep their social circles small to stay safe. In some ways, this was good because it meant more reasons to keep the core "Real Housewives" cast — Teresa Giudice, Melissa Gorga, Jennifer Aydin, Margaret Josephs, Jackie Goldschneider, and Dolores Catania — together in the same room. It also meant that when dust-ups happened between the cast, with Giudice primarily acting as the instigator and facing off in against Goldschneider and Gorga in separate but memorable skirmishes, those intense feelings would take a lot longer to dissipate.
With the Season 11 drama still fresh, there's no doubt Bravo will renew "RHONJ" for Season 12 — but that hasn't happened yet. Here's what we know so far about "RHONJ" Season 12, including the release date, the cast, and more.
Updated September 15, 2021: This article has been updated to include information revealed about the Real Housewives vacation to Nashville, which will appear in Season 12.
What is the Real Housewives of New Jersey Season 12 release date?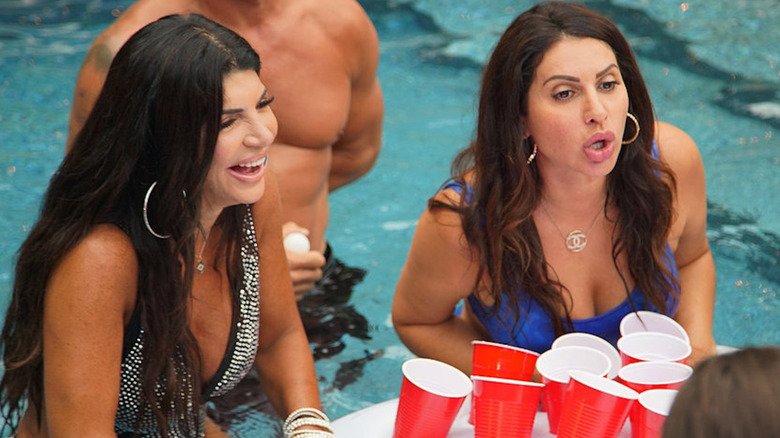 Aaron Kopelman/Bravo
With Bravo yet to issue an official renewal for Season 12, it's unclear when "Real Housewives of New Jersey" Season 12 will premiere. Even without a set date, there is a bit of an established release date pattern with previous seasons that allows us to make a safe bet on the release date window for the next season. In the past, new seasons of "RHONJ" typically premiered in the spring or summer. By Season 8, Bravo opted to freshen things up and chose to premiere that season in October. The following seasons, Seasons 9 and 10, also had autumn premieres. Bravo once again switched things up for the Season 11 premiere, debuting the latest season in February 2021.
Add to this the curious new item which appeared in Us Weekly back in June, which reveals that "RHONJ" Season 12 is allegedly already filming per an unnamed source. It's not impossible for filming on the new season to have begun without Bravo officially renewing it — and it also wouldn't be all that surprising. If filming is indeed underway, then Season 12 would focus on the events of Summer 2021, much like Season 11 focused on Summer 2020 events. And, if this is the case, then Bravo might aim for a similar release window to Season 11, and choose to debut Season 12 in early 2022.
Who will be in the Real Housewives of New Jersey Season 12 cast?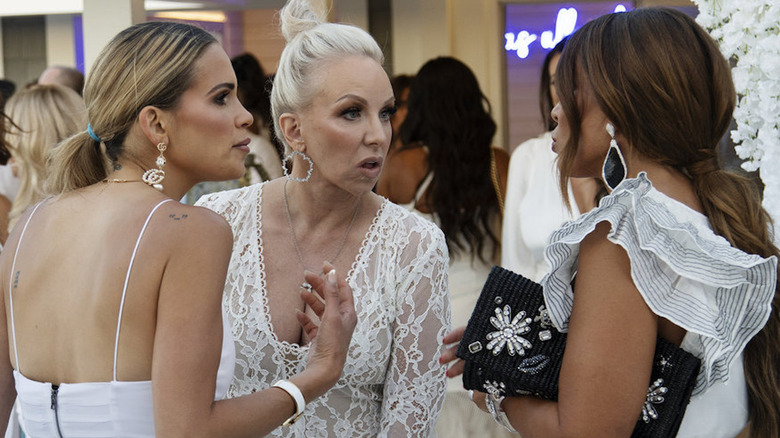 Aaron Kopelman/Bravo
As of mid-July 2021, it's expected that all of the housewives featured in the Season 11 cast will return for Season 12. This includes Teresa Giudice, Melissa Gorga, Dolores Catania, Margaret Josephs, Jackie Goldschneider, and Jennifer Aydin. In addition to the housewives, fans of "RHONJ" can also expect each cast member's family to return in supporting roles through Season 12, with the respective husbands and boyfriends of each housewife also showing up. With all of the key players expected to return for Season 12, audiences can expect any freshly healed wounds from the drama of Season 11 to likely get picked at and possibly reopened.
One unusual thing Bravo likes to do is announce any new casting just a month or two ahead of a new season's premiere. Fans of the franchise will attest that as entertaining as it may be see the same core cast work together season after season, by this point, "RHONJ" is in desperate need of some new blood. Fellow "Real Housewives" franchises "Real Housewives of New York" and "Real Housewives of Beverly Hills" were in similar situations a year or two ago and, in each franchise's current season, new housewives have been introduced to mix things up. As such, it's highly likely that "RHONJ" will get a shot of new life with at least one additional housewife added to the mix — but we won't know who it is for a few more months at least.
We do know that the Real Housewives of the Garden State will be vacationing in Nashville this season thanks to some sleuthing by the Nashville Scanner, who caught the women filming back in August. We shudder to think what kind of drama they might be able to stir up amid all the bourbon, BBQ, and country music.
When will the Real Housewives of New Jersey Season 12 trailer be released?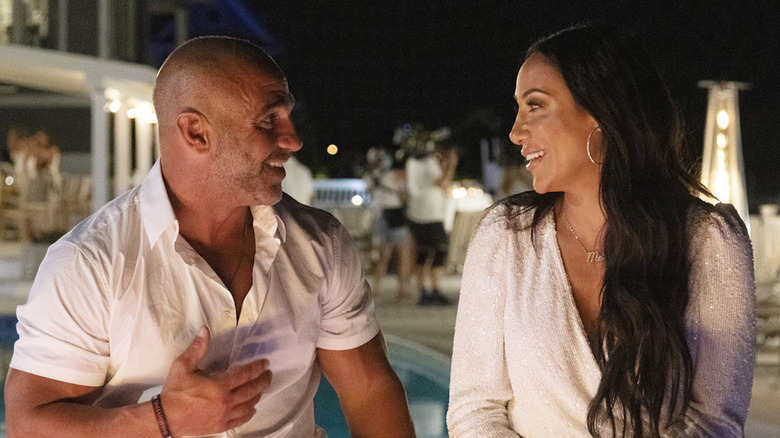 Aaron Kopelman/Bravo
At this point, all is quiet in New Jersey, and neither a teaser trailer nor a trailer is currently available for "Real Housewives of New Jersey" Season 12. This makes perfect sense considering Bravo has yet to renew the "Real Housewives" franchise for yet another season. However, as previously mentioned, it is possible "RHONJ" Season 12 is already filming, despite no official word being handed down from the NBCUniversal network. If this is true, there would be enough footage to assemble a Season 12 trailer by the end of the year, if not the end of the summer. With this information on hand, plus the knowledge that Bravo typically releases a trailer for a new "Real Housewives" season approximately one month before the release date, it means we likely won't see a Season 12 trailer until the beginning of 2022 at the very earliest.
We'll keeping you posted on all the new developments around "Real Housewives of New Jersey" Season 12 as they emerge. Stay tuned.