The Real Housewives Of New Jersey Season 12 - What We Know So Far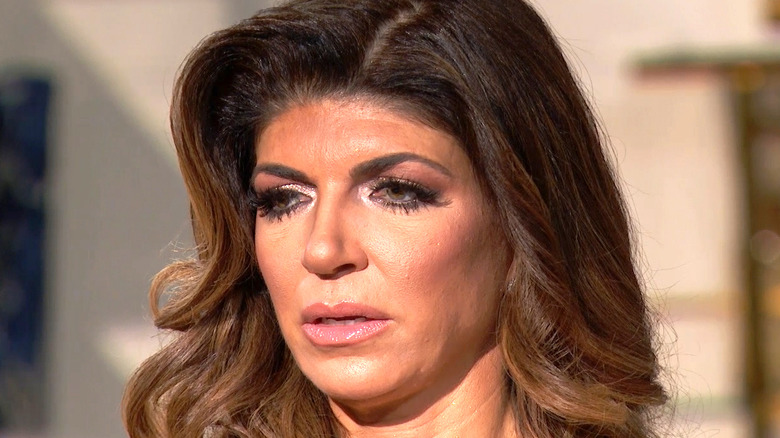 Rodolfo Martinez/Bravo
Consider this an official petition to change the state of New Jersey's nickname from "The Garden State" to "The Most Dramatic State," because if the past 11 seasons have taught us anything, it's that Bravo's "Real Housewives of New Jersey" knows how to bring the drama. That's right: We're 11 seasons into one of the most epic "Real Housewives" franchises to ever exist. For more than a decade, audiences have watched family secrets come out into the open, long-held grudges devolve into tables flipping and punches thrown, screaming matches unfurl at fashion shows and cookouts, and serious legal battles plague the lives of at least one prominent family. The drama at the heart of "RHONJ" is not for the faint of heart, but it is some of the compelling television to exist in the "Real Housewives" world. 
The drama was especially potent during Season 11. The "RHONJ" cast had to muster through a summer marked by the COVID-19 pandemic, thus forcing them to take trips close to home and keep their social circles small to stay safe. In some ways, this was good because it meant more reasons to keep the core "Real Housewives" cast — Teresa Giudice, Melissa Gorga, Jennifer Aydin, Margaret Josephs, Jackie Goldschneider, and Dolores Catania — together in the same room. It also meant that when dust-ups happened between the cast, with Giudice primarily acting as the instigator and facing off against Goldschneider and Gorga in separate but memorable skirmishes, those intense feelings would take a lot longer to dissipate.
Here's what we know so far about "RHONJ" Season 12, including the release date, the cast, and more.
What is the Real Housewives of New Jersey Season 12 release date?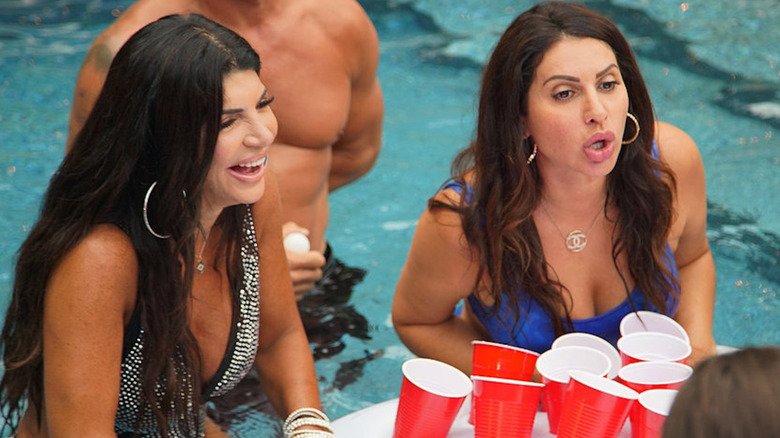 Aaron Kopelman/Bravo
The established premiere window for "The Real Housewives of New Jersey" has shifted over the years. New seasons used to debut in the spring or early summer, before eventually slipping to fall, and now it appears that February is the new designated release month for the series. Season 11 premiered back on February 17, 2021, and according to Bravo, Season 12 is set to begin on February 1, 2022. 
This would all seem to align with an item that appeared in Us Weekly back in June, which claimed via an unnamed source that "RHONJ" Season 12 had begun filming in the summer of 2021. In addition to having the same release month, Season 12 will be focusing on the events of Summer 2021, much like Season 11 focused on Summer 2020 events. That should be the perfect thing to keep fans warm when "RHONJ" Season 12 debuts on February 1. 
Who will be in the Real Housewives of New Jersey Season 12 cast?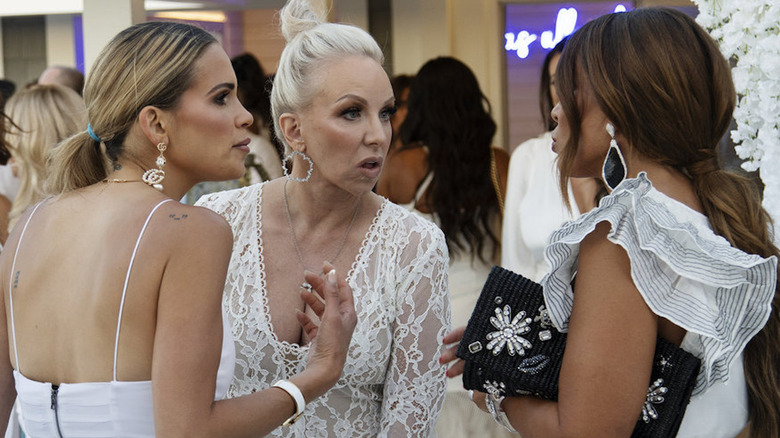 Aaron Kopelman/Bravo
Although some "Real Housewives" iterations change up their casts fairly regularly, "The Real Housewives of New Jersey" seems to have found a steady core crew of Teresa Giudice, Melissa Gorga, Dolores Catania, Margaret Josephs, Jackie Goldschneider, and Jennifer Aydin. And according to Bravo, all six of those women will be back for Season 12. That will no doubt be the best news for fans of this particular lineup, which has been in place since Aydin and Goldschneider joined the series in Season 9. However, just because our group of veterans is returning, doesn't mean there won't be any newbies in the mix. 
Back in June 2021, rumors began to swirl that Traci Johnson, the wife of NFL icon Tiki Barber, was set to join the cast (via PageSix). Since then, Bravo has confirmed that Johnson will indeed be a cast member on Season 12. However, it does look like she'll be appearing in a "friend of" capacity, rather than as a full-fledged housewife. In that regard, the core cast will remain unchanged. 
This is far from the first time that Johnson has circled "RHONJ." She was also rumored to be joining the cast as far back as 2015 (via NY Daily News). While those rumors ended up not coming to fruition at the time, it looks like Johnson will finally be getting her place in the New Jersey sun.
The Real Housewives of New Jersey Season 12 trailer promises fun, sun, and plenty of drama
"Summer in Jersey: bring it on," declares Teresa Giudice toward the beginning of the trailer for Season 12 of "Real Housewives of New Jersey." And bring it on they do. If you were worried that there may not be any drama left to wring out of this franchise after a dozen seasons, then let this nearly three-minute-long roller coaster ride put your mind at ease. The women of New Jersey are back and based on the preview, they are just as lively as they've ever been. 
Throughout the trailer, fans are treated to snippets of several explosive fights, including what appears to be a significant blowout between Giudice and Margaret Josephs at a restaurant. In classic "RHONJ" fashion, the husbands are in on the action, as well. From Joe Gorga getting on the wrong side of his sister's children to Jennifer Aydin's marriage problems, it looks like conflict will be coming from every direction. But the drama of it all is just one part of the experience. Above all else, the women of "RHONJ" love to have a good time, and we can see that everywhere in this new trailer. Whether they are riding through the streets of Nashville on a party bike or hanging out on the Jersey shore, there are nearly as many smiles as scowls on display. 
You'll be able to see how it all goes down when "The Real Housewives of New Jersey" premieres on February 1.