How Star Trek Fans Really Feel About The Lack Of Wesley In Picard Season 3
Ever since Gene Roddenberry first introduced the world to the utopian sci-fi galaxy of "Star Trek," a plethora of iconic captains have graced the small screen. Eight years after Captain James T. Kirk (William Shatner) and the rest of the original Enterprise crew made the jump to the big screen, "Star Trek: The Next Generation" welcomed the Shakespeare-loving Captain Jean-Luc Picard (Sir Patrick Stewart). For seven seasons and four films, Stewart held the mantle of captain, a role the actor has since returned to in the Paramount+ series "Picard." 
Notably, the first two seasons of the series have included a number of recurring characters reprising their roles from previous "Star Trek" series. This includes everyone from "Next Generation" favorites like Q (John de Lancie) and Data (Brent Spiner) to "Voyager" alum Seven of Nine (Jeri Ryan). According to a recent announcement from Paramount+, the upcoming third and final season of "Picard" is set to reunite more "Next Generation" actors than ever before. Gizmodo reports that the next season of "Picard" will feature LeVar Burton, Michael Dorn, Jonathan Frakes, Gates McFadden, Marina Sirtis, and Brent Spiner. 
However, there remains one blatant oversight that fans couldn't help but notice. Former "Next Generation" actor Wil Wheaton will not be returning as Wesley Crusher, despite the fact that Wesley's mother, Dr. Beverly Crusher (Gates McFadden), is confirmed to make an appearance. With "Star Trek: The Next Generation" being the cultural touchstone that it is, many fans have thoughts about Wesley's character history and his continued absence from modern "Star Trek."
Despite the character's contested popularity, many fans call for justice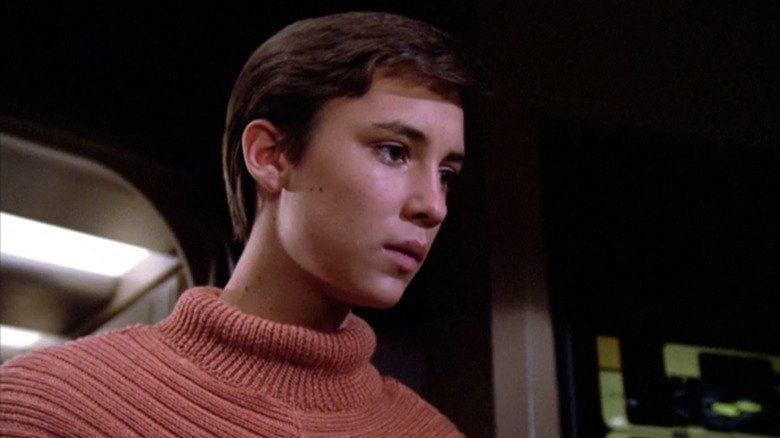 Paramount+
Wil Wheaton served as a prominent cast member for the first four seasons of "The Next Generation" before departing the series. He also appeared intermittently in subsequent seasons and returned for the 2002 film "Star Trek: Nemesis." However, it should be noted that Wheaton's tenure as Wesley was not all smooth sailing. Although "Star Trek" creator Gene Roddenberry apparently liked him (via Heavy), not every "Star Trek" fan admired the character, and he was often noted for being told to shut up. 
Still, his absence from the Paramount+ announcement led to some interesting Reddit discussions. In a post to the r/StarTrek subreddit, one user started a thread to share their thoughts on how Wheaton's exclusion will affect the reunion. "Not everyone liked Wesley as a character, but when you're talking a cast reunion before and behind the camera – Wil Wheaton the man has been important to the cast relationships," posted u/NewbieSone. "And it may have well been a great opportunity to do justice to the character as well."
In response, many "Star Trek" fans agreed with the assessment, and a handful even stated that they believe it would be an insult to disregard his significance. "If the whole crew is back, it would be outrageous not to include Wesley Crusher," commented u/MrRabbit. "It would sour the whole thing for me quite a bit." 
Others expressed hope that Wheaton could still appear in a cameo role. 'The showrunner said that the 'TNG' cast members they announced as returning in 'Picard' will be a major part of the third season and not just cameos," u/NoNudeNormal said. "Wesley could still show up as a cameo."
Interestingly, although a statement from Wheaton appears to close the door on Wesley, the actor still has one significant tie to the "Star Trek" universe.
Wheaton will still be involved, but not how you think
Since the explosion of "Star Trek" streaming content, Wil Wheaton has made a handful of statements about potentially returning to the franchise as Wesley Crusher. After "Picard" was first announced in 2018, Wheaton responded to a question from a fan at Baltimate Comic-Con with an equal amount of excitement and skepticism. "I think it is very unlikely they will ask me to participate in it," Wheaton said (via Fandom Spotlight). "I mean, I think it is just extraordinarily unlikely that will happen. If they did, I would say 'yes,' of course.
After the announcement about his returning former castmates seemed to make his continued absence clear, Wheaton made a heartfelt statement on his personal blog. "I share some of your sadness, for my own reasons," Wheaton said (via WilWheaton.net). "But I choose to focus instead on how special it's going to be to see my family back together again, and how wonderful it's going to be to talk with them about it in 'The Ready Room.'"
To many, this is the silver lining of it all. Although Wesley may no longer play a role in Picard's story, Wheaton will continue to host the Paramount+ "Star Trek" aftershow, "The Ready Room." In each episode, Wheaton sits down with other "Star Trek" cast members to discuss episodes, break down big character moments, and share highly sought-after bonus content. Since he started hosting the series in 2020, Wheaton has reunited with many of his old co-stars, including Sir Patrick Stewart (via Paramount+) and John de Lancie (via Paramount+). Something tells us Wheaton will have plenty to say about the show when 'Picard' Season 3 finally hits the airwaves.