The Saddest Episode In Riverdale Season 6
With its combination of serious moments along with complete absurdity, there is nothing like "Riverdale" on television. The characters of the "Archie Comics" have been given a modern spin in The CW show, set in a campy and sometimes "Lynchian"-inspired world. Archie (KJ Appa) is transformed from your indecisive but lovable protagonist to a less lovable main character who often gets drawn into gang wars. Betty (Lili Reinhart) battles serial killer genes (yes, you read that right), while Jughead (Cole Sprouse) currently has telepathic abilities. For all these reasons and more, "Riverdale" is an escapist dream.
But despite this fact, The CW series is also rooted in heavy and moving storylines. The tragic death of Luke Perry is written into the premiere of Season 4, making for the highest-rated episode of the series on IMDb, with 9.2/10 stars. There are many elements of "Riverdale" that feel grounded in authentic emotion, even if the storylines are less so. Now well into Season 6, "Riverdale" pushes the boundaries of reality even further with its supernatural-themed story arc called "Rivervale." It may not seem as though the subject matter lends to heartbreaking storylines, but one episode in the arc is the saddest of the season.
Cheryl can't find happiness in any lifetime
As Riverdale's "HBIC," Cheryl (Madelaine Petsch) doesn't always garner sympathy. In Season 1, Cheryl is the quintessential mean girl. She always has spicy zingers to sling and takes pleasure in humiliating others for no discernible reason. But Petsch's vulnerable portrayal makes her endearing, especially with the inclusion of the relationship between her and Toni Topaz (Vanessa Morgan). Over the seasons, Cheryl becomes more sympathetic, especially when it comes to her despicable family who malign her at every turn. Cheryl is a product of her environment and struggles with her inner demons, which is no more evident than in Season 6, Episode 4 "The Witching Hour(s)."
In the episode, fans see not just one Cheryl, but three. In addition to playing Cheryl, Petsch plays two additional Blossom women throughout the ages. With each Blossom incarnation, it becomes blatantly obvious that Cheryl is doomed from the start. It all starts with Abigail Blossom, who is accused of being a witch in the 1800s. After falling in love with school teacher Thomasina (Morgan), Cheryl begins her long journey of suffering. Thomasina is killed by a warlock who then curses Abigail's descendants. This continues in the 1950s with Poppy Blossom. Yet again, a Cheryl stand-in falls for a woman and is met with nothing but bad luck. Poppy's affection is placed on Bitsy (Reinhart), whose husband (Sprouse) is none too pleased. With each timeline, it becomes clear Cheryl never finds her happy ending.
Cheryl deserves a happy ending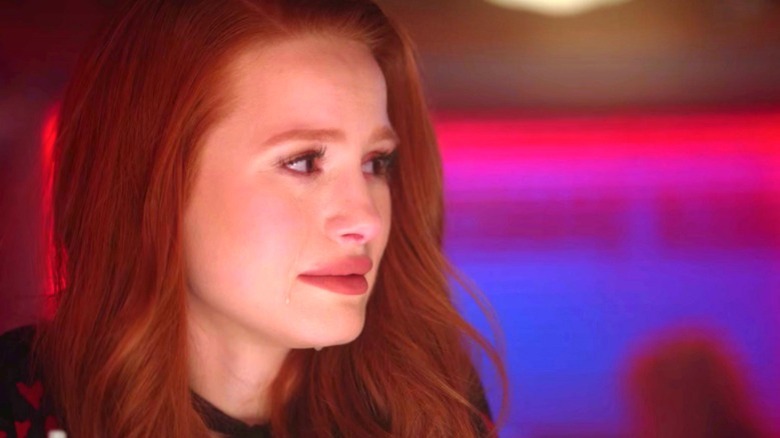 The CW
Abigail's curse reverberates through her descendants and gives context to why Cheryl never seems to find happiness. She continues to face impossible odds, having to suffer the death of her brother Jason (Trevor Stines), the heartbreak of Toni, and even conversion therapy at one point. Cheryl's experiences allow her to become a fully formed character who has immense character development. She makes mistakes but is ultimately worthy of love, something that Toni tells her in Season 2. But as of Season 6, Cheryl has yet to have lasting happiness. Because of Abigail, suffering is in her blood. 
This is especially devastating because Cheryl is one of the show's LGBTQ+ characters. Queer characters historically do not get as much screen time as opposed to their straight counterparts (via USA Today), and "Riverdale" characters such as Cheryl and Kevin (Casey Cott) are always struggling to find their bliss. Thomasina's death is one example of this. Once again, fans must experience the "Bury Your Gays" trope so prevalent in other works (via Vanity Fair). Thomasina's death does not necessarily signal the end for Cheryl and Toni, but it's another instance in which a queer character must watch the person she loves perish with no hope for themselves. Cheryl must endure hardships at every turn and none so much as in "The Witching Hour(s)." Just for once, Cheryl deserves to have hope for the future.