Times When The Pawn Stars Got Ripped Off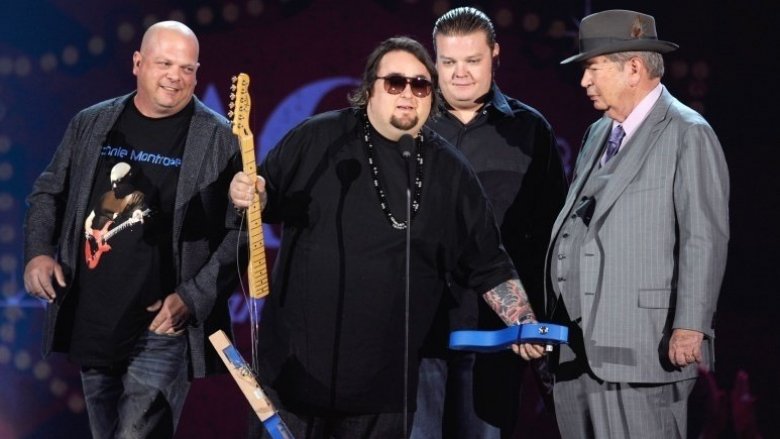 The guys of Pawn Stars seem to know it all at their World Famous Gold and Silver Pawn Shop on the Las Vegas strip. From muskets to coins, autographs to automobiles, the team has the cash and charisma to woo shop customers and TV audiences from around the world. The reality series documents the dealings and family dynamics among three generations of Harrison men, their goofball family friend, and a roster of subject-matter experts. It's been a homerun for the History Channel, but success in business doesn't mean perfection.
Diamonds are a pawn shop's worst enemy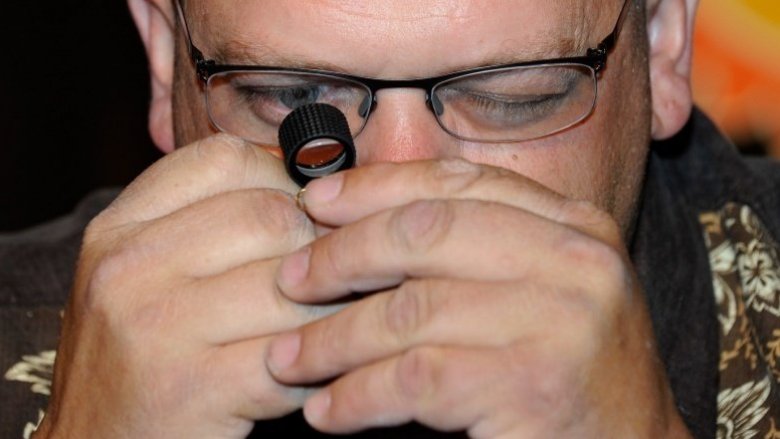 In a History Channel segment in 2010, Rick Harrison discussed the time he was cheated by a girl's best friend. A man in a sharp suit was looking to pawn a pair of diamond earrings. Harrison asked all the right questions. The seller gave all the right answers, and even had a receipt. Harrison forked over $40,000. Three days later, the police showed up. The jewelry was stolen. The victim got her diamonds back and the criminal paid the price, but Harrison was out his $40K. "That was the biggest bust I ever had in the pawn shop," he said.
Cubic zirconias: also bad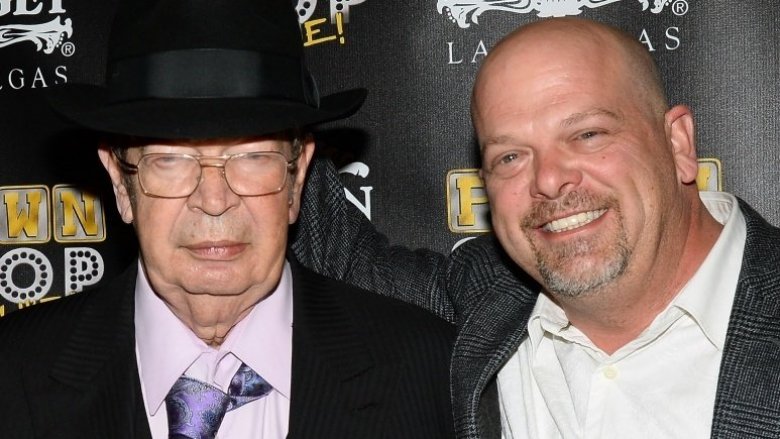 The late, great Richard "The Old Man" Harrison said that fake diamonds have swindled him the most. When cubic zirconia, a synthetic diamond doppelgänger, first hit the market in the late seventies and early eighties, many a pawn shop was duped. "Nobody knew about them, and they tested as diamonds" said Harrison in a History Channel segment in 2010. "Everybody in the industry bought a bunch of them." He said he wasted nearly $30,000.
Cubic zirconias don't pose much of a problem for today's pawn trade. The Old Man's grandson, Corey "Big Hoss" Harrison, even filmed a DIY video for the History Channel in 2009 called, "How to Spot a Fake Diamond." In short, the faux rocks are "too perfect," Corey said. "There are very, very few perfect diamonds out there," so the hawker on the street probably doesn't own one. To be sure, he recommends examining gems under a magnifying glass or asking a reputable jeweler to take a closer look.
The Jimi Hendrix Experience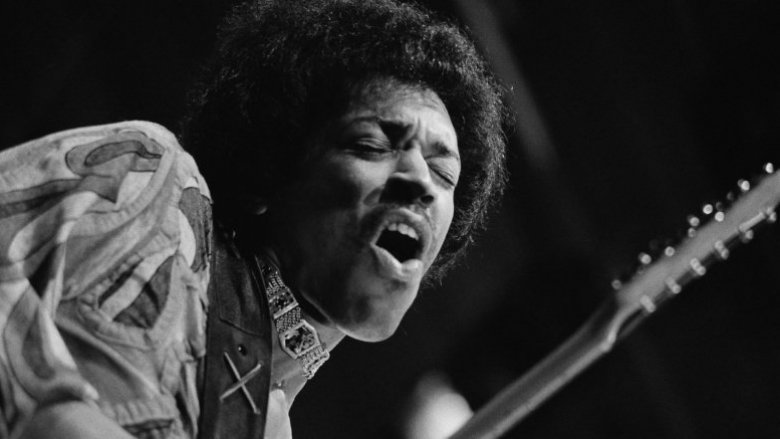 A lot of customers stroll into the pawn shop toting guitars, but when a long-haired seller claimed to own one of Jimi Hendrix's electrics, Rick Harrison got all fanboy behind the counter. "If this was actually owned and played by the legend himself, this will be the coolest guitar ever to walk into my shop," he said in a 2014 episode.
Harrison brought in a local expert, Jesse Amoroso of Cowtown Guitars, to examine the item. Amoroso confirmed the '63 Olympic White Fender Stratocaster was, in fact, played by Hendrix. It had the telltale scuff marks of the rough-riffing left hander, as well as historic photos, documents, and a serial number. Amoroso estimated it was worth a million dollars at auction. Harrison put up $450,000. The seller wanted $750,000. As he turned to leave, Harrison jumped to $600,000, but those boots kept walking.
At the time of this writing, the Strat was back on the market, but with Cowtown Guitars as its broker. Did Amoroso make a backdoor deal with the pawn shop's customer, or was his niche business simply a better fit for the Fender?
This teaching moment was brought to you by Rolex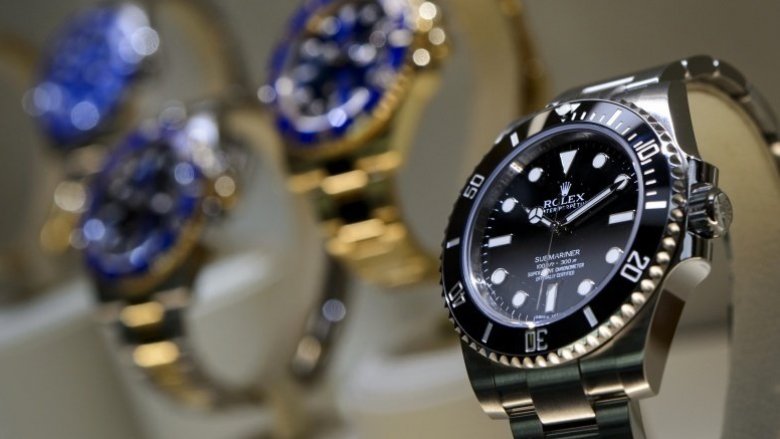 Though Corey Harrison grew up in the pawn shop, he had to learn some business lessons the hard way. "When I first started working the nightshift, I didn't have that much experience here, and being the typical 18-year-old kid, I thought I knew everything," the "Big Hoss" said in a 2010 segment on the History Channel. "It must have got around town pretty quick because I bought six fake Rolexes in one week." His foolhardy ways cost him $4,000 dollars and really ticked off his family.
Viewers have learned there are thousands of tricks sellers use on fake timepieces. Corey's dad, Rick Harrison, shared some time-tested tips in a 2009 segment, but his bottom line was this: "If you're going to buy a Rolex off somebody...don't buy it off the internet. Don't buy it off Craigslist. Come to a guy like me if you want a used one, or go buy a new one. Don't buy it off the street."
The Shoeless Joe Jackson autograph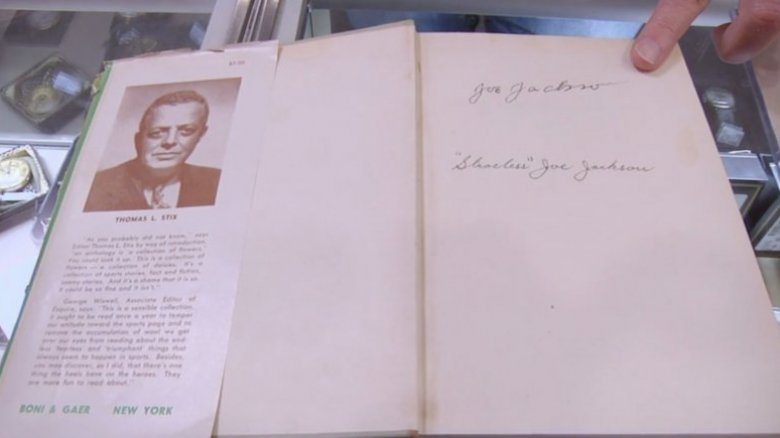 In the season six episode "Say It Ain't So," Rick made another ill-fated gamble without consulting his trustworthy experts, shelling out $13,000 on a book he believed might contain the authentic signature of baseball great "Shoeless" Joe Jackson. Rick couldn't have been more excited during the appraisal, saying "This is absolutely incredible," and speculating that it might be "the rarest sports signature, period" because Jackson was illiterate. But despite the seller's questionable certificate of authenticity, and Rick's own reservations—as he admitted, "Of all the sports signatures in the world, this is the one most faked"—he bought it anyway.
After hearing from "Rebecca," his book expert, that the signature was likely a fake, Rick then sent it out to another authenticator who reiterated the bad news: not only was it a forgery, it was a laughably bad one.
The "Willie Mays" uniform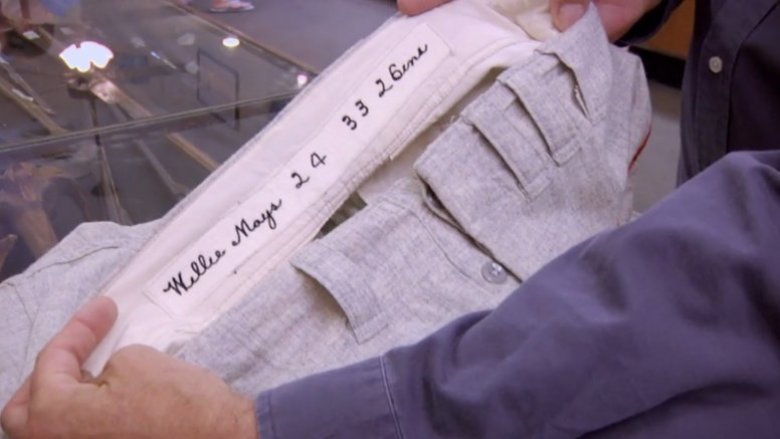 In a 2012 episode called "Free Willie," Corey made the blunder of forking over $31,000 for what he believed was a game-worn Willie Mays San Francisco Giants uniform from 1961. But the red flags with this one were apparent from the jump. For starters, the uniform was pristine—a point not lost on Chumlee, and observed, "This doesn't look game worn. Willie Mays was a badass, he was sliding around in the dirt and the grass. I imagine there would be a bunch of stains on it." Good observation, Chum. Also, the seller had no authentication paperwork whatsoever, which is never a good sign. But Big Hoss took a gamble and boy, was he all kinds of wrong.
In an in-depth tracking of what happened to the uniform post-Pawn Stars, the blog Haul of Shame discovered that not only did they fail to retail it at a ridiculous asking price of $80,000, but they only ended up getting $19,200 for it at auction around two years later. And it gets worse. After reaching out to Dave Grob, the senior uniform authenticator at MEARS, Haul of Shame reported that the uniform was never worn in a game by Mays, because it never even belonged to Mays. It was "a Spalding salesman's sample with minimal value," estimated to be worth around $2,000-$3,000. Of course, that technically means Corey didn't get as ripped off as he could have, since he still unloaded it for just shy of $20K, but we seriously doubt he's happy with how that deal went down.
The Wells Fargo strongbox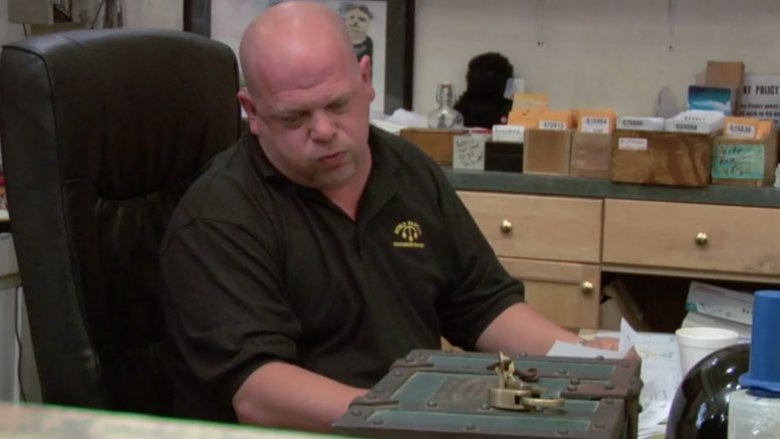 In a fifth season episode called "Corey's Big Play," Rick made the unusual mistake of buying something he was unsure of before he had it authenticated. He dropped $450 on what he believed to be a 19th century Wells Fargo strongbox, only to have his hopes of a profit shot down by expert and show regular Mark "The Beard of Knowledge" Hall-Patton, who called the box "a complete fantasy piece." Hall-Patton twisted the knife a little more, saying "it's one of the most faked items out there."
The seller also brought the box in stuffed with two ball-and-chain sets he thought were artifacts from the Yuma and Folsom prisons, but Rick recognized them as fakes right away—meaning Rick definitely should have sensed something wasn't right with the box. The Old Man, who observed the whole transaction, wasted no time rubbing it in, telling Rick, "I thought it was fake to start with," but he let the deal go through just so he could have something to hang over Rick's head.
Rick's $100K loss at the auction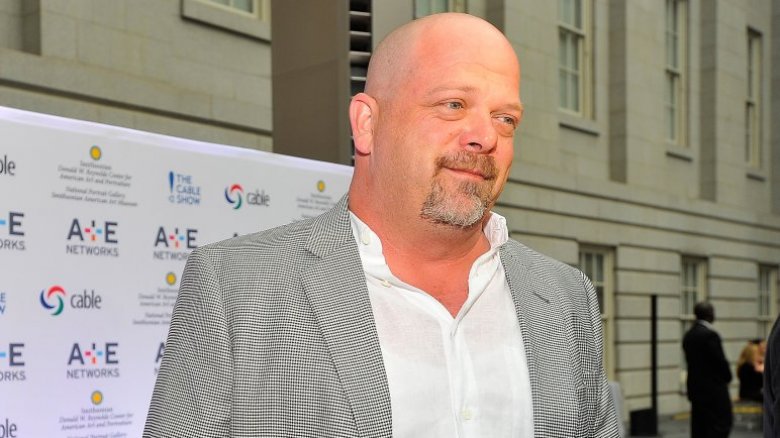 If the World Famous Gold and Silver Pawn Shop can't retail an item, they always have the option of still turning a profit by sending it to auction. That's what Rick tried to do with several big ticket items including "a 1940s Indian Motorcycle with a sidecar and a Vic Flick owned and played Fender Stratocaster," which he put on the block at Julien's Auctions in Los Angeles, according to The Indy Channel. Unfortunately, he took a hit for "$29,000 on the motorcycle, and $35,000 on the guitar." Ouch. He must not have done well with some other items either, because he reported his total loss at around $100,000.
"Sold most of my items, getting my a** handed to me and it doesn't feel good. Trying to look for a silver lining I just can't find it. I'm dreading going back to the shop," Rick said on the "Rick's Roulette" episode. Some people's children, right, Old Man?
Robo rip-off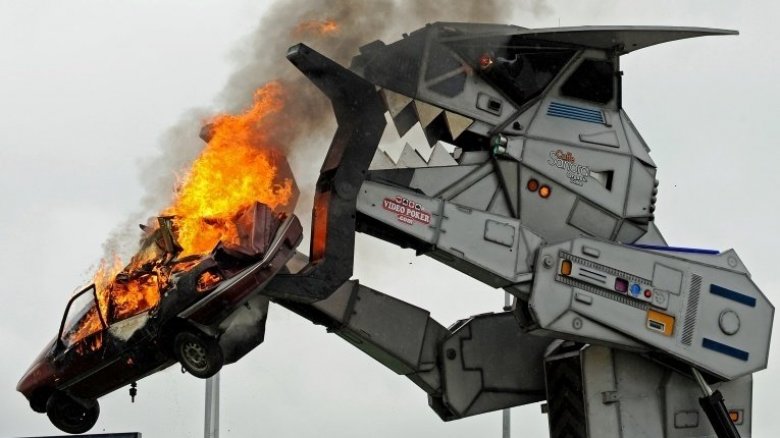 This is a case of the shop almost getting ripped off by one of its own. Austin "Chumlee" Russell really wanted to buy Robosaurus, a 31-ton, fire-breathing, transforming Tyrannosaurus Rex that feeds on cars, trucks, and small planes. It sounds scary, but the robot was made in the eighties, which now renders it adorable. "I've never seen him this excited," said colleague Corey "Big Hoss" Harrison as the pair met up with the dinosaur's dealers in a 2012 episode.
"It is a money-making machine," the seller said. "It can be rented out. It can be leased out...It can do bar mitzvahs. It can do big, giant, demolition derbies. Twenty-five thousand bucks a day you can make from this thing." The asking price: one million dollars.
Harrison didn't bite, calling Robosaurus "the biggest, most impractical thing I've ever seen." Ignoring Russell was a wise decision. The last time Robo changed hands was in 2008, when it sold for $575,000 at a classic car auction in Arizona. The seller's $25,000 estimate may also have been a stretch. According to Robosaurus.com, though the dino performed at the Miramar Air Show in San Diego in 2015, its earning potential was temporarily sidelined by a "shoulder injury."
Blindsided by the bayou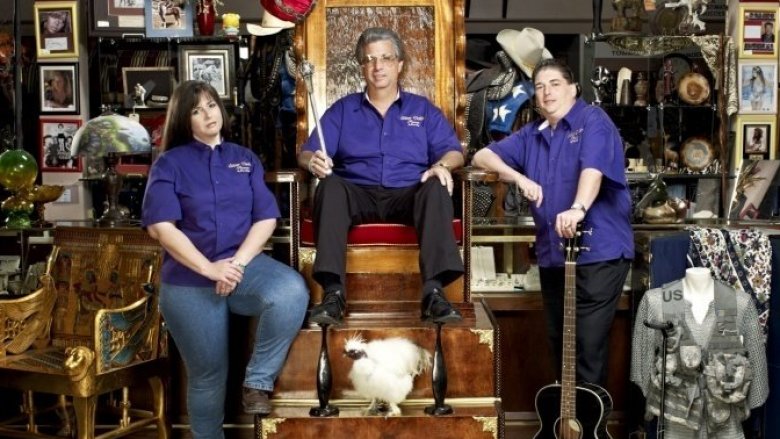 An anonymous insider said the boys from Las Vegas felt blindsided when the History Channel launched Cajun Pawn Stars in 2012. According to TMZ, the network had promised no spin-offs would be produced. Why would it need another show when the 24-hour-operation in Nevada was its cash cow?
The History Channel called the new addition a "southern spin" on the original, selling vintage cars, firearms, and even livestock. Neither the network nor the Harrisons commented publicly on the tension, but former Pawn Stars manager Wayne Jefferies said he was the mole that talked to TMZ, and he said he got fired for it. Cajun Pawn Stars lasted only a year, while the original is still kicking with new episodes in 2016.
When the old man was duped into raising money for a violent bike gang's legal defense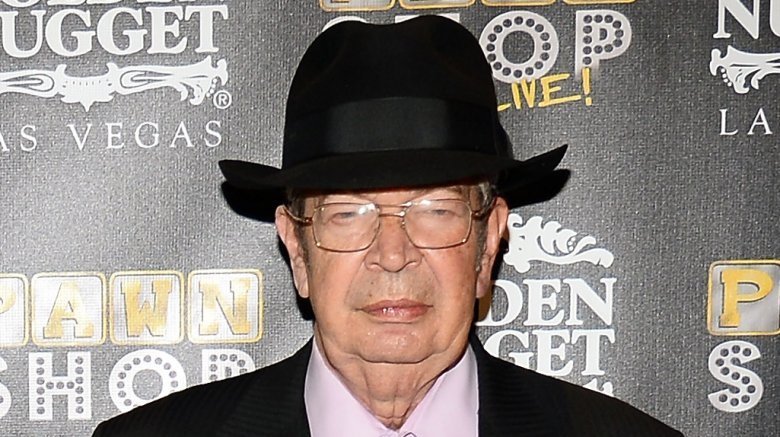 This one doesn't involve the Pawn Stars show directly, but it was rare when someone could actually pull the wool over the Old Man's eyes. According to TMZ, he once agreed to host a party at his Las Vegas home for members of the notorious Vargas motorcycle gang, to which he was connected by his son, Joseph, who TMZ also states has "a big-time rap sheet." Rick told TMZ that the Old Man just thought he was lending his fame to a charity cause, so that "lots of people would attend and plunk money down to win various raffles." But that cause happened to be an alleged "slush fund" to cover the legal costs associated with a major bust the gang had suffered that saw 32 members arrested "for crimes ranging from gun and drug trafficking to robbery." Rick insisted the Old Man had no clue about any of that, but his claim was weakened slightly by an event poster that TMZ also dug up which boasted "Pawn Stars Car Collection On Display – CELEBRITY APPEARANCE BY 'THE OLD MAN.'" Yikes.