The Comedy Legend You Likely Forgot Guest-Starred On Three's Company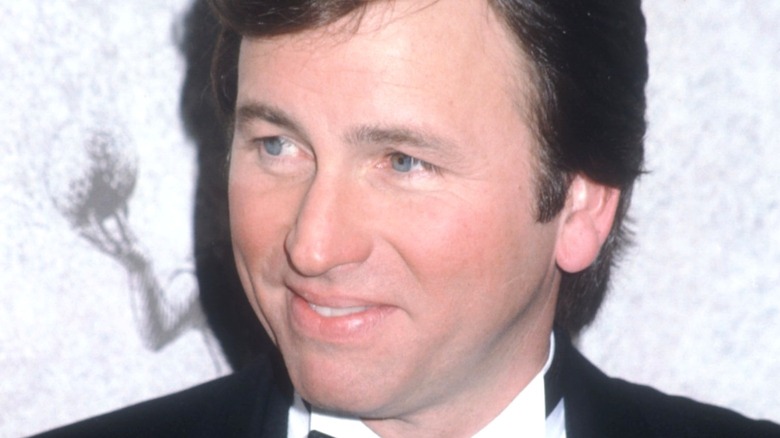 Barry King/Getty
Based on the British sitcom "Man About the House," "Three's Company" is a landmark comedy series that ran from 1977 to 1984. The show is based around exaggerated everyday situations, with three roommates sharing an apartment in Santa Monica, California. The show focuses on Janet Wood (Joyce DeWitt), Chrissy Snow (Suzanne Somers), and Jack Tripper (John Ritter) as the main characters and roommates, though Somers would leave the series in 1980 (via IMDb).
While there are aspects of "Three's Company" that would be seen as rather problematic today (Jack has to pretend to be gay to be allowed to live with Janet and Chrissy), the series is still a classic comedy in which the charms of the cast and the crazy scenarios the characters get into made it quite popular at the time and fondly remembered decades later. Even Dina Gachman of The New York Times wrote about how the silly sitcom was a comfort to them during the pandemic. 
Although the main cast of the series is memorable on its own, there are plenty of familiar faces that show up as guest stars. In fact, one famous comedian — whose earlier sitcom likely influenced "Three's Company" and other comedies of the time — shows up in a Season 6 episode. 
The iconic Lucille Ball hosted a best-of episode in Season 6
Believe it or not, the iconic Lucille Ball guest-starred in a special episode of "Three's Company." Ball shows up as herself to host and narrate a special "best of" episode of the ABC series, aptly titled "The Best of Three's Company." While the sitcom would go on to have eight seasons total, this episode aired at the end of Season 6 and features all the best moments from the first six seasons compacted into an hour-long special. 
Ball made her mark on the comedy world — and the entertainment industry as a whole — through her memorable and hilarious performances in hit sitcoms like "I Love Lucy," "The Lucy-Desi Comedy Hour," "Here's Lucy," and many more. While she is most famous for playing a comedic, amped-up version of herself, Ball also played other major roles, like Susan Vega in "Forever, Darling" and Kitty Weaver in "The Facts of Life" (via IMDb).
The "Three's Company" episode in which she stars originally aired in 1982 when Ball was around 70 years old, just seven years before her passing in 1989 (via The Los Angeles Times). While it had been a few years since she'd last portrayed her well-known character of "Lucy" at this point, Ball's star power was still going strong, and her lasting legacy continues to live on today.