Three's Company Actors You May Not Know Passed Away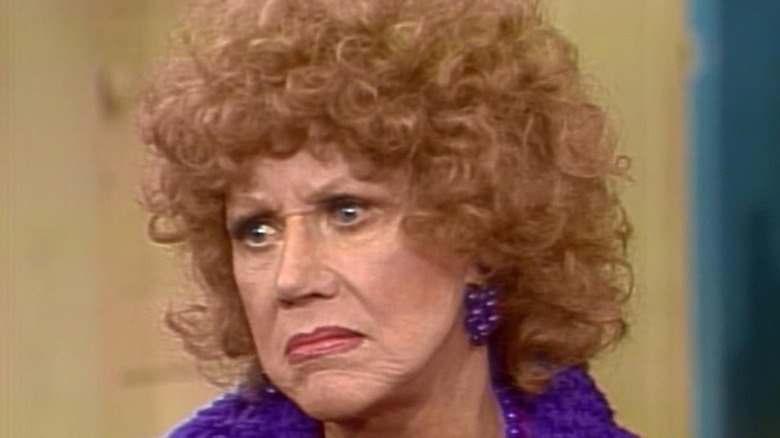 ABC
"Three's Company" was a classic sitcom that aired on ABC from 1977 to 1984. The show starred John Ritter as Jack Tripper, Suzanne Somers as Chrissy Snow, and Joyce DeWitt as Janet Wood — three single roommates living together in Santa Monica at a time when men and women just weren't roommates. In order to get around their landlord, Mr. Roper's (Norman Fell) strict rules against co-ed living situations, they lie and claim that Jack is gay. Mrs. Roper (Audra Lindley) figures out the farce in the second episode, but keeps it from her husband. The charade continues when the Ropers moved onto their own spinoff series and Don Knotts took over as new landlord, Mr. Furley.
The shenanigans of the series usually involve misunderstandings, questionable sexual situations, and the continuing farce of Jack's homosexuality, despite him being somewhat of a chauvinist playboy. Sadly, Ritter died suddenly in 2003 after falling ill on the set of his then-sitcom, "8 Simple Rules for Dating My Teenage Daughter." He was just shy of his 55th birthday and suffered an aortic dissection. The other huge name from "Three's Company," Knotts, attended Ritter's funeral. The two actors had become good friends, and Knotts had even made a cameo on "8 Simple Rules." Knotts passed away just three years later from lung cancer at the age of 81. Ritter and Knotts may be the most famous "Three's Company" cast members who have since departed, but here are the other cast members you may not know passed away.
Norman Fell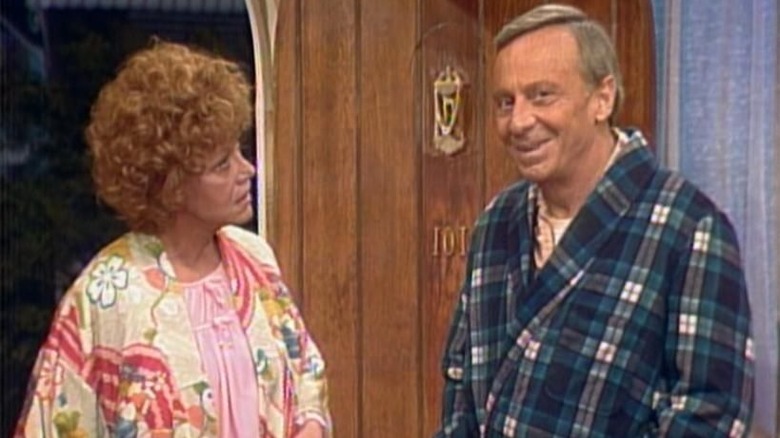 ABC
Actor Norman Fell played the original landlord, Mr. Stanley Roper, owner of the Hacienda Palms apartment complex. Mr. Roper was extremely cheap, often refusing to make repairs around the apartment, and who would threaten the three roommates with rent hikes and evictions if they complained too much. He didn't seem to like his wife, Helen, much at all. And was generally a curmudgeon, whose comedic quips often landed in the realm of cruelty. It's no shock that "Three's Company" is old fashioned and even a little bigoted, and that attitude was most prevalent in Mr. Roper's character.
Fell was a well known television actor throughout his career. Born in Philadelphia and having served in World War II as a tail gunner in the Air Force, Fell turned to acting after the war. Fell appeared in a number of TV shows and films, including the spinoff series "The Ropers" the original "Ocean's 11", "It's a Mad, Mad, Mad, Mad World," "The Graduate," "Bullitt" and alongside Ronald Reagan in Reagan's last film, "The Killers." Fell last played Mr. Roper in 1997 in an episode of "Ellen." He died just one year later in 1998 from bone marrow cancer at the age of 74.
Audra Lindley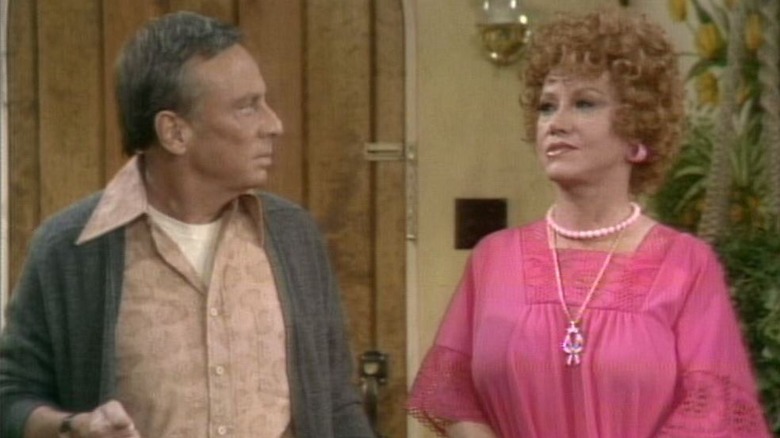 ABC
Helen Roper was a woman of the swinging '70s. Played by Audra Lindley, the wife of the landlord was often sex-deprived and would go looking for some action with her husband only to be rebuffed and rejected as Mr. Roper went worrying about money or fixing some issue or another at the apartments. You'd think a husband would drop anything to get some action, but not Mr. Roper. Despite this, Mrs. Roper, is quite kind and keeps the secret that Jack is not, in fact, gay, from her judgmental husband, though Mr. Roper judges Jack's homosexuality enough throughout his seasons on the series that one wonders if it's even worth the lie.
Lindley herself was an actor for most of her long life. Born in Los Angeles in 1914, Lindley was a contract player for Warner Bros., starred in multiple Broadway plays, and had years-long arcs on multiple soap operas. Along with "Three's Company," Lindley appeared on "The Love Boat," and in movies such as "Troop Beverly Hills" and "The Heartbreak Kid." She played Phoebe Buffay's grandmother in the an episode of "Friends." Lindley had two husbands and five kids, and died in 1997 of leukemia at the age of 79.
Ann Wedgeworth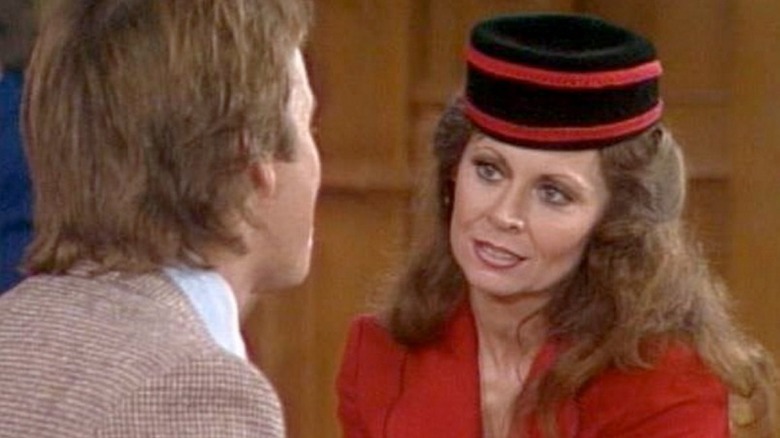 ABC
Ann Wedgeworth joined the "Three's Company" cast in Season 4 as the voluptuous divorcee Lana Shields. Lana was a bit older than the roommates, had three ex-husbands, and had a huge crush on Jack — who, being a chauvinist who only wanted the attention of pretty young things, would shoo her away. But Lana had her own admire in Mr. Furley, and she used his crush to her and the roommates' advantage by seducing him. Yeah, there's a lot of sexual innuendo in "Three's Company." But interestingly enough, both Ritter and Wedgeworth thought it was ridiculous that Jack would be repelled by Lana, an incredibly attractive woman only in her 40s. Ritter's objections caused some tensions between him and the writers, according to "Come and Knock on Our Door: A Hers and Hers and His Guide to 'Three's Company'" by Chris Mann.
Born in Texas in 1934, Wedgeworth moved to New York City after graduating from college and joined The Actors Studio. She went on to have a career on stage, on television, and in film, having a long and involved acting career. Some of her other notable spots include the 1973 Gene Hackman film "Scarecrow," "Bang the Drum Slowly," and "Steel Magnolias." She passed away in 2017 at 84.
William Pierson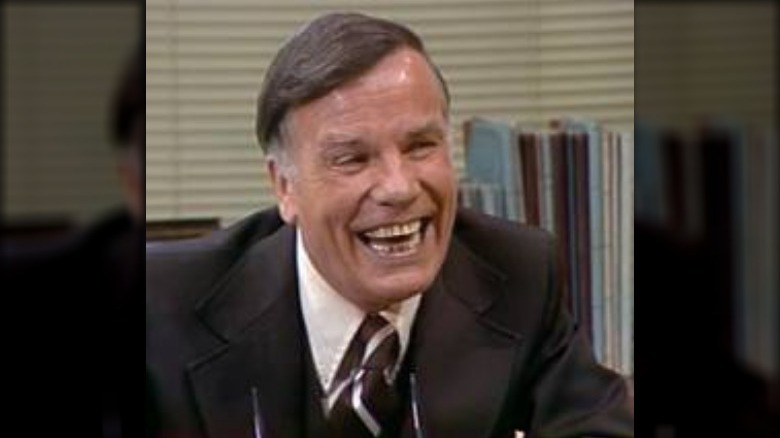 ABC
Dean Henry Travers was the headmaster at the culinary school at which Jack was studying to be a chef. Played by actor William Pierson, Dean Travers appeared on the show from Seasons 1 through 4, and exists to thwart Jack's professional development. Dean Travers fails Jack in certain courses or threatens failure while simultaneously using Jack to make the school look good. Thankfully, Jack eventually graduates and doesn't have to deal with Dean Travers for the later seasons of the series.
Before landing the gig on "Three's Company," Pierson was most well known for playing Marko the Mailman in the 1953 film "Stalag 17." Pierson and his raspy voice could be seen and heard in "The Jackie Gleason Show," "All In The Family," "One Day At A Time," "Diff'rent Strokes," and "The Facts Of Life." Pierson's career spanned four decades, beginning in the 1950s and ending in the 1990s. He passed away in 2004 at the age of 78.
Paul Ainsley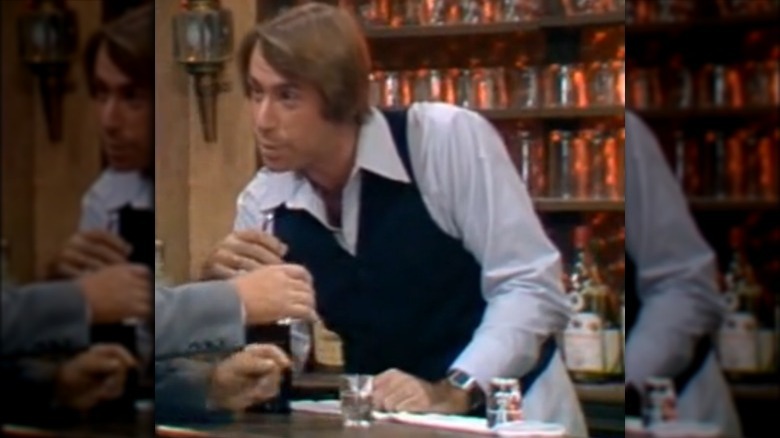 ABC
Paul Ainsley played Jim the bartender at The Regal Beagle, the preferred hangout spot of the roommates. Jim was the nephew of Chef Anton, a famous chef who considered hiring Jack for one of his high end restaurants. Jack was a supporting staple of the show from Seasons 1 through 5, offering up a bit of friendship, advice, and additional comedy.
Ainsley appeared in 13 episodes as Jim, but his TV career was a bit limited. He made appearances in the sitcom "Wings," and sci-fi shows like "Babylon 5" and "Weird Science." But Ainsley's real claim to fame was on the stage. He originated the role of King Herod in the original Broadway production of "Jesus Christ Superstar" and took down the house practically every night singing "King Herod's Song." He performed the show over 1,000 times, and also appeared in "Les Misérables," "Peter Pan," "Pirates of Penzance," "and "Gypsy." He passed away from heart complications in 2013 at 67.
Brad Blaisdell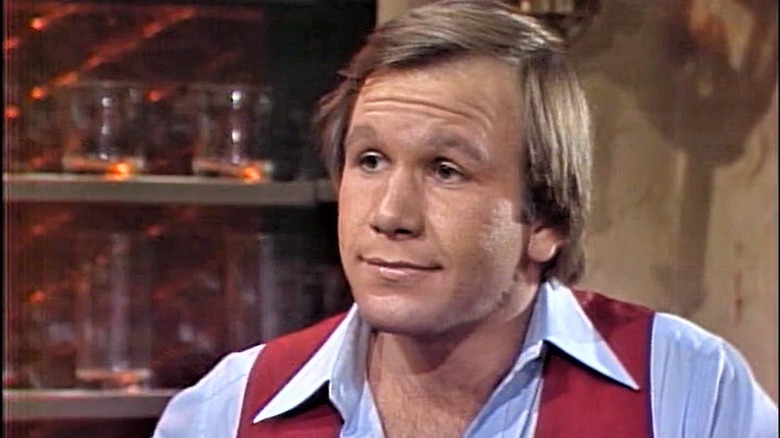 ABC
After Ainsley left "Three's Company" in the middle of Season 5, Brad Blaisdell took over as bartender at The Regal Beagle. Mike the Bartender, as he was known, filled in the gap that Jim left. While the bartenders of the show never really had any huge story lines, they were an additional element of authenticity and stability for the series.
Blaisdell had a lengthy career as a supporting character actor. In the sitcom realm, he popped up on "The Jeffersons," "Happy Days," "It's a Living," "Small Wonder," "Family Matters," "Wings," and "Caroline in the City." His dramatic roles include "Diagnosis Murder," "Knot's Landing," "Matlock," "Chicago Hope," "ER," "Criminal Minds, "CSI: NY," and "The Mentalist." He had a prominent role in the 1998 Samuel L. Jackson movie "The Negotiator," and his other films include the 1999 Matthew Broderick version of "Inspector Gadget," "The Great White Hype," and "Executive Decision." Blaisdell served two terms on the Board of Directors of the Screen Actors Guild. He passed away in 2018 from cancer.
Mickey Deems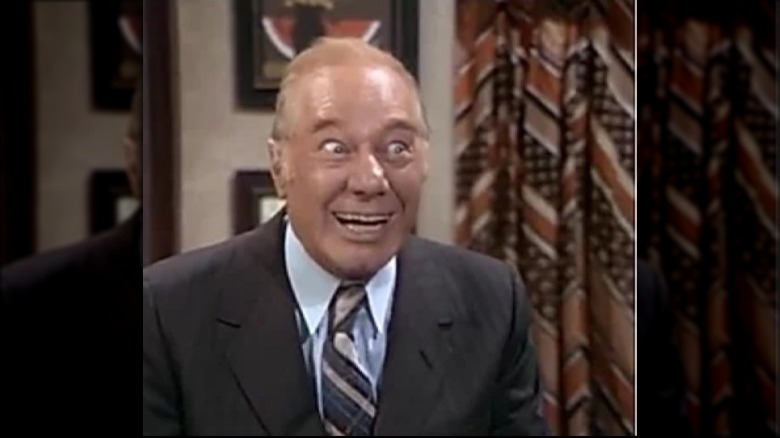 ABC
Like many sitcoms of the era, "Three's Company" had actors that showed up and played random bit parts in numerous episodes. That was the case for actor Mickey Deems, who played a Maitre' D, a singing telegram man, Gimbel, Mr. Hubbard, and Mr. Hayward in a number of episodes of the series. Deems' most memorable appearance has got to be the singing telegram man, whose singing message of love to Jack from an admirer is caught in the act by a lurking Mr. Furley. Don Knotts' facial expressions are classic, while Deems continues his performance with gusto.
Born in 1925, Deems' career was one of frequent roles on many shows, that of a steady and successful working actor, it seems. His more steady roles were Officer Charlie Fletcher on "Car 54, Where Are You?" Mack on "Mack & Myer for Hire," and Nails Doyle on "Hizzoner." Deems even moves on to do a couple of bit parts in the "Three's Company" spinoff, "the Ropers." Deems passed away in 2014.
Sheila Rogers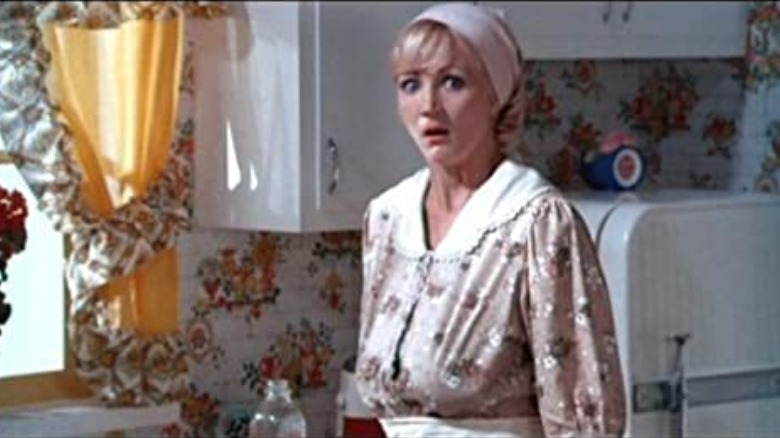 United
Sheila Rogers was another one of those "Three's Company" guest actors who played many different roles over the course of the years. Her first appearance was as the mother of the baby that Janet frequently babysits for. When Janet can't make it once night, Jack and Chrissy take over as the infant's babysitters — and of course they have no idea what they're doing. Rogers also played a nurse a few different times, and finally a character named Marge Andrews.
Rogers started her acting career early in 1961 with a spot on "The Donna Reed Show." She was on "Dennis the Menace," "The Dick Van Dyke Show," "That Girl," "My Three Sons," "What's Happening?" and "The Ropers." One of her most prominent movie roles was in the 1977 cult film "The Kentucky Fried Movie." She was born in Brooklyn, New York in 1924 and passed away in Los Angeles in 2003.
Don Porter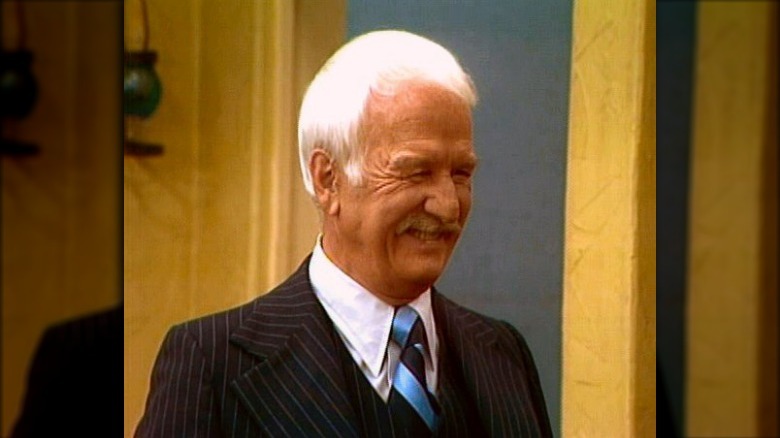 ABC
The "Three's Company" characters had many of their family members visit throughout the series. Don Porter played Jack's great uncle Fremont Tripper, and once meeting him the audience understands where Jack gets his playboy ways. Fremont is a charmer but he's also a grifter. He has a reputation for writing bad checks, convincing people to invest in fake money making schemes, and almost gets the roommates in a serious rent pickle.
Porter's appearance on "Three's Company" was only for one episode, but the whole episode revolved around him, and was aptly titled, "Jack's Uncle." Outside of the show, Porter had a lengthy career, beginning in the 1930s and spanning across stage, screen, and television. He had roles on "Green Acres", "The Mod Squad," "The Six Million Dollar Man," "Hawaii Five-O," "The Bionic Woman," and "Dallas." Porter also dipped his toe in directing, helming an episode of "Gidget." He died in 1997 at the age of 84.
Irene Tedrow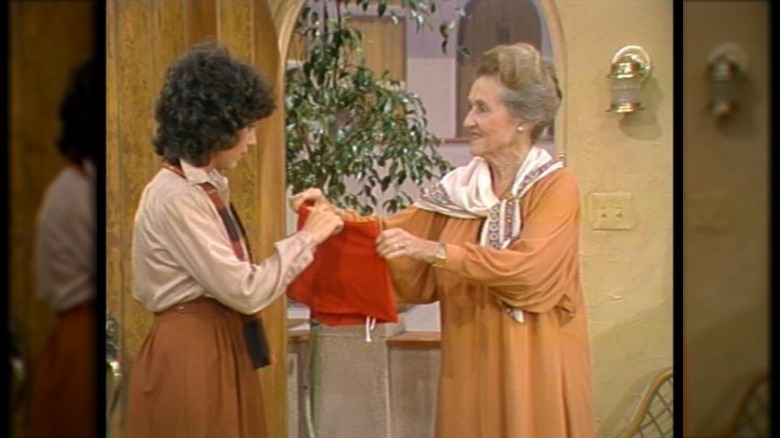 ABC
In one episode of "Three's Company," Irene Tedrow plays Helen Roper's Aunt Martha. The episode, called "The Older Woman," finds Aunt Martha wrapped up in a misunderstanding where Jack tells friend Larry (Richard Kline) that he's dating an older woman. When Aunt Martha shows up at the apartment, Larry mistakes her for Jack's love interest. Chaos ensues, of course, and Aunt Martha ends up slapping Larry in the face.
Born in 1907 in Oklahoma, Tedrow started her career in radio while she attended a college drama program. She played Janet Archer in the radio series "Meet Corliss Archer" and made the move to TV to play Mrs. Elkins on "Dennis the Menace." She also appeared in "Diff'rent Strokes," "The Rockford Files," "The Facts of Life," "Three's Company" and two episodes of "The Mary Tyler Moore Show" as Congresswoman Margaret Geddes. Her most lasting work, however, was on the stage. As a founding member of San Diego's Old Globe Theater, she acted in hundreds of Shakespeare productions, and performed on Broadway well into her 80s. She died in 1995 from a stroke at the age of 87.
Georgeann Johnson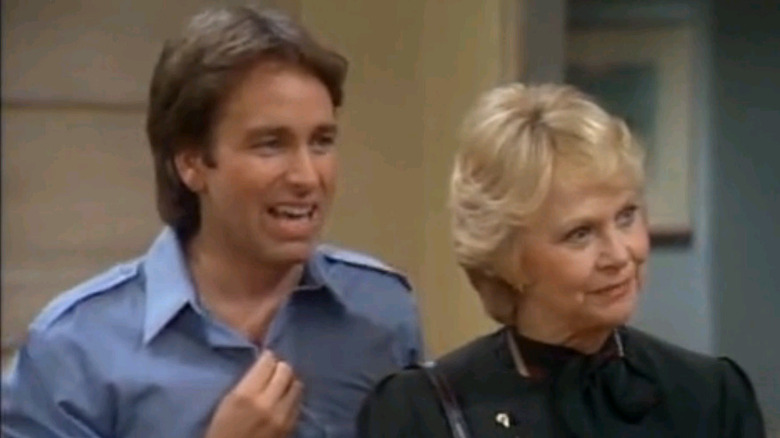 ABC
Another family member to pop up on "Three's Company" was Georgeann Johnson, who played Jack's mother — only named Mrs. Tripper. She shows up at the apartment in an episode called "Extra, Extra," in which a date of Janet's writes an obviously false newspaper article about his swinging ways and of course Jack's mother shows up to snoop and try to lure him back home.
Born in Iowa in 1926, Johnson became an actor in 1952 and started out her career in TV commercials. Her first big role was on the comedy "Mr. Peppers" in 1952. She had gigs on the soap operas "Another World," "Somerset," and "As the World Turns." She also had spots on "All in the Family" spinoffs "Archie Bunker's Place" and "The Jeffersons." She played the main character Elizabeth Quinn, Dr. Quinn's mother on "Doctor Quinn, Medicine Woman." She passed away in 2018 at the age of 91.
Peter Mark Richman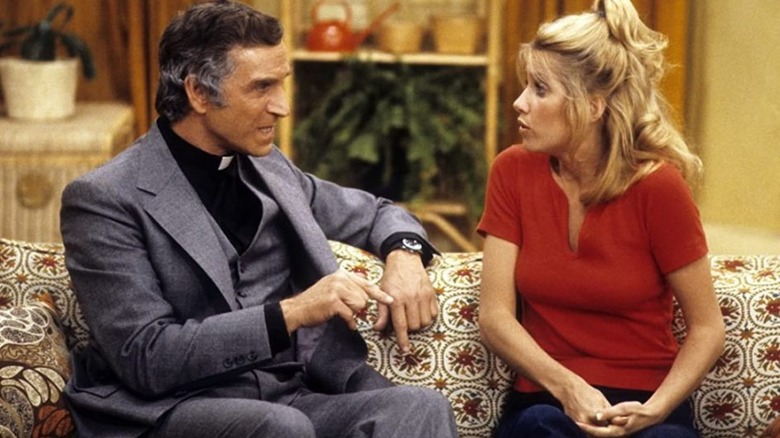 ABC
It's no surprise that one of the '70s progressive roommates of "Three's Company" grew up in a conservative Christian household. Peter Mark Richman played Chrissy's dad, the Reverend Luther Snow, on the sitcom. He appeared in three episodes. In his final appearance, he was considering moving down to Santa Monica to take a job as a pastor there — a proposition Chrissy wasn't too keen on — but he and Chrissy's mom ended up staying in Fresno. But though Reverend Snow could deliver a passionate sermon, he was a loving and caring father instead of an oppressive figure.
Born in 1927 in Philadelphia, Richman was a licensed pharmacist before he turned to acting. His career spanned six decades and Richman appeared in over 30 films and 130 television series. He made his feature film debut in 1956's "Friendly Persuasion," and played Nicholas "Nick" Cain in the 1961 films "The Murder Men" and "The Crimebusters." He revived the character for the TV series "Cain's Hundred." His other TV credits include "Hawaii Five-O," "The Fall Guy," "The Fugitive," "The Outer Limits," "Bonanza," "The Bionic Woman," The Incredible Hulk," and the soap opera's "Santa Barbara," and "Dynasty," on which he played Andrew Laird. Richman sat on the board of trustees of the Motion Picture and Television Fund until retirement in 2011. He died in early 2021 at the age of 93.
Priscilla Morrill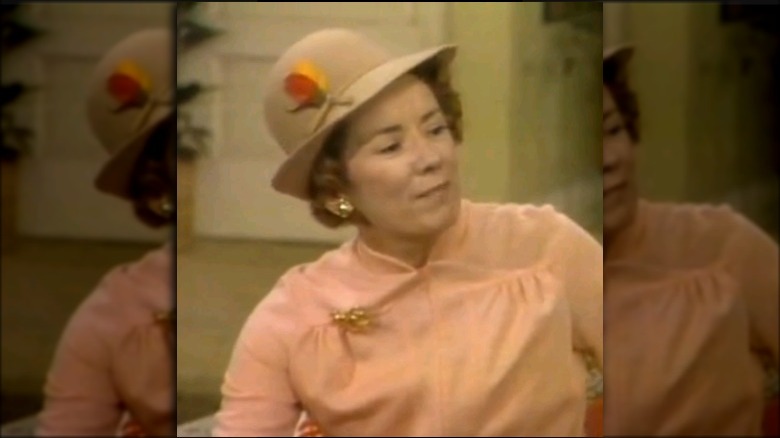 ABC
Chrissy's timid mother was played by Priscilla Morrill. The supporting wife of the Reverend, Mrs. Snow was sadly never given a first name, which kind of reflects the invisibility of her character on the show. As the doting wife, Chrissy seems to have fallen far from the tree, being as she's the independent antithesis of the Reverend's wife.
Morrill herself was anything but invisible. She made her stage acting debut playing opposite the great John Carradine in "Julius Caesar." Her TV career began in 1963 on an episode of "The Outer Limits" and grew from there. Just before landing the part on "Three's Company," Morrill played Edie on "The Mary Tyler Moore" show. She had recurring roles on "All in the Family," "Newhart," "Santa Barbara," and others. Her last role was a recurring one on the sitcom "Coach." Morrill died relatively young in 1994 from a kidney infection at the age of 67.
Macon McCalman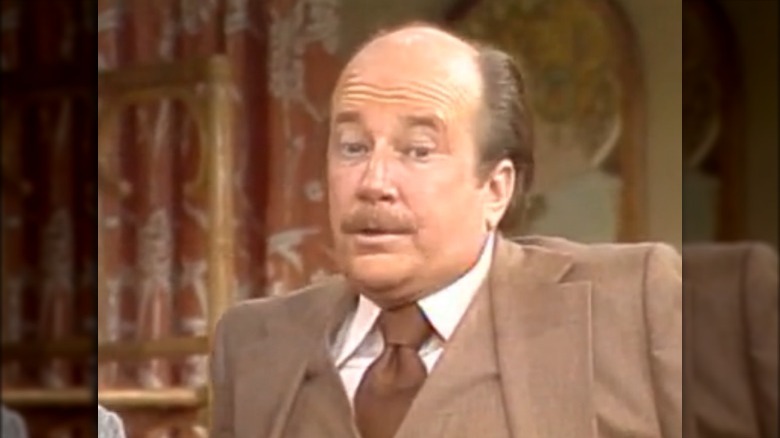 ABC
"Three's Company" didn't let Jack and Chrissy have all of the family fun. Janet's family showed up on occasion as well. Macon McCalman plays Janet's overbearing dad, Roland Wood. He and his wife Ruth show up first in Season 5, after Chrissy has moved out and her sister Cindy Snow (Jenilee Harrison) has moved in. When Roland visits, Cindy and Jack pretend to be married so that Janet's parents don't figure out that she's living with a man. Seriously, aren't these people in their 30s by now? It seems like people should be ok with this! Roland figures it out, of course, and exclaims, "Wait a minute! If they are not married ... then they must be ... living together!" McCalman actually did pop up back when Chrissy was on the show in a different role. In Season 3, he played a smarmy senior partner at the law firm Chrissy works at as a secretary who hits on her at a fancy dinner party.
McCalman helped start up the Front Street Theater in his hometown of Memphis, Tennessee. After moving to New York he landed on the Broadway stage, acting in the productions "The Last of Mrs. Lincoln," "An Enemy for the People," and the comedy "The Playboy of the Western World." His film and TV career mostly consisted of authoritarian supporting roles, such as in "Murder, She Wrote," "Starsky & Hutch," and "Kojak." He played Deputy Queen in infamous film "Deliverance." He returned to Memphis in 1997 to retire, and passed away there in 2005.