Why Brogan From Shrek Forever After Sounds So Familiar
A funny thing happened on the fourth installment of the "Shrek" franchise. At a time when its continuing sequel-itis was contributing to public fatigue and the anarchic spirit of the original had already been fully absorbed and industrialized by the Hollywood mainstream, leading to a typically high-grossing but critically panned third film, the makers of 2010's "Shrek Forever After" opted to travel a very unusual road. Stripping the film of the grown-up cynicism and fairytale satire that had defined previous entries, they angled instead for a straightforward, relatively serious adventure story that looked back on previous "Shrek" films with sincerity and more than a little melancholy.
The result was a film that, although better-received than "Shrek the Third," now registers like even more of an outlier when we look back on the whole "Shrek" tetralogy. One franchise trademark it absolutely carried over, however, was the enlistment of beloved stars for key voice roles — as exemplified by the award-winning, hilarious actor who voiced Brogan, one of the ogres in Fiona's (Cameron Diaz) resistance army. Here's where you might have heard him before.
Jon Hamm is a beloved film and TV star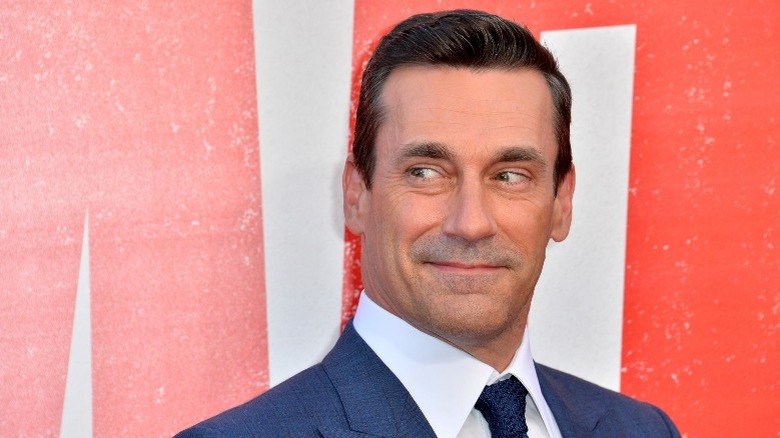 Featureflash Photo Agency/Shutterstock
Many of the principal stars most associated with "Shrek," such as Cameron Diaz, Eddie Murphy, Antonio Banderas, and John Litgow, are performers known for having as much of a knack for humor as for "serious" acting, and knowing how to land the film's riotous gags as effortlessly as its more heartfelt moments. In that sense, it makes perfect sense for "Shrek Forever After" to have cast Jon Hamm. After all, we're talking about one of the contemporary American actors most adroit at moving between comedy and drama.
For many years, Hamm was pigeonholed by audiences as one specific "kind" of actor, due to the gravity and existential portent of his performance as Don Draper on AMC's "Mad Men," as well as his classic leading-man good looks. But, starting with gigs on "Saturday Night Live" and "30 Rock," and following on through his appearances on shows like "Unbreakable Kimmy Schmidt" and films like "Bridesmaids," Hamm proved he could be straight-up hilarious when he wanted to. His versatility also proved to be an asset in voice acting, as starting with "Shrek Forever After," he began to go into the recording booth for a large number of projects — both animated and in live-action.
Jon Hamm voiced Dylan Truliner in the envelope-pushing sci-fi film The Congress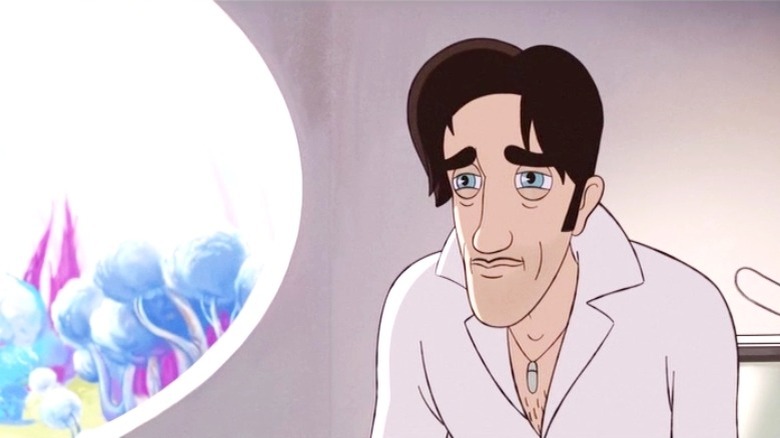 ARP Sélection/Drafthouse Films
Three years after "Shrek Forever After," Jon Hamm once again had his voice talents called in for an animated film about an aging loner having their way of life jeopardized by a changing world, only to accidentally stumble upon a political revolution. But this time, the film in question was considerably less family-friendly. In 2013, he voiced Dylan Truliner in the live-action and animation hybrid sci-fi film "The Congress."
Directed by Ari Folman ("Waltz with Bashir"), "The Congress" stars a fictionalized version of Robin Wright as an actress who, facing a shortage of roles and urgent financial needs, is forced to allow a film production company named Miramount Studios to digitize her likeness into a computer-animated version of herself. The film progresses in such a way that the fictional Robin Wright soon finds herself trapped in a hallucinogenic animated world full of people embodying pristine cartoon avatars. One of those avatars, that of former Miramount lead animator Dylan Truliner, is voiced by Jon Hamm. Unlike many of Hamm's subsequent voice roles, this one is highly dramatic, with Dylan as the rescuer and lover who becomes Robin's tether to the animated world when she's torn between it and her past, flesh-and-blood life.
Hamm was Scarlet Overkill's husband, Herb Overkill, in Minions
There's something about Jon Hamm's rugged, suave comic persona that lends itself intuitively to villain roles, as demonstrated and explored by "Unbreakable Kimmy Schmidt" across four seasons (and one interactive special). As it turned out in 2015's "Minions," the spin-off film centered on the mischievous yellow creatures previously seen as servants in Gru's (Steve Carell) evil army in the "Despicable Me" series, there was also something about it that paired excellently with the vocal stylings of Sandra Bullock.
A distant prequel soon to be followed by this year's "Minions: The Rise of Gru," "Minions" tells the story of how the titular beings moved through history serving a series of evil masters, culminating in their recruitment by the wicked villainess Scarlet Overkill in 1968. Bullock voices Scarlet, while Hamm voices her husband, genius inventor Herb Overkill, whose machines and contraptions aid the Minions in their exploits. The role allowed Hamm to have a lot of fun, as evidenced by the film's recording booth B-roll.
Hamm has taken many voice acting and narrating TV gigs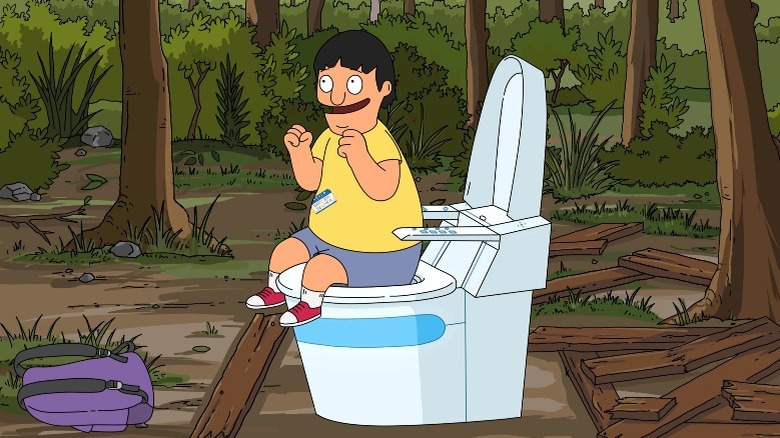 Fox
In parallel to his film career, Jon Hamm also established himself as one of American TV's go-to voices. Starting with a 2010 guest spot on "The Simpsons" as an FBI agent, he became a mainstay of animated series of all sorts, voicing such characters as Ham Johnson on "Martha Speaks," Sultan Jamawa on "Metalocalypse," Captain Murphy on "Archer," Scallops on "Big Mouth," Mayor Webb on "Bless the Harts," himself — inevitably — on "American Dad!" and "Family Guy," and, most memorably, the iconic talking robot toilet O.T. on "Bob's Burgers."
Additionally, his voice turned out to be a fantastic fit for narration duties. In 2015, he was the narrator of the HBO mockumentary comedy film "7 Days in Hell," starring Andy Samberg and Kit Harington as rival tennis players engaged in a bitter week-long match. His success as the narrator of a fake sports documentary led to a career-defining gig as the narrator of real sports documentaries on Amazon Prime Video's "All or Nothing" series. And he also could be heard as the narrator on several episodes of FX's trippy superhero series "Legion."
Hamm has been recurring on M.O.D.O.K. as Iron Man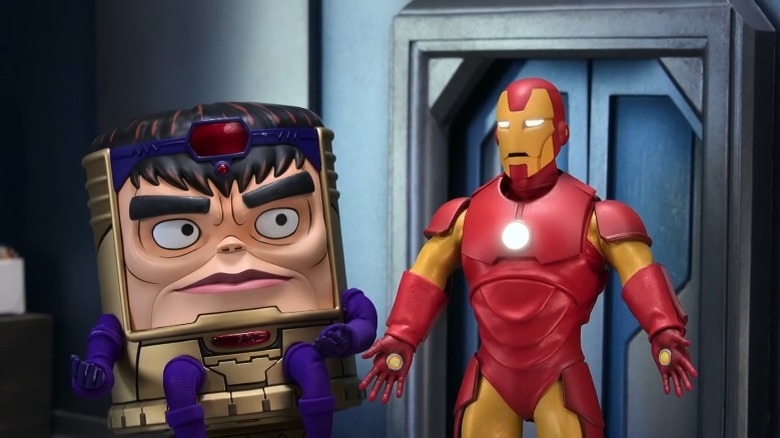 Hulu
More recently, Jon Hamm has been appearing on superhero-related series with particular frequency. In addition to "Legion," he also voiced Secret Service agent Steve on two episodes of "Invincible," and, the same year, he appeared on four episodes of "Marvel's M.O.D.O.K." as everyone's favorite genius billionaire playboy engineer himself, Tony Stark aka Iron Man.
Although "M.O.D.O.K." is technically not set in the same continuity as the "canon" Marvel Cinematic Universe films and series (via ComingSoon.net), the goofy Hulu stop-motion comedy about the misadventures of the titular hot-headed villain (voiced by Patton Oswalt) does score its fair share of laughs at the expense of the MCU. As the former, now-ousted leader of criminal organization A.I.M., M.O.D.O.K. (also known by his civilian name of George Tarleton) has a particular obsession with Iron Man, and their frequent encounters make for some of the show's funniest, most reference-laden moments, with Hamm relishing the opportunity to skewer the haughty Tony Stark persona.