How Jesse Plemons Really Felt About Benedict Cumberbatch On The Power Of The Dog's Set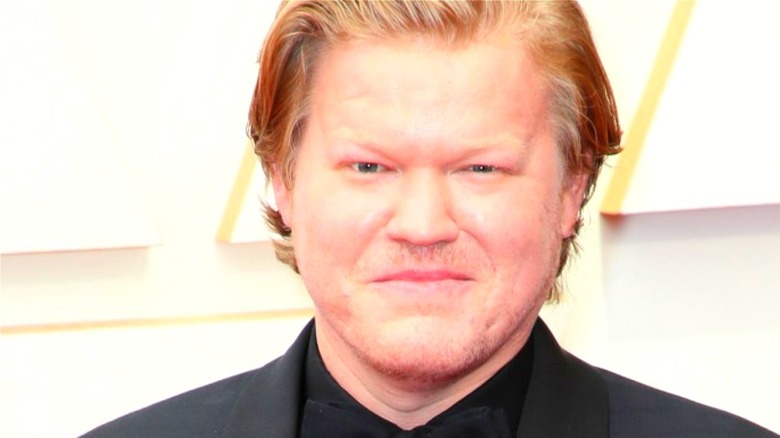 David Livingston/Getty
Based on the 1967 novel of the same name by Thomas Savage, 2021's "The Power of the Dog" was written for the screen and directed by Jane Campion. Set in 1925, the film introduces Phil Burbank (Benedict Cumberbatch), a brutal and menacing cowboy who runs a ranch with his brother, George (Jesse Plemons). When George meets and marries a widowed hotelier, Rose (Kirsten Dunst), Phil reacts by tormenting Rose, as well as her teenage son, the quiet and impressionable Peter (Kodi Smit-McPhee). However, things take a turn when Phil appears to begin taking Peter under his wing. 
"The Power of the Dog" was praised up and down the board — not only was it hailed as a brilliant film by critics (via Rotten Tomatoes), but it also received a whopping 11 Academy Award nominations and a sea of other accolades, including DGA and BAFTA nods, with Campion even taking home the Oscar for best director. Amongst the nods, all four major actors — Plemons, Cumberbatch, Dunst, and Smit-McPhee — received nominations for their performances.
It's clear that the end result of "The Power of the Dog" was a massive success on all counts, even if it only won one out of its 11 Oscar nominations. But as it turns out, it wasn't always smooth sailing on set to get to that point. In fact, Cumberbatch's tactics to delve into his character — namely, his decision to commit to method acting — didn't exactly sit well with all of the actors on the film set. Plemons, in particular, had something to say about Cumberbatch's behavior as he was method acting.
Plemons said Cumberbatch as 'Phil' made a comment he didn't like
While filming "The Power of the Dog," Benedict Cumberbatch decided to go the route of method acting, staying in character for most of the shoot, even when the cameras weren't rolling. According to IndieWire, Cumberbatch smoked cigarettes to the point of giving himself nicotine poisoning, learned to play the banjo, and even learned how to castrate a bull. His co-star Jesse Plemons discussed with Variety what it was like on set with Cumberbatch staying in character.
Plemons recounted one moment in which he didn't love interacting with "Phil." Plemons told Variety, "There was one time he got under my skin. He was like, 'Hey, big boy.' It wasn't 'fatso.' I feel like a few people in life have been like, 'Hey, big boy,' and I was like, 'Goddamn it. What the f***.'" However, the tension luckily didn't last long, as later, when Plemons told Cumberbatch that he didn't appreciate the remark at the time, Cumberbatch sincerely apologized. Plemons continued, "I was like, 'No, don't worry. It was great.'"
Cumberbatch also spoke to Variety about his experience staying in character throughout the whole shoot, explaining that Jane Campion introduced him to the cast and crew as "Phil" so that everyone was aware of the process. Cumberbatch said, "That just gave me permission to commit to this character whose behavior is at times repugnant, and not feel apologetic or embarrassed or self conscious about it in any way." At least he was able to clear the air with Plemons in the end.