Director Jane Campion Just Made Oscars History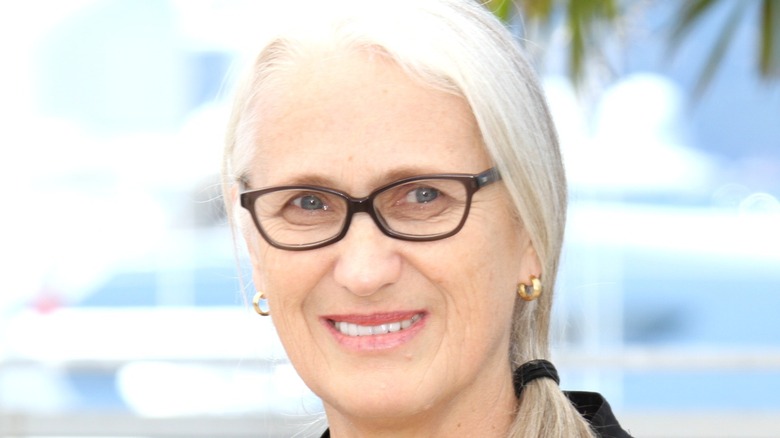 Denis Makarenko/Shutterstock
With over three decades in the entertainment industry, writer and director Jane Campion has been a part of many significant and emotionally resonant projects. Hailing from New Zealand, Campion has told visceral and at times devastating stories from her homeland. 1993's "The Piano" stars Holly Hunter as Ada, a mute woman who moves to New Zealand with her new husband Alisdair (Sam Neill). She finds love but also violence in her new circumstances. Campion was also the creative force behind the mystery series "Top of the Lake." The show ran from 2013 to 2017, centering around complicated detective Robin Griffin (Elizabeth Moss) who is committed to solving the case of a pregnant girl found frozen in the lake.
Campion's portrayal of haunting female stories has made her a talented auteur. But with Oscar season upon us, the director is getting noticed for her recent film "Power of the Dog." While the film stars Benedict Cumberbatch as the brutal Phil Burbank, the female perspective is not lost. "The Power of the Dog" is a tale about toxic masculinity set in a Western world. The film has won several prizes, including best directing at the Venice Film Festival last year (via Variety). But its recent Oscar nomination is noteworthy for one specific reason.
Jane Campion is the first female to be nominated for directing more than once
Hollywood has seen few female filmmakers nominated for Oscars in the past. Variety reports there have only been seven female nominations for best director, a stark number when looking at the Academy Awards' 90 year history. The number of women directors nominated more than once is even fewer. Jane Campion has made history by being the first female director to be nominated more than once in the directing category for her film "The Power of the Dog."
Campion was previously nominated for writing and directing "The Piano" (per IMDb). The film took home many awards that night, including two for acting and one for best original screenplay. Though nominated, Campion did not take home the prize for directing. This would make a potential directing win for "The Power of the Dog" somewhat vindicating for the filmmaker. Not only is she the first female director to be nominated more than once, but should she win, she would only be the third female director to do so. The first ever female filmmaker to win in directing was Kathryn Bigelow for "The Hurt Locker." The 2nd was last year for Chloe Zhao's "Nomadland" (via The Wrap).
Women are not always recognized for their feats in filmmaking, and Campion's work for the past 30 years has made her a great contender.