The Surprising Reason Steven Seagal Was Sued For Driving A SWAT Tank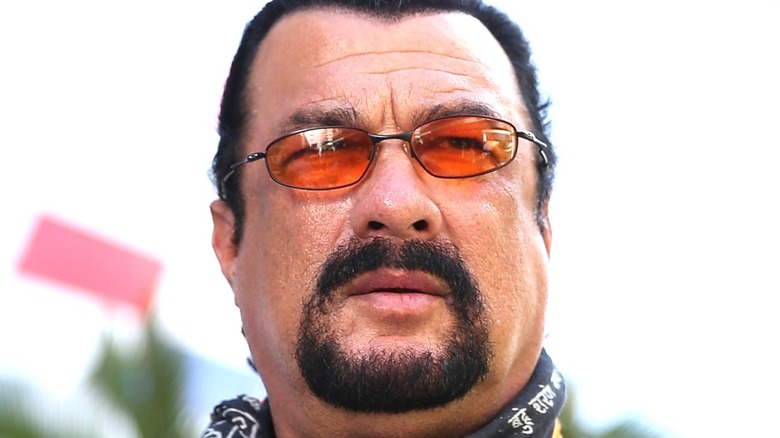 Clive Mason/Getty Images
While lately, Steven Seagal has perhaps been best-known as an apologist for Russian aggression (via the Daily Mail) amid the nation's recent bloody invasion of Ukraine, the actor and martial arts expert was once one of the hottest action stars in Hollywood. During the 1980s heyday of movies featuring hard-hitting, vigilante-style heroes pitted against international drug lords and other mega-villains, Seagal shot, punched, and karate-chopped his way to big box office returns with formulaic action hits like "Hard to Kill," "Above the Law," "Under Siege," "Fire Down Below," and others (per IMDb).
Before long, however, the tastes of the movie-going public shifted, and Seagal's days of big-budget films backed by equally big-budget marketing campaigns were over. He would continue to pump out trademark Steven Seagal movies, but they would generally be direct-to-video efforts like "Out for a Kill," "Kill Switch," "Driven to Kill," and other somewhat similar films with titles involving synonyms for the word "kill." So while his fans may not find it all that shocking that action-movie-guy Seagal would, at some point, have driven a SWAT tank, they might be surprised to learn the reason he was sued for puttering around in one of these heavily armored vehicles. As it turns out, he was, in fact, sued — and we know the really super-sad reason why.
Seagal was sued over a police bust involving cockfighting and a deceased puppy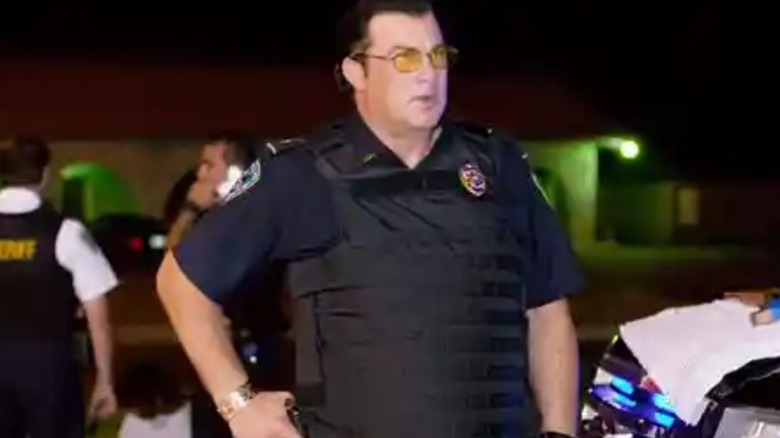 A&E/Everett/Rex Features
In the late '80s, Steven Seagal picked up a side hustle as a police consultant in Louisiana. Asked to come and train a local police department in martial arts and marksmanship by a longtime fan, who also happened to be the sheriff in Louisiana's Jefferson Parish, Seagal obliged, eventually even signing on as a reserve deputy. This, in turn, laid the foundation for Seagal to star in the reality series, "Steven Seagal: Lawman," airing on A&E for its first two seasons (per Reuters), then running on Reelz for a third season, where the action moved to Arizona (via NOLA.com). And it was due to "Lawman" that Seagal would subsequently find himself in legal hot water, as reported by Forbes.
The lawsuit in question came about in the aftermath of an episode of "Steven Seagal: Lawman" that was filmed but then shelved. In the episode, Seagal, who was then accompanying controversial Maricopa County Sheriff Joe Arpaio, operates a SWAT tank while raiding the home of a man accused of running an illegal cockfighting operation. The man whose home was raided subsequently sued Seagal for $100,000 in damages, and demanded that he apologize for the death of the family's puppy that was killed during the raid. 
While Seagal and Arpaio denied killing the puppy and the charge was eventually dismissed by the court, this cockfighting bust and the tragic fate of an unnamed puppy are part of the surprising reason behind Seagal's legal troubles during his time on "Lawman."