Batgirl Star Leslie Grace Reveals The One Thing That Made Her Nervous About J.K. Simmons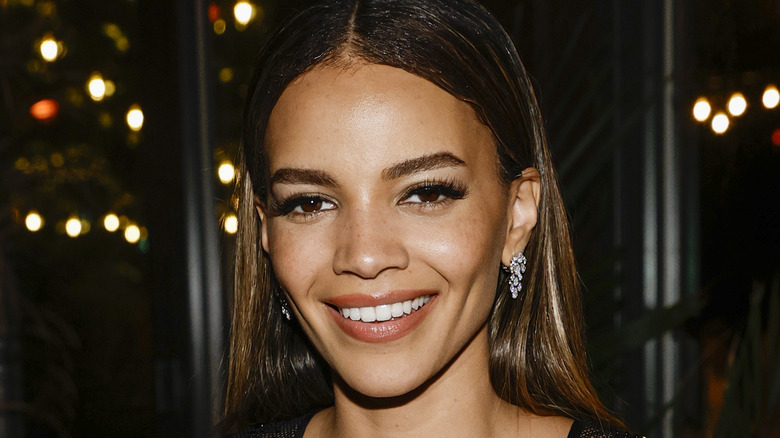 Jamie Mccarthy/Getty Images
In general, the recent slate of cinematic adaptations of DC Comics characters has been met with a rocky reception. However, one property that continues to garner mass popularity is the Batverse. Matt Reeves' "The Batman" is a somber noir-inspired mystery, depicting Batman (Robert Pattinson) in the first few years of donning the cowl. With the movie grossing over $700 million at the box office and earning critical and audience acclaim, there's a lot of interest in what's next for Gotham City. Thankfully, fans don't have to wait too long for another caped crusader. For the first time ever, Barbara Gordon is getting her own origin movie in the HBO Max original "Batgirl."
Batgirl has had live-action depictions before, from the "Batman" live-action series of the '60s to the ill-fated "Batman & Robin" film. However, "Batgirl" will give Barbara the opportunity to step out as the main character of her own story. Played by Leslie Grace, Barbara is the daughter of famous Police Commissioner Jim Gordon (J.K. Simmons). Simmons is reprising his role from "Justice League" and states audiences will see a different version of the commissioner than in the previous film. But it wasn't his past appearance in the DC multiverse that made Grace nervous to work with him.
Leslie Grace still has Whiplash
J.K. Simmons has played many comforting role models in the past. He is the voice of Korra's (Janet Varney) paternal airbending master Tenzin in "Legend of Korra" and even longer ago, the fascinatingly understanding father Mac in "Juno." However, these were not the roles that Leslie Grace thought of when she found out she would be working with the accomplished actor.
"I was so nervous because all I could hear in my head was his voice in 'Whiplash," Grace stated in an interview for Variety. "Like what would he do and say if I didn't get something right?" Simmons' portrayal of jazz band conductor Fletcher in Damien Chazelle's film is a masterclass. Fletcher is demeaning to his band, even slapping his drummer Andrew (Miles Teller) for not keeping tempo and screaming verbal abuse at him. Simmons' portrayal was so captivating that it won him the Academy Award for best supporting actor that year.
Simmons has had quite an intimidating career but the good news for Grace is that "Whiplash" is just a movie. Jim Gordon in all multiverses is dedicated to fighting crime and is an all-around caring person. There could be no better father for Barbara and no better actor to portray him.