The Staggering Amount Of Money Jerry Seinfeld Turned Down For Seinfeld Season 10
Emma McIntyre/Getty
"Seinfeld" is a half-hour comedy following the misadventures of four neurotic friends living in New York City. Its incredible popularity made household names of actors Jerry Seinfeld, Jason Alexander, Michael Richards, and Julia Louis-Dreyfus (and their characters). 
The show first aired in 1989, and by its final season was one of the most watched sitcoms on television. The last season was viewed by 38 million people, and the series finale grabbed nearly 80 million viewers in 1999 (via The LA Times). During its run, the show also garnered 10 Emmy Awards, including one for outstanding comedy series for the show's fourth season, which personally awarded Seinfeld himself, among others (via IMDb). To say that "Seinfeld" was anything short of a phenomenon would be an understatement. Because of this, it makes perfect sense that NBC would want to keep the show on air for as long as possible.
Though the hit sitcom "Seinfeld" had the option to make its run last a full 10 years, and likely longer, Seinfeld turned down such an offer from NBC.
Seinfeld said no to $5 million per episode for a new season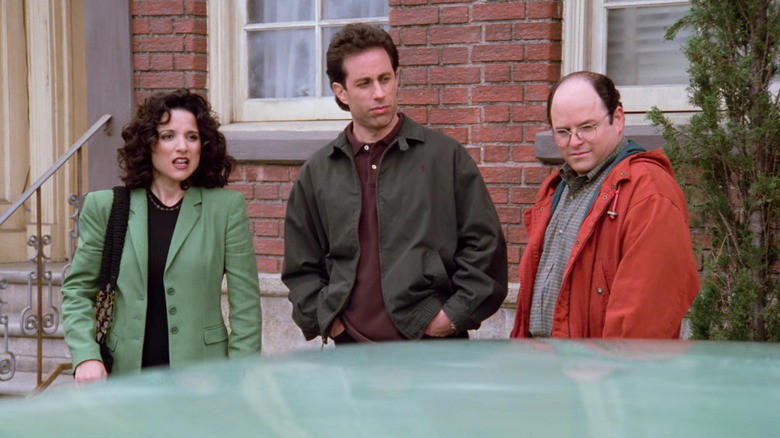 NBC
In an interview with The New York Times, Jerry Seinfeld was asked why the show ended at the height of its popularity, for which the comedian served as lead actor, executive producer, showrunner, creator, and a writer for the series duration. It was revealed that Seinfeld was offered $5 million per episode from NBC to continue the show. From such a hefty salary, he could have netted $115 million for a standard 23-episode season. It's an amount that could make anyone's jaw drop, but the comedian turned it down. Why? Proportion.
According to Seinfeld, the word proportion is the most important in the creation of comedy. "How much? How long is this joke going to be? How many minutes? And getting that right is what makes it art or what makes it mediocre," he said. 
The ending of the show proved divisive. The finale is the 16th lowest-rated episode on IMDb, and involves the friends on trial for a crime with previous episode guest characters testifying against them. User reviews on IMDb share sentiments of the season being top-tier, but the actual finale as unfunny, too dark, or a weird disservice towards the central characters. "Everyone in America was expecting such a fantastic finale and nothing can live up to their expectations... even if that is the case- it is just a genuinely bad episode," wrote user SourGreenapple42.
With such reception, Seinfeld's financially counterintuitive decision to end the show makes sense.