Did The Stars Of Netflix's Metal Lords Actually Play Their Instruments?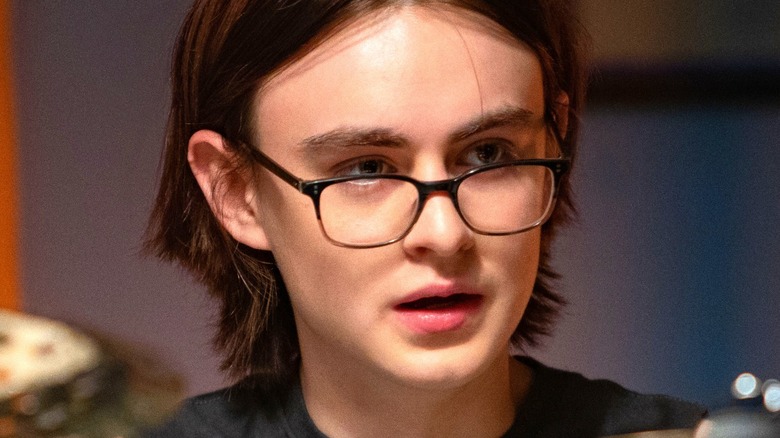 Scott Patrick Green/Netflix
A new teen film with a musical twist has made its way to Netflix. 
"Metal Lords," directed by Peter Sollett and written by D.B. Weiss, was released to the streaming service on April 8. The film follows teen best friends, drummer Kevin (Jaeden Martell) and guitarist Hunter (Adrian Greensmith), who have dreams of winning their school's upcoming battle of the bands. Specifically, they have their sights set on starting a metal band to take over the battle of the bands with their angsty and hardcore rock music. Finding themselves in need of another member, Kevin recruits cellist Emily (Isis Hainsworth) — who he may be interested in in more ways than one. So will Kevin's budding romantic feelings for Emily get in the way of the band, or worse, his friendship with Hunter?
It's an understatement to say that music is integral to everything about "Metal Lords." And with three lead characters who are all musicians, it's essential to recruit three actors who either know how to play their respective instruments or are especially good at faking it. So, which route did Netflix take in casting the "Metal Lords" stars? Did Martell, Greensmith, and Hainsworth actually play their instruments? Let's find out.
The actors aren't musicians in real life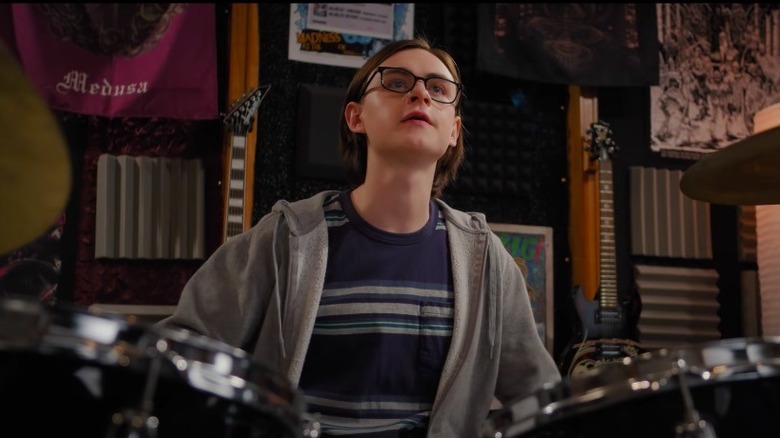 Netflix
Despite their convincing performances, the three lead actors of "Metal Lords" did not have any experience with metal rock prior to working on the film. In fact, neither Jaeden Martell nor Isis Hainsworth had played an instrument of any kind; Adrian Greensmith, meanwhile, is a jazz guitarist and is the exception of the group (via Tudum). Luckily for the actors, they had a pretty authentic coach — Tom Morello, the guitarist of the metal band Rage Against the Machine, acted as the chief metal counselor (in writer D.B. Weiss's words). Additionally, Hainsworth trained with a professional cellist named Vanessa Freebairn-Smith.
Speaking to Tudum about the process of coaching the young actors, Morello said, "Because they were not metalheads... it was very important for all of them to play the music correctly. They really did a great job as actors learning how to make it look exactly like they're playing the [songs]." Morello, however, insisted that the work had to go beyond learning the movements. He continued, "You have to be inhabited by the holy spirit of heavy metal."
To help the actors find said spirit, he created a mood board for the actors, with photos such as the Metallica singer James Hetfield screaming while performing. Morello also instructed Martell on how hard he needed to hit the drum kit while performing (put simply: insanely hard). In the end, Morello was content with the finished project: "[They] managed to fool me, which I figured was pretty good."