Chicago Fire Fans Have Strong Feelings About Newcomer Emma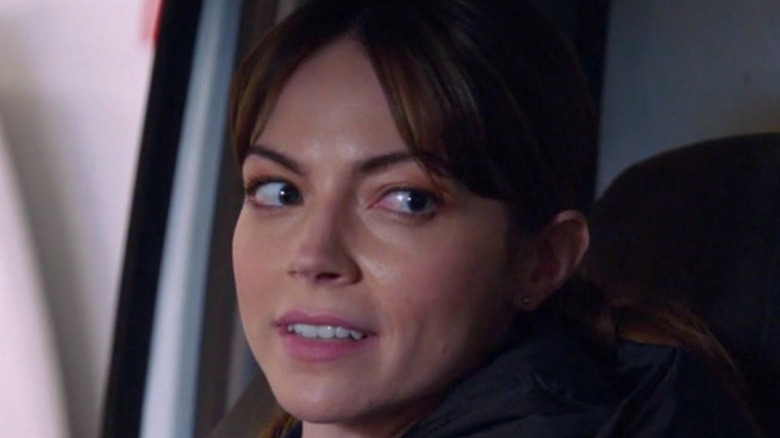 NBC
Contains spoilers for "Chicago Fire" Season 10, Episode 18
NBC's Wednesday-night stalwart "Chicago Fire" has undergone a few cast shake-ups recently. Matt Casey (Jesse Spencer) departed the series during its 200th episode to raise Andy Darden's sons in Oregon, requiring him to leave behind the city he loves. That forces his relationship with Sylvie Brett (Kara Killmer) to become a long-distance one, complicating their connection. Sylvie has recently chosen to take a temporary leave of absence from her role as a field paramedic to be with Casey in Oregon. Stella Kidd (Miranda Rae Mayo) has also returned to the fold after spending a couple of episodes in Boston.
To pick up a little bit of the narrative slack, a brand-new character has been introduced to the show: Caitlin Carver as Emma Jacobs, a paramedic who has taken Sylvie's place on Ambulance 61 for the past couple of weeks while Sylvie has been out of town. She and Violet Mikami (Hanako Greensmith) are the only women working on the transport, standing in the place where Gabriela Dawson (Monica Raymund) and Leslie Shay (Lauren German) once stood.
"Chicago Fire" fans are known for being strongly devoted to the show and its characters. And at the moment, they're having a lot of strong feelings about Emma.
Fans dislike Emma's lies and attitude
During "What's Inside You," Darren Ritter (Daniel Kyri) catches Emma in a pretty big lie: She didn't attend Johns Hopkins University, the prestigious medical school she'd told everyone she'd matriculated at. That combined with the designs Emma seems to have on Brett's spot have fans side-eyeing Emma big time.
Is it possible that Emma might catch wind of Violet's secret relationship with Evan Hawkins (Jimmy Nicholas) and use the information against her? Both Violet and Hawkins are already on thin ice with department heads after being reported for making out while on duty during the events of "Hot and Fast," and it wouldn't take much more to get Violet in big trouble.
Several fans think that Emma might be trying to get Violet out of the way to preserve her position at Engine 51. "What if.....Emma tries sabotaging Violet in order to stay on ambo 61 when Brett returns," asked @onechicagogurl. "Really didn't like Emma [sic] whole facial expression when Violet told her she had no chance at 51 cuz it's Brett's place and she will be back soon! I have a feeling she will use any means to either push out Violet from 51 or Brett to get herself a place at 51," said @BrettseyDaily.
Other fans think that Emma might be a compulsive liar due to her Johns Hopkins lie. "I agree with Ritter, something is off," said @bonlrisch, adding a side-eye emoji. @BrettseyDaily wonders if Emma might have been brought on by the CFD specifically to spy on Hawkins and Violet. But to find out who Emma really is, fans will have to keep watching "Chicago Fire."