Marvel And Disney Look To Win Big At The Emmys
While the annual Golden Globe awards honor accomplishments in TV and film alike, the Emmys is the only major awards shows dedicated solely to TV. One of the biggest winners at the Emmy awards in 2021 was Netflix's British royal family drama "The Crown," which chronicles various time periods in the life of Queen Elizabeth II. "The Crown" single-handedly earned Netflix 11 Emmy awards in categories including Best Drama, Best Actor, Best Actress, and Writing for a Drama Series, among others.
Another streaming exclusive that won singificantly at last year's Emmys was Marvel Cinematic Universe series "WandaVision." While "WandaVision" is far from the first Marvel TV show — it's predated by "Agents of S.H.I.E.L.D." and Netflix's run of Marvel series — it became the first Marvel show to win an Emmy. In fact, "WandaVision" netted Marvel Studios three Emmys in total.
Now, with the 2022 awards ceremony on its way, Marvel and Disney have their sights set on more Emmy wins if all goes according to their plan.
Loki appears to be in the Emmys conversation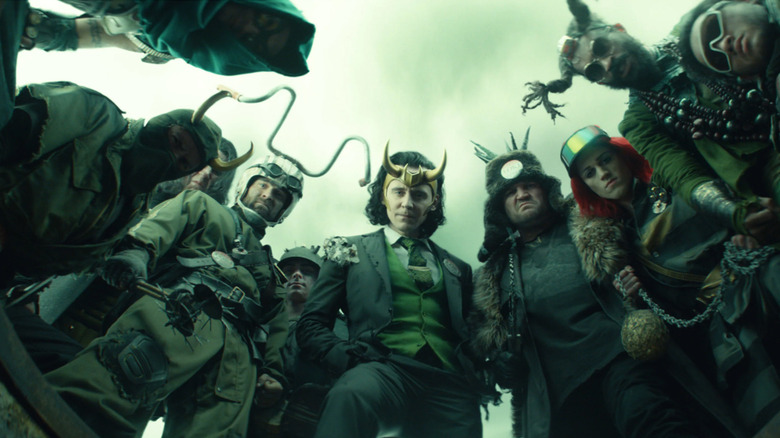 Marvel/Disney+
As detailed in a report by Variety, of the multiple Marvel Cinematic Universe series to air on streaming service Disney+ in 2021, Marvel and Disney seem to have high hopes for "Loki" at this year's Emmy awards ceremony.
The 2022 Emmy nominees have yet to be announced, so just how many nominations "Loki" might receive is not yet a sure thing. Variety, however, confirmed that Marvel and Disney must enter "Loki" into contention as a drama, after initially planning on submitting it as a limited series. Whereas fellow MCU shows "Hawkeye" and "Moon Knight" will compete as limited series, "Loki" promises viewers a second season in the final episode of its first, leading the Television Academy to disqualify it from limited series contention amidst a larger effort to regulate what can and cannot compete in such categories.
While precisely which awards Marvel and Disney think "Loki" might have a chance at winning are not public knowledge, Variety theorizes that series star Tom Hiddleston, director Kate Herron, and composer Natalie Holt may all earn nominations for their respective contributions.
According to the Emmy Awards Calendar, the full list of Emmy nominees will become available on July 12 in advance of the awards show on September 12.