The Failure To Launch Character You Likely Forgot Zooey Deschanel Played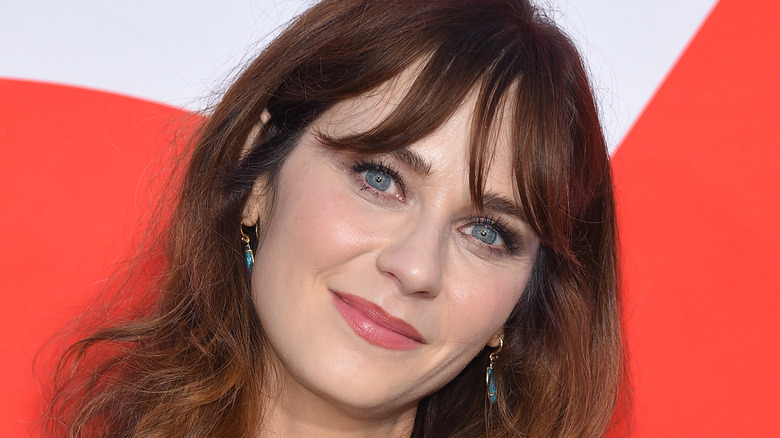 DFree/Shutterstock
Before a generation largely identified her as Jess in the Fox sitcom "New Girl," actress Zooey Deschanel had been in a mix of successful big-screen comedies and dramas. The performer first attracted notice as the cool older sister who looms large in rock journalist William Miller's (Patrick Fugit) mind throughout "Almost Famous." 
She often played the best friend or a hip love interest in a number of 2000s movies, including "Elf," "The Good Girl," and "The Hitchhiker's Guide to the Galaxy," though Deschanel bristled at being typecast as well. She told The Los Angeles Times in 2003 that "A lot of these roles are just a formula idea of somebody's best friend, and it's like, I don't even have that many friends."
After playing Summer, the skeptical object of Tom's (Joseph Gordon-Levitt) affection in the sleeper hit "500 Days of Summer," Deschanel produced and starred in "New Girl" as the quirky teacher Jessica Day. The actress based parts of the character on her own personality, especially her passion and optimism (via IGN). 
But even fans of the actress may have forgotten about one of the last best friend roles she played as part of a famous 2000s romantic comedy.
Zooey Deschanel was a weird roommate in Failure to Launch
One of Matthew McConaughey's numerous high-concept romcoms before he transitioned back into dramatic acting, "Failure to Launch" features the actor as Tripp, a man who still lives with his parents, Al (Terry Bradshaw) and Sue (Kathy Bates). The parents hire an expert, Paula (Sarah Jessica Parker), to get Tripp out of the house, but when sparks fly between the two, the situation becomes complicated.
Zooey Deschanel plays Kit, Paula's eccentric roommate who drinks heavily and gives no-nonsense romantic advice about Tripp. Her character also ends up falling for Tripp's best friend Ace (Justin Bartha) after an awkward start. At the time, Deschanel told ScreenSlam that she liked the script because "all of the characters are interesting and it works as a comedy as well." Compared to her other "funny friend" roles, the actress also has a lot to do, including a hilarious feud with a bird outside her window.
The movie made $130 million (via Box Office Mojo) at the box office, but Deschanel would never play a friendly side character in a comedy again. Instead, she continued to find roles that suited her skills as a lead actress, including the SyFy series "Tin Man," "500 Days of Summer," and "New Girl."