The American Horror Story Actress Fans Can't Help But Love
Though FX's hit series "American Horror Story" is an anthology, the show has an ensemble of actors who return for each new season, often playing wildly different characters. One of the best examples of this is actor Evan Peters, who first appeared back in Season 1 as the deeply troubled ghost Tate Langdon and who has gone on to appear in an additional eight installments. Then there is the legendary Oscar-winning actor Kathy Bates, who first appeared in the 3rd season as the serial killer Delphine LaLaurie, and who went on to star in four more seasons, most recently appearing in "American Horror Story: Apocalypse" as both LaLaurie and the Satanist Miriam Mead.
As such, there are many actors in "American Horror Story" who have become an essential part of the series, though admittedly, the show does not shy away from introducing plenty of fresh faces with each new season. In fact, one of the more recent additions to the show's regular ensemble has become a bona fide fan favorite. 
Fans absolutely love what Leslie Grossman brings to the series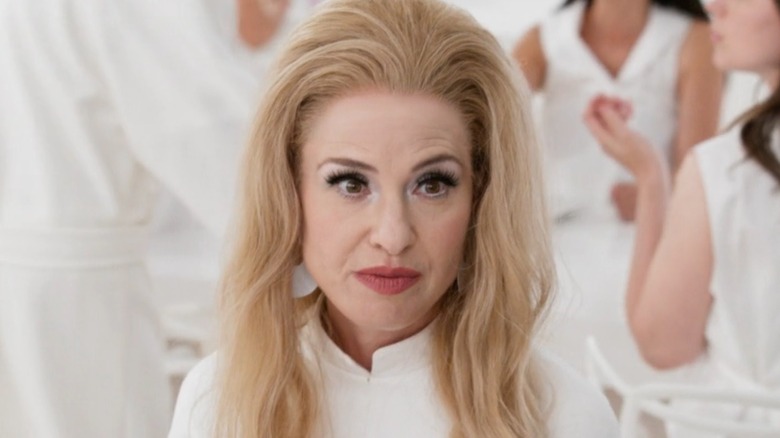 FX
Leslie Grossman first appeared in "American Horror Story: Cult" as Meadow Wilton, a member of the Trumpian cult led by Kai Anderson (Evan Peters). Since then, she has gone on to star in Seasons 8, 9, and 10 of the series, and some fans on Reddit have asserted that she may just be the best addition to the cast of the series since, well, ever.
"I love her! Probably my favorite cast member," wrote u/YOgabba573. "I really really enjoy Leslie Grossman," echoed u/generaltofu27. "And what a treat it was in season 9 to have her and Leslie Jordan in so many scenes together." Other users chimed in to praise her acting skills, as well as the palpable charisma she brings to a series that often seems incredibly grim and dark. "Leslie grossman could convince me to do anything," wrote u/wazzo101. "Watching her in season 9 and 10 of ahs has made me realize she could honest to god convince me to do anything with her negotiation skills." 
"And funny!" added u/oFbeingCaLM. "She's such an excellent addition to the cast." Though she hasn't appeared in nearly as many seasons as someone like Evan Peters or other series veterans such as Sarah Paulson, it's clear that fans can't help but love what Leslie Grossman brings to the table. One has to hope that she'll continue to make regular appearances in "American Horror Story" as the show continues.