Karen Gillan Confirms What We Suspected All Along About Aaron Paul's On-Set Demeanor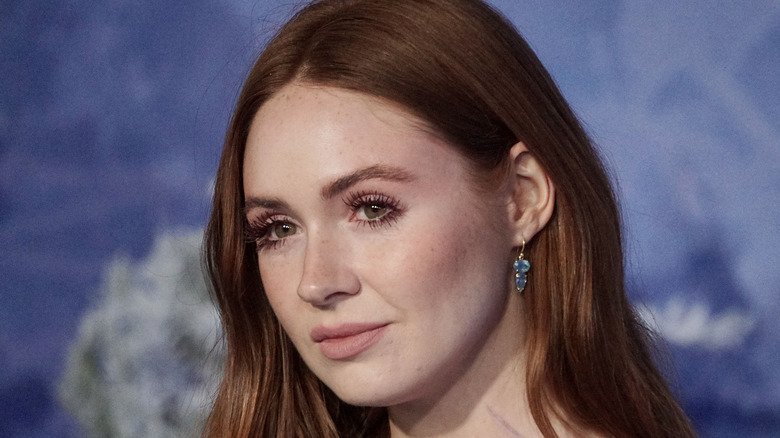 Tsuni-USA/Shutterstock
Karen Gillan is no stranger to bizarre and unique content. From "Doctor Who" to "Guardians of the Galaxy," she has starred in many popular sci-fi properties and does not appear to be slowing down. Her most recent film, "Dual," tackles the subject of clones, but with a comedic slant. Written and directed by Riley Stearns — the mind behind "The Art of Self-Defense" — the film is set in a world in which those who are terminally ill have the option to create a clone of themselves. This clone is meant to take their place upon their death as a comfort to their loved ones. 
This ends up being the choice Sarah (Gillan) makes. However, things take a turn for the interesting when she goes into remission and must fight her clone to the death for the right to keep on living. Sarah is confronted with several obstacles, one of which is her clone already trying to steal her life. Her best option is to train and learn how to kill her clone so she can stay alive with the help of Trent (Aaron Paul). Trent uses his expertise to train Sarah, fighting against her incoordination and reluctance to learn, creating compelling chemistry that shines both on and off camera.
Aaron Paul is a joy to have on set
Alongside Karen Gillan, Aaron Paul also has a staggering reputation with fantastic past roles. Starring in both "Breaking Bad" and "Westworld," the actor seems to gravitate toward serious fare. 
But both Paul and Gillan's deadpan performances in "Dual" created an amenable and welcoming relationship on set. "We did enjoy our scenes together. Yeah, we had such a good time," Gillan told The Hollywood Reporter when asked about what it was like working with Paul. "He's one of the most wonderful people I've ever worked with and he's so generous." Gillan went on to comment on his professionalism, though his substantial part in the movie did not require a long shooting schedule. Paul was only on set for four days, but the two made the most of it. 
One of the most notable moments in the film is the coordinated hip-hop dance routine (via The Wrap). Paul stated that the pair initially struggled with the choreography, but the entertaining interlude adds to the tone of the film. Though "Dual" has a dark subject matter, there are beats of humor that help keep the story's momentum going. Audiences can experience the intriguing tale and on-screen chemistry between Gillan and Paul when the film hits theaters on April 15 (via Rotten Tomatoes).