The Weirdest Catch In River Monsters Season 2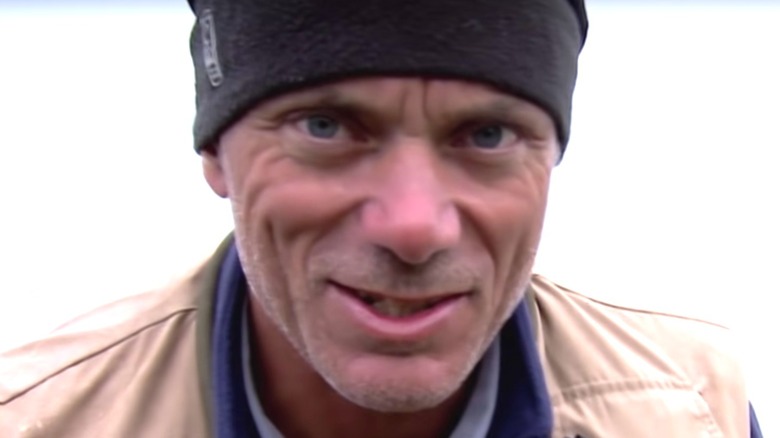 Grab your hooks and fishing tackle, because we're here to talk about "River Monsters." Hosted by expert fisherman and scientist Jeremy Wade, "River Monsters" aired on Animal Planet from 2009 until its conclusion in 2017. Over the course of 10 seasons and numerous television specials, Wade travels the world in search of some of the deadliest, elusive, and most bizarre-looking fish you've ever seen. 
One of the best parts about "River Monsters" is the anticipation. Wade typically does thorough research in order to figure out how best to capture his target, as well as interviewing locals about surrounding wildlife and potential river monster sightings. Wade is an entertaining host, but his strength lies in the respect and attention he gives to all of the animals he encounters on his journey. 
Most of the fish and various water-dwelling creatures featured in the series look like they sprung from a nightmare, but Wade's love of animals makes the audience appreciate these so-called monsters for the natural wonders they are. The truth about "River Monsters" is that none of the fish are really malicious, and Wade makes it his mission to educate viewers about their true nature.
Season 2 of "River Monsters" is exceptionally intriguing, with Wade traveling to places like Thailand, Africa, India, and the United States in search of fish that inspire legends and tall tales. However, Wade makes one catch in the second season that stands out above the rest.
Wade catches the goliath tigerfish
Season 2, Episode 1, titled "Demon Fish," features the goliath tigerfish, a creature that looks like it would be cast as a villain in the next "Finding Nemo" sequel. This freshwater fish can be found in Africa along the Congo River basin, which is exactly where Wade goes to find it (via Fishbase). 
Prior to the series, Jeremy Wade actually traveled to the Congo region three times over a six-year period in search of the goliath tigerfish, which can weigh upwards of 100 pounds (via The Telegraph). Ultimately, he achieves his goal when he hooks a 78-pound tigerfish, a catch that Wade says is "the big one I had been after for almost 25 years."
The fish is huge, splayed across Wade's chest like a piece of armor, and its fearsome teeth rival that of a shark's. Usually, Wade frees the fish after he catches them, but this particular specimen is given as a gift to the villagers who help the angler on his harrowing mission.
You can watch a variety of Animal Planet series on Discovery+, and you can read more about Wade's exploits in his book "River Monsters: True Stories of the Ones that Didn't Get Away."