The Blue Bloods Cast Members Vanessa Ray Wants To Work With More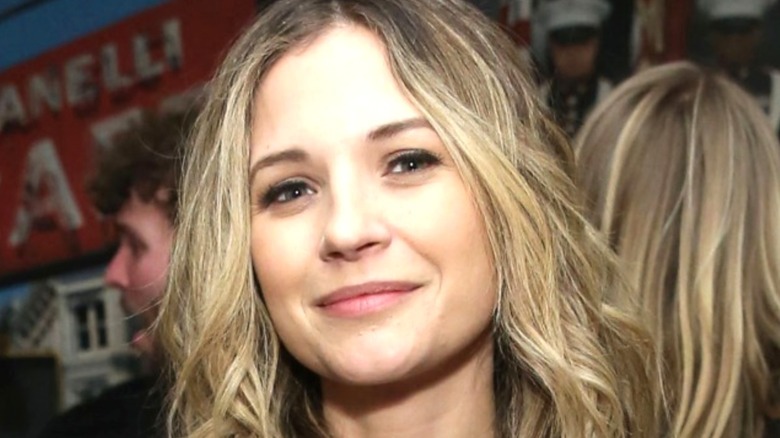 Monica Schipper/Getty
Since joining the series in its Season 4 premiere back in 2013, "Suits" and "Pretty Little Liars" star Vanessa Ray has portrayed officer Edit "Eddie" Reagan (née Eddie Janko) in Mitchell Burgess and Robin Green's popular family-based police procedural, "Blue Bloods." Six years after Eddie and Officer Jamie Reagan (Will Estes) were assigned to be one another's partners, the two became partners in life as well, and were married in the much talked about Season 9 finale, "Something Blue." Even though Officer Janko — as she goes by at work, so as not to lose her own identity to the force that is the Reagan family — was brought up wealthy and sheltered, the discovery of her Bernie Madoff-esque father's white-collar crimes instilled a passion for justice in the Serbian-American former elite, and inspired her to seek a job in law enforcement.   
When Episode 20 of Season 12 airs on May 6th, it will mark Ray's 180th appearance on the long-running series (via IMDb). But despite her prominent placement and relatively fair share of screen time, there are certain cast members with whom Ray rarely interacts. In an interview with Nerds of Color's Sophia Soto, the actor opened up about her thoughts on those characters, and her desire to find some way to share a scene or two with them.
Ray wants to have fun with the dream team
Fans of "Blue Bloods" are more than familiar with Commissioner Frank Reagan's (Tom Selleck) so-called "dream team." Comprised of Frank's Special Assistant, Primary Aide, and unofficial Chief of Staff — Lieutenant Sid Gormley (Robert Clohessy), Detective Abigail Baker (Abigail Hawk), and Commissioner of Public Information Garrett Moore (Gregory Jbara), respectively — the trio might well be described as his minions. 
According to Ray, who reveals that she'd love to have the chance to work with them, they certainly seem to be having every bit as much fun as the similarly-scheming computer animated cuties. When asked whether or not there was a cast member she'd like to work with more and what she imagined their storyline might be, Ray revealed that she'd never had a single scene with Gormley, Baker, and Garrett. "I can't imagine what would cause us to cross paths," she added, "but that bunch is A LOT of fun. I sometimes think they have more fun than me and Will [Estes], which seems impossible because we laugh constantly."