This Is How Much Bridgerton's Phoebe Dynevor Is Actually Worth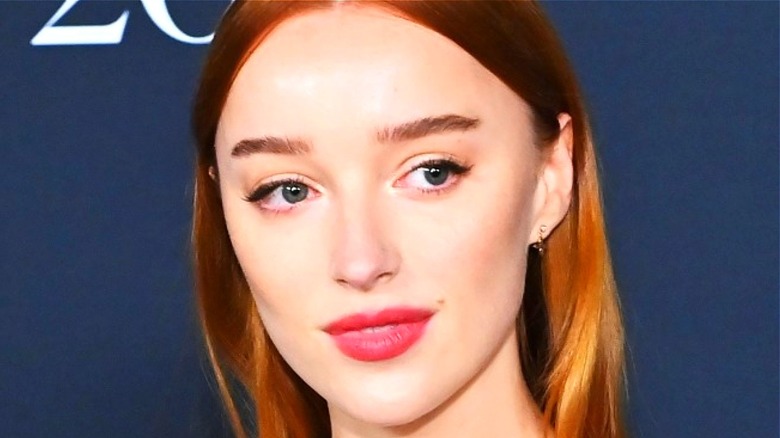 Stefanie Keenan/Getty
Now best known for playing Daphne Bridgerton in the hit Netflix period series "Bridgerton," Phoebe Dyvenor first began her career as a child actress on the fifth series of BBC's "Waterloo Road." You could argue that she was born for the profession, as her grandparents worked in TV (via The Guardian), and her mother, Sally Dyvenor, is known as Sally Webster on long-running British soap "Coronation Street" (via PopSugar). She also knew what she wanted from an early age, telling The Guardian that "My mum and dad couldn't stop me."
Before "Bridgerton," however, Dyvenor wasn't sure about her direction as a performer, and felt somewhat aimless. The actress said, "I had a really strange period in my early 20s with the industry, and not succeeding the way I wanted to, and I put a lot of pressure on myself." Getting cast as headstrong Daphne helped her gain confidence in herself, and she now has an interest in writing and directing on her own.
With only 17 credits listed on IMDb, here's how much the star of "Bridgerton" actually has in the bank.
The Bridgerton actress is worth over $10 million
Phoebe Dyvenor actually has $11 million, according to Idol Networth. Some of her wealth may be from her family, as Sally Dynevor has been a successful actress for decades. Netflix also pays more to actors upfront for film and television productions, because the company doesn't traditional royalties (via Yahoo! News). As one of the stars of "Bridgerton," the actress may have received a hefty sum for her performance, even if her role in the sophomore season is much smaller.
She also recently signed onto a number of film and television productions that may have added to her checking account. Dynevor recently agreed to star and executive produce the new film "The Outlaws Scarlett & Browne" for Amazon (via Variety), and she'll appear as part of the upcoming "Bank of Dave," again for Netflix (via Digital Spy). 
In short, Phoebe Dyvenor's star is rising, especially with "Bridgerton" Season 2 now available, and multiple film and television projects now in the works. Expect that $11 million number to grow.