Sam Elliott Is Having Second Thoughts About His Power Of The Dog Comments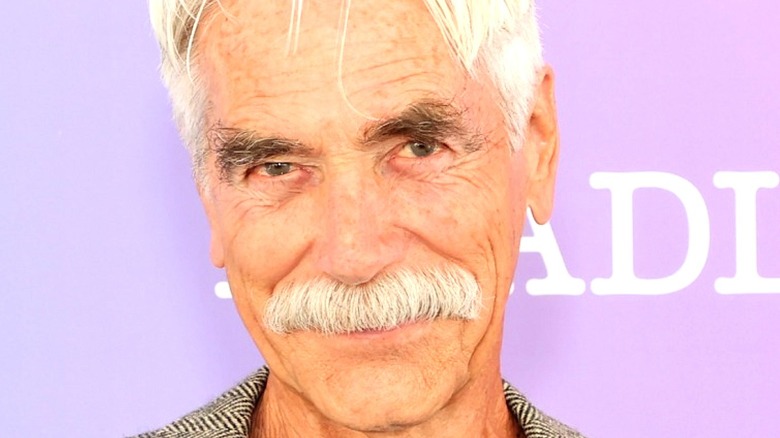 Amy Sussman/Getty
"1883" star Sam Elliott made headlines in March when he criticized the Oscar-nominated film "The Power of the Dog" (which, by that point, was mere weeks away from earning its director Jane Campion an Oscar win for best director) on Marc Maron's "WTF Podcast" while promoting his "Yellowstone" prequel series (via IndieWire). When Maron asked for his thoughts on the movie, Elliott retorted, "You want to talk about that piece of s***?"
At one point, Elliott noted that he loved Campion's previous work before continuing: "What the f** does this woman from down there, New Zealand, know about the American west? And why in the f*** does she shoot this movie in New Zealand and call it Montana and say, 'This is the way it was.' That f***ing rubbed me the wrong way, pal."
The "1883" star also took issue with the movie's depiction of cowboys, likening them to Chippendale's dancers. He told Maron, "They're all running around in chaps and no shirts. There's all these allusions to homosexuality throughout the f***ing movie." It was then that Maron pointed out the film implicitly reveals Benedict Cumberbatch's character is a repressed gay man — something, it should be noted, is also true of the movie's source material, Thomas Savage's 1967 novel of the same name.
Shortly after the "WTF" episode went live, Elliott's remarks set the internet grapevine on fire. It wasn't long before the press began asking those involved with "The Power of the Dog" to react.
Jane Campion and Jesse Plemons shared their thoughts on Elliott's critiques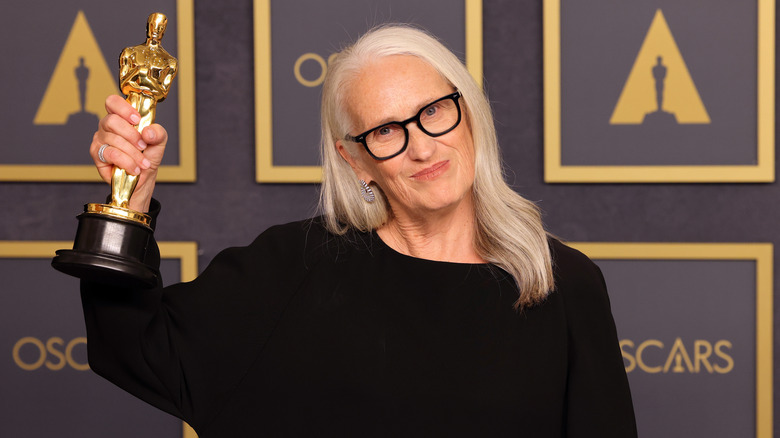 David Livingston/Getty Images
A little over a week after Sam Elliott made his comments on "WTF," Jane Campion was asked about the actor's remarks on the red carpet of the DGA awards ceremony (where "The Power of the Dog" took home the biggest award of the show later that night). The West is a mythic space, and there's a lot of room on the range. I think it's a little bit sexist." Campion added, "I consider myself a creator. I think [Elliott] thinks of me as a woman or something lesser first, and I don't appreciate that."
Around the same time, "The Power of the Dog" star Jesse Plemons also opened up about Elliott's shockingly candid remarks. He seemed to take the comments in stride, laughing them off as he brushed them away with an equally candid response. While on the red carpet at the "Windfall" London premiere, Plemons told Variety, "I laughed when I heard. I don't know why." He went on to admit that he hadn't listened to the specific episode of "WTF" where Elliott opened up but had heard about his thoughts from others (we weren't kidding when we said word traveled fast on this story). Plemons concluded, "I know there's some undertones to what he said, but I also feel like you don't have to like the movie, and that's totally fine. Not everyone has to like it."
In the latest update on the saga, a month after Campion and Plemons responded, Elliott is now walking back some of his comments.
Elliott has apologized for his Power of the Dog comments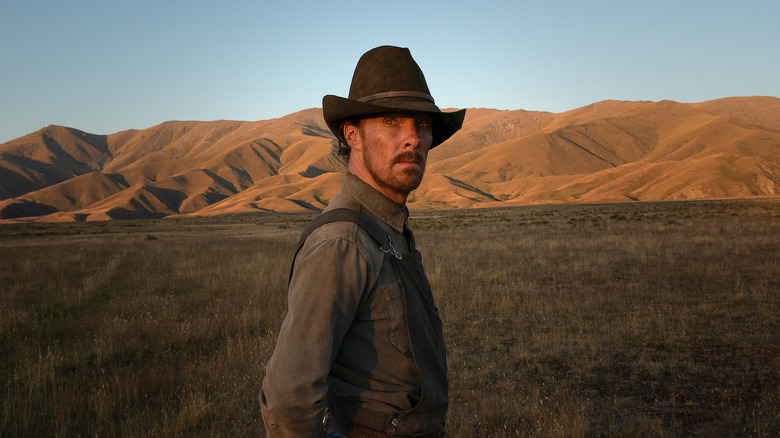 Kirsty Griffin/Courtesy of Netflix
Sam Elliott attended Deadline's Contenders TV event on Sunday to once again promote "1883," where he addressed his previous critical comments about "The Power of the Dog" and apologized to the film's actors. He said, "I told the 'WTF' podcaster [Marc Maron] that I thought Jane Campion was a brilliant director, and I want to apologize to the cast of 'The Power of the Dog,' brilliant actors all. And in particular Benedict Cumberbatch. I can only say that I'm sorry, and I am. I am." Notably, despite reiterating that he finds Campion to be a "brilliant director," Elliott didn't address her directly in his apology. He explained that he wanted to talk about the ways in which the film "struck a chord" with him on the podcast, but that he "wasn't very articulate about it."
Elliott continued by addressing the LGBTQ+ community, as some of his comments criticized how Cumberbatch's character is depicted as being gay. He said, "I said some things that hurt people, and I feel terrible about that. The gay community has been incredible to me my entire career. And I mean my entire career, from before I got started in this town ... I'm sorry I hurt any of those friends and someone that I loved. And anyone else by the words that I used."
We'll just have to wait and see if Campion has any words in response to Elliott's apology.