Is Power Of The Dog A True Story?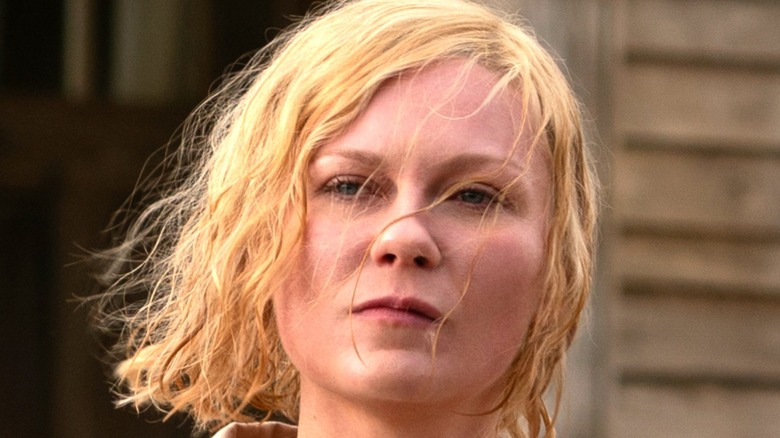 Kirsty Griffin/Netflix
We may receive a commission on purchases made from links.
Jane Campion's acclaimed new Western, "The Power of the Dog," dropped on Netflix this week and quickly barked its way onto the platform's Top 10 just one day after its streaming debut. Critics have praised the movie for its deeply emotional subject matter and the intense performances given by its cast members, especially "Doctor Strange" star Benedict Cumberbatch, whose turn in the film is said to be a "career-best" (via IndieWire).
"The Power of the Dog" starts out as a simple coming-of-age cowboy tale about an uncle and his nephew in 1920s Montana before it eventually shifts into deeper waters, navigating intimate themes of self-discovery and queer acceptance. Specifically, the film covers the closeted homosexuality of Phil Burbank (Cumberbatch) — a rough-and-tough rancher — as he repeatedly torments and bullies his brother's son, Peter (Kodi Smit-McPhee). The two eventually form a bond once Peter discovers Phil's secret, but that doesn't stop Smit-McPhee's character from plotting to kill his uncle for everything he's done to him and his parents during their stay at his ranch. The film subsequently ends with Phil biting the dust, and Peter going on to live a happy life with his family on the Burbank ranch.
Campion's telling of "The Power of the Dog" is so convincing that many viewers have questioned whether or not the entire thing is based on a true story. However, the answer to that question is a bit more complicated than viewers might think.
Power of the Dog is based on a semi-autobiographical book
By the time "The Power of the Dog" reaches its ending, it's hard not to wonder if everything it has depicted was based on real events — especially its plot points involving anthrax. That said, much of what Jane Campion portrays in the film was inspired by the personal experiences of famed author Thomas Savage, a closeted gay man who grew up on a Montana ranch and detailed some of his experiences in a 1967 novel that shares the same title as the film.
"He came to the ranch in a similar manner as Peter — his mother married a brother, at that time, Ed Brenner, who is actually the inspiration for Phil Burbank," Campion explained during an appearance at the New York Film Festival in October (via Decider). "Savage was a gay man who was at that time, not openly gay. He actually married," the director noted. "I imagine he thought of himself as Peter in a way." As for the film's anthrax twist, Campion admitted that was partly fictional.
Speaking with RNZ about Savage's real life, Campion said, "I think he really did have an uncle who bullied him and who did die from anthrax poisoning, though apparently not from him but on a splinter from a pole."