How Nicolas Cage Really Feels About The Possibility Of Playing Ghost Rider Again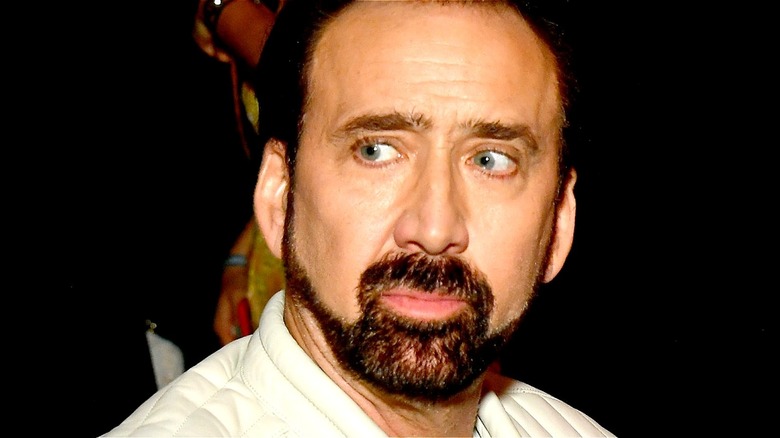 Amy Sussman/Getty
Visually, the appeal of Marvel Comics superhero Ghost Rider is about as straightforward as can be: he wears a leather jacket, rides a fast motorcycle, and sports a flaming skull atop his shoulders instead of a human head. However, in spite of his classically cool appearance, live action depictions of the character have been historically tumultuous.
Most recently, for example, a "Ghost Rider" TV series was in development for Hulu. Then Disney's acquisition of Fox led to the project's cancellation. Before that, Nicolas Cage portrayed the antihero in two feature films that were met with such a poor reception, Marvel more-or-less closed the door on the possibility of any future stand-alone "Ghost Rider" movies.
Cage, notably, has starred in numerous highly-regarded films, including classics like "Raising Arizona," "Adaptation," and "Face/Off," among plenty of others. On April 9, Cage participated in a Q&A session on Reddit, during which, amidst a discussion touching on roles from throughout his career, he shared his thoughts on the prospect of portraying Ghost Rider for Marvel once again.
Cage would seemingly portray Ghost Rider only under the right circumstances
During Nicolas Cage's Reddit Q&A, user thebelladonga asked, "Would you ever return to playing Ghost Rider if Marvel asked you to?" In total, more than 6,500 Reddit users upvoted the comment, suggesting that a decently-sized contingent shared an interest in Cage's response. Cage then replied, "I would really need to see what they had in mind before answering that."
Ultimately, this could mean one of two things. On its surface, his answer suggests that, if Marvel approached Cage with an idea that interested him, he would be open to portraying Ghost Rider for the first time since the character's second starring film in 2011. Alternatively, Cage could be answering this inquiry diplomatically, possessing little or no desire to revisit his onetime Marvel superhero franchise, cloaking his disinterest in the notion that a good enough idea could theoretically change his mind.
In either case, it seems that Marvel has yet to even broach the subject of Cage joining the MCU, implying that, interested or not, Cage's return as Ghost Rider appears highly unlikely for the time being.