Tim McGraw And Faith Hill Discuss The Harsh Conditions Of Filming 1883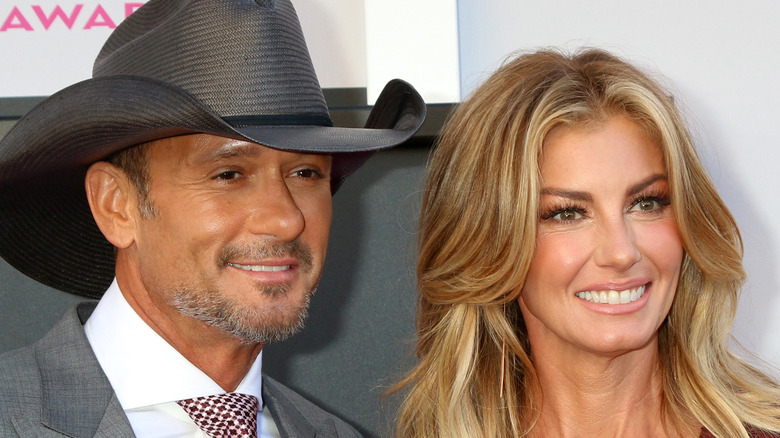 Kathy Hutchins/Shutterstock
"Yellowstone" is one of the most-watched shows on television, so it came as no surprise when Paramount decided to create an entire universe of shows around the Dutton family's ancestry. Premiering earlier this year, "1883" became the first of the announced spin-offs to make it to the screen, earning rave reviews in the process (via Rotten Tomatoes). 
A prequel to "Yellowstone," the series follows the post-Civil War generation of the Dutton unit as they travel across the West, from Tennessee to Montana, in pursuit of the American Dream. Obviously, they experience some hiccups and violent encounters along the way, but that was always going to happen — "1883." is a Western, after all.
"1883" also boasts an all-star cast of talented performers, including genre veterans such as Sam Elliot and newcomers like Isabel May. However, the casting of Tim McGraw and Faith Hill as James and Margaret Dutton, respectively, may have surprised some people. While both performers have graced films and TV shows in the past, they're primarily known for performing music. Shifting their attention to acting for "1883" was an experience for McGraw and Hill, to say the least, and they had to contend with some harsh working conditions while filming the series.
Tim McGraw and Faith Hill saw more sunrises while working on 1883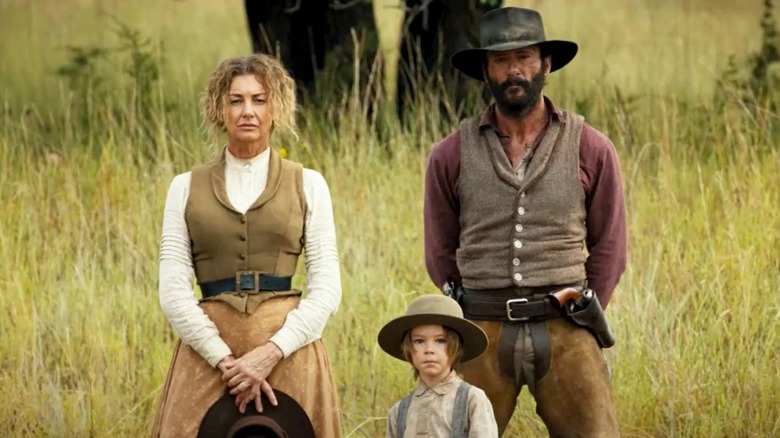 Paramount+
Tim McGraw and Faith Hill recently attended Deadline's Contenders TV event to promote "1883." During the discussion, the pair highlighted some of the biggest challenges they faced working on the Western series, stating that the rigorous demands of creating television forced them to change their daily habits. 
During the panel, McGraw noted that musicians "don't see a lot of sunrises," so having to get up first thing in the morning to work on "1883" was a new experience for him and Hill. Furthermore, working on a hit show meant that they had to answer to other people and adhere to someone else's artistic vision, which is rare for musicians who are used to writing and performing their own material. "When Faith and I sat down to sign the contracts, I said, 'We are no longer the boss anymore. We are hired hands. We will never have a comfortable day,'" McGraw recalled.
That being said, the actors were more than happy to persevere with the harsh conditions and get on with the job. "We were so committed and believed in the story so much. It's the truth. We wanted to do whatever it took to make it happen," Hill added.