How The Stars Of Everything Everywhere Approached The Movie's Insane Action - Exclusive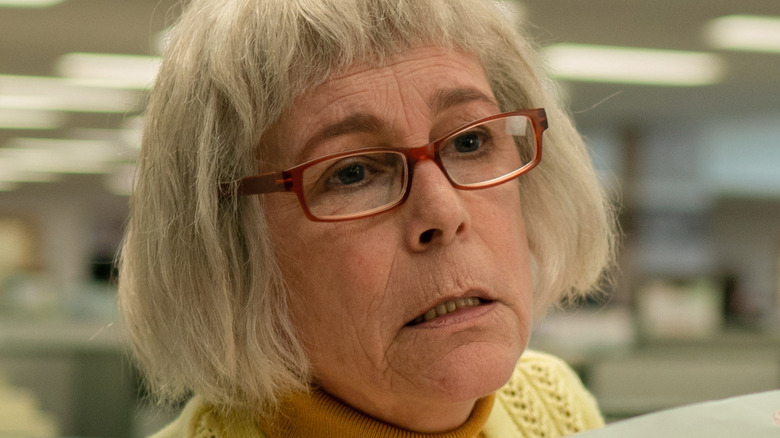 A24
Veteran stunt coordinator and fight choreographer Timothy Eulich says that the stars of "Everything Everywhere All at Once" were ready for anything when it came to the sci-fi movie's highly stylized action sequences.
Eulich — who worked with "Everything Everywhere" directors Dan Scheinert and Daniel Kwan on their first film, "Swiss Army Man," and a number of their music videos and commercials — was the stunt coordinator on this ambitious film, in which a beleaguered laundromat owner and matriarch named Evelyn (Michelle Yeoh) discovers that she holds the fate of the multiverse in her hands.
While Eulich says that Yeoh — known as a legendary action star around the world — was, not surprisingly, "fully prepared to do pretty much everything," he also tells Looper that co-stars Jamie Lee Curtis, Ke Huy Quan, and the other members of the cast were also more than ready to do their own stunts.
"Everyone was game," Eulich reveals. "I think having Michelle as number one on the call sheet really raised the bar for the entire cast. They all wanted to come in and do as much of their action as they possibly could and they did. You can really see that in the final edit of this film."
But Eulich also acknowledges that a time often comes in a shoot when the actors have to step aside and let the trained professionals take over. "It's always my goal as a stunt coordinator to have the actors do as much as they can possibly do, if not everything," he explains. "But there is some danger there, and at the end of the day ... I want to make sure everybody goes home to their family in one piece, safely."
The cast prepared for their action scenes
Timothy Eulich says that Jamie Lee Curtis and Ke Huy Quan were raring to go for a number of stylized action sequences involving martial arts, wire work, and even a method of fighting called Wushu rope dart for which Waymond deploys a deadly ... fanny pack.
"[Quan] would come in every day for his scheduled rehearsal time to work on the fanny pack fight," Eulich recalls. "After his rehearsal time was over, he would take his fanny pack and go into the corner of our rehearsal hall and practice on his own. Then ... he would take his props and practice at home. I knew he was practicing at home because he would come back the next day better than he was the day before, and we would do it all again. He put so much effort into it and it really shows through."
As for Curtis, the no-nonsense star of films like "Halloween" and "Knives Out" also aimed to do as many of her own stunts as possible. "Jamie wanted to do everything," Eulich says. "We were putting her up into some pretty big wire rigs and flying her around the space. She had that professional wrestling sequence with the Waymond character, picking him up and spinning him around over her head before breaking his back over her knee. She put a lot of time into that. We also spent a lot of time with her at the stairwell, flying down the stairs."
There were ultimately instances when the actors had to let the stunt crew take over, but even then, Eulich says that everyone stayed involved to make the scene look the best it could: "There's a collaboration between myself and the directors, and the actor, and the stunt person doing that to make sure that they're serving that character and telling that story."
"Everything Everywhere All at Once" is in theaters now.