The Most Heartbreaking Criminal Minds Episode From Season 6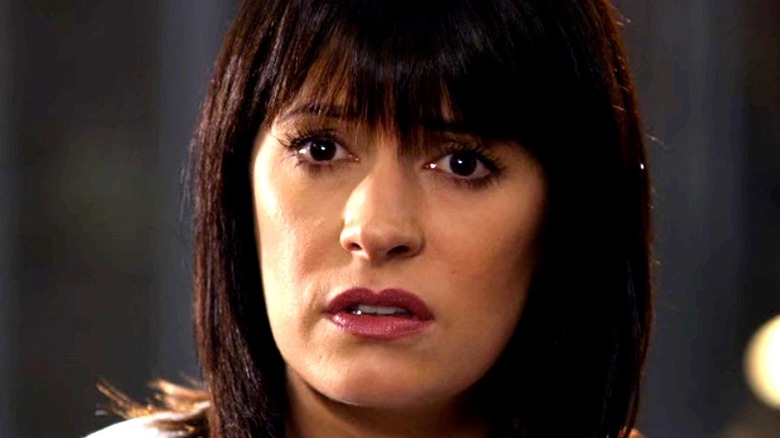 CBS
Procedural dramas can offer fun moments if they have a likable cast, peculiar episode cases, or quippy dialogue. But make no mistake, these shows are more than capable of flipping the switch and being downright brutal when showing off unsettling and just plain tragic moments. "Criminal Minds" is already probably in a league of its own, thanks to the FBI's Behavioral Analysis Unit dealing with the worst serial killers and terrorists the world has to offer. 
The show certainly has its share of dark moments involving the many troubled unsubs it has featured, and it also comes with some of the most tragic on-screen deaths. It's little surprise that during the series' 15-season tenure, it has consistently saddened fans. One particular Season 6 episode contains shocking deaths, surprising revelations, and some of the most emotionally intense dialogue. These details are why some fans feel that this episode just might be the season's most heartbreaking.
Lauren saw Prentiss' life in great danger due to her past undercover work
This was definitely the case during Season 6, Episode 18, "Lauren," which spotlighted Emily Prentiss (Paget Brewster) and her past undercover work — where she used the name Lauren Reynolds — threatening her current life with the BAU. Arms dealer Ian Doyle (Timothy V. Murphy) has escaped from prison and is out for revenge against Prentiss, who helped put him away. In response, Prentiss runs away from the BAU to confront Doyle on her own. Meanwhile, her BAU colleagues race against the clock to track down Doyle and save their lost comrade, but it appears to be too late when it is announced that Prentiss is dead.
"Lauren" is an excellent example of how dire it can be when the past haunts the present, especially if you spent much of your career undercover like Prentiss. However, for some "Criminal Minds" fans on Reddit, the episode is also among the most emotionally charged ones as a result of what seemingly happened to Paget Brewster's character. But which scene was the saddest in an episode that was filled with heart-rending moments?
Fans thought Lauren was an emotional roller coaster
The ultimate tearjerker in "Lauren" probably occurs after Prentiss is stabbed in the abdomen by Doyle. As she is taken to the hospital, we all expect her to come out alive and finally reunite with her BAU family, which has doggedly worked to find and rescue her. Instead, JJ Jareau (A. J. Cook) and Aaron Hotchner (Thomas Gibson) shockingly announce to the team that she didn't make it. The team has lost one of their own despite their efforts, and the tears start flowing. Redditor u/PandaVike wrote, "When I first saw this episode, I remember I BAWLED for a long time immediately after the episode. The hospital scene still tears me up."
In the episode's very last scene, we learn that Prentiss faked her death. Although it later got some pushback from fans, it does lighten the emotional weight. But some are still quick to point out other devastating scenes that earned the episode its heartbreak status. Redditor u/idiotgoosander explained how they were crying during the episode's beginning when Spencer Reid (Matthew Gray Gubler) couldn't comprehend why Prentiss would ditch her colleagues. After all, they're all a family willing to help each other. 
Another sad scene in the episode features Penelope Garcia (Kirsten Vangsness). She leaves a desperate voicemail message for Prentiss that encompasses anger, sadness, and empathy. For some fans, as Prentiss tearfully listens to it, it's hard to keep their eyes dry. "For me, it's Garcia's message to Emily via voicemail that hits me hard, as it shows so much that they all care," u/Eitak22, wrote.