What Really Happened To Jamison Bachman From Netflix's Worst Roommate Ever?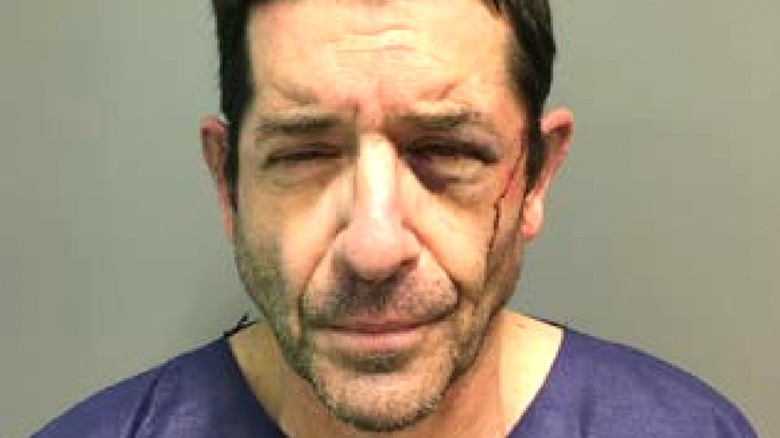 Montgomery County District Attorney's Office
Netlfix's "Worst Roommate Ever" took the streaming world by storm earlier this year, with the story of Jamison Bachman and some of the people he allegedly victimized ultimately stealing the show. But what really wound up happening to the Philadelphia serial squatter in the long run? Is everything we saw in the Netflix series actually true?
To answer that, we need to look back at Bachman's real-life media and paper trail, which includes mentions in the Philly Voice, on local television stations like 6abc Action News, and as viewers saw in the show, a lengthy piece in New York Magazine. Over the years, Bachman had largely slipped through the cracks despite his devious apartment stealing ways. Using fake names and legal loopholes, the tenant terrorizer was able to dupe multiple people into letting him stay with them. When it came time to pay the bills, Bachman would simply refuse and laugh in his roommates' faces. One of the former roomies, Alex Miller, said on the show: "When he laughed at me, it was sinister" (via Oxygen). But how much of what we saw and heard in "Worst Roommate Ever" was actually reported? And what ultimately got left out?
Jamison Bachman went to war with roommates for years in Philly, racked up debts in New York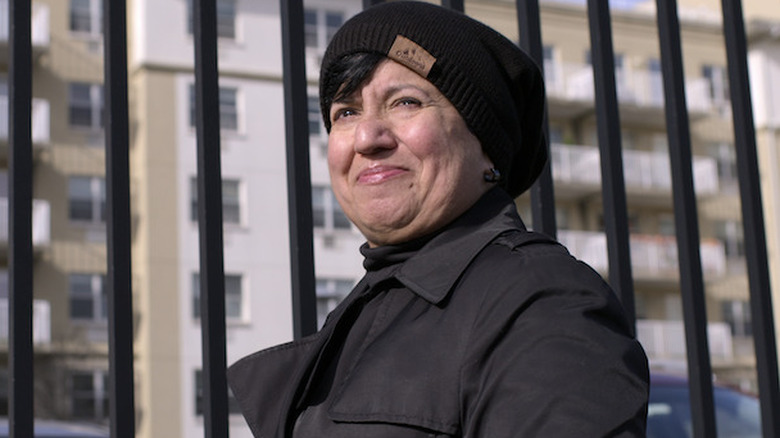 Netflix
According to local reports, Jamison Bachman was a known nuisance in Philadelphia who had several run-ins with law enforcement and court officials. He had moved back and forth from New York to Philly after compiling a number of debts in the Empire State (via The Philadelphia Inquirer).
As noted by NY Mag and other outlets, Bachman made headlines in 2013 for allegedly destroying the West Philly home of a woman named Melissa Frost and refusing to move out. A report by the City Paper, which is no longer in circulation, quoted the judge who oversaw the ensuing case telling Bachman, "I find you to be totally incredible. I don't believe a word you say — and, frankly, you're frightening." The judge reportedly ordered Bachman to leave Frost's home and pay her $1,300.
Aside from the stories told by Alex Miller, Arleen Hairabedian, and Sonia Acevedo (pictured above) on "Worst Roommate Ever," Frost's tale is another example of Bachman and his evil ways, which included dumping cat litter into toilets and other strange tactics like removing bath mats. Per Frost, the serial squatter's efforts were "life-consuming." As for what happened after Bachman's squatting fiascos, it's here where things actually did turn deadly.
The murder of Bachman's brother Harry and what really happened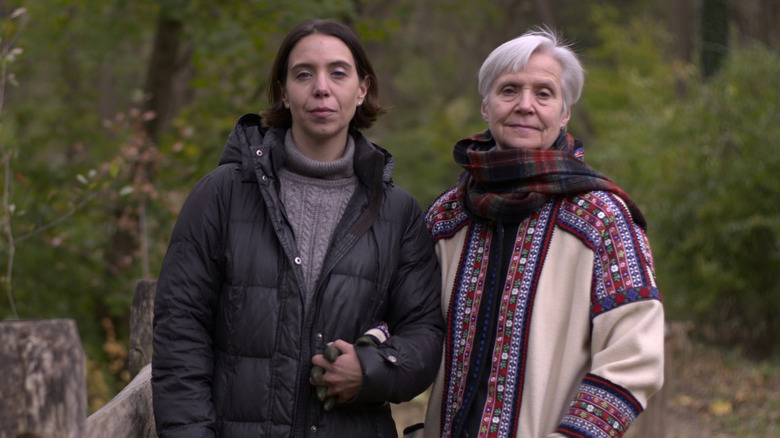 Netflix
While the murder of Harry Bachman, Jamison's brother, is covered in Netflix's "Worst Roommate Ever," some of the actual details of what happened are easy to lose track of, especially since this happened months after the ordeal Alex Miller (pictured above with her mother, Susan) went through while Bachman was living in her apartment. 
According to the police report, Harry had been worried about Jamison confronting him at his home shortly before his November 2017 death (via The Philadelphia Inquirer). He was said to have texted his wife, Caroline, not long before his presumed murder, telling her, "Guess who just showed up just as I drove in." Harry then added, "No, don't guess." The brothers were known to argue and Jamison was reportedly upset that Harry and his wife had decided against letting him stay with them. 
At some point after Jamison's arrival, a violent struggle ensued and Harry suffered a fatal head wound, authorities stated. Investigators believe that after bludgeoning his big brother to death, Jamison attempted to drag Harry's body to the basement, eventually leaving him on the stairs. Jamison then fled in Harry's red 2013 Ford Escape to a hotel seven miles away, where he was eventually arrested after using his brother's credit cards.
Jamison Bachman, 60, was later charged with first- and third-degree murder as a result of his brother's death, meaning police believed the killing could have possibly been premeditated. He was reportedly scheduled for trial in Philadelphia on January 12, 2018, and a preliminary hearing on December 11, 2017. On December 8, 2017, Bachman died by suicide inside his prison cell.
If you or anyone you know is having suicidal thoughts, please call the National Suicide Prevention Lifeline​ at​ 1-800-273-TALK (8255)​.