The Ending Of Bridgerton Season 2 Explained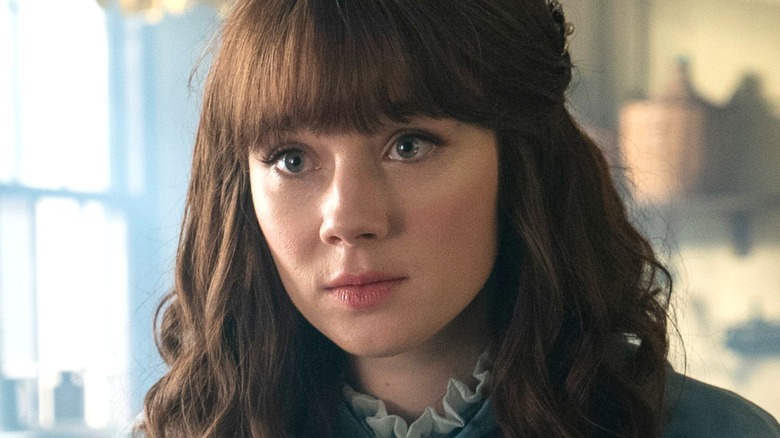 LIAM DANIEL/NETFLIX
"Bridgerton" is back with a bang, although perhaps not in the way that viewers anticipated. While the 2nd season of the Regency-era romance tones down the sexually explicit content that fueled most of Season 1, Netflix viewers are still turning up in droves to watch the latest exploits of the eligible young men and ladies of the Ton as they embark on their yearly mating ritual. According to Variety, "Bridgerton" Season 2 became Netflix's most viewed English-language TV series in one week (March 28-April 3).
"Bridgerton" Season 2 centers around Viscount Anthony Bridgerton's (Jonathan Bailey) efforts to secure a bride, and he sets his sights on this season's Diamond, Edwina Sharma (Charithra Chandran). However, it is her tempestuous older half-sister Kate (Simone Ashley) who gets his pulse racing, creating a complicated love triangle.
Also returning for Season 2 is Penelope Featherington (Nicola Coughlan) — and her alter-ego, gossipmonger Lady Whistledown (voiced again by Julie Andrews). Penelope finds keeping her secret even more challenging during Season 2, with Queen Charlotte (Golda Rosheuvel) and Eloise Bridgerton (Claudia Jessie) more determined than ever to uncover Whistledown's true identity. "Bridgerton" Season 2 may be short on steamy love scenes, but there is still plenty of drama, intrigue, and scandal to keep viewers entertained. Like his sister Daphne (Phoebe Dynevor), Anthony succeeds in making a true love match, but not every character gets a happily-ever-after. It's time to break down the "Bridgerton" Season 2 finale and speculate what comes next.
Anthony undergoes a major transformation in Bridgerton Season 2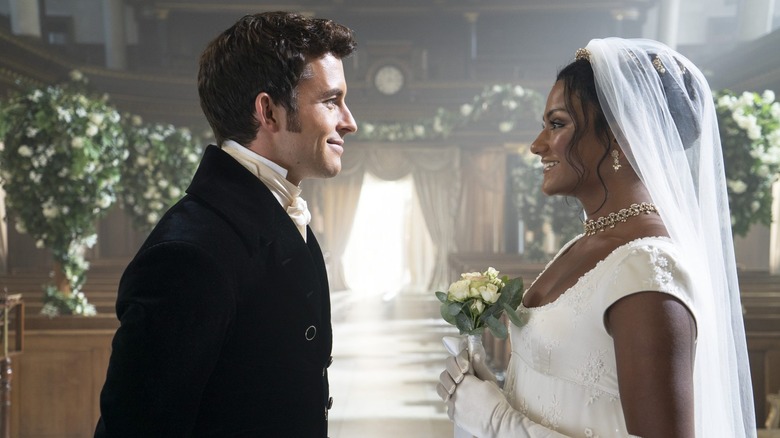 Netflix
"Bridgerton" Season 2 reveals Anthony's attitude towards marriage is the direct result of his father Edmund's (Rupert Evans) death and the devastating effect it has on his mother, Lady Violet Bridgeton (Ruth Gemmell). After witnessing Edmund succumb to a bee sting, Anthony is thrust into the role of head of the family, and his responsibilities don't give him time to process his grief. After witnessing his mother's heartbreak, Anthony is determined never to experience her pain firsthand.
Anthony finds it easier to focus on familial obligations than matters of the heart. Season 2 delves into the complicated relationship Anthony has with Lady Violet. She deeply regrets her treatment of Anthony after Edmund's death, too consumed with her feelings of loss to comfort and guide her eldest son. Anthony harbors resentment about losing not only his father but also his mother's affection and that of his siblings, whom he often keeps at arm's length.
Kate's accident confirms Anthony's worst fear; by caring for her, he's opened himself up to a relationship that makes him vulnerable, reinforcing his determination to steer clear of Kate as if withholding his love will keep her safe. Only after Lady Violet tells Anthony that she would do everything all over again because "real true love is worth it" does he come to understand that being with Kate is worth any risk. Will this more playful, affectionate, and free-spirited Anthony — the one his younger siblings never knew and the one whom Daphne and his mother remembered fondly — return for Season 3?
Penelope shows her true colors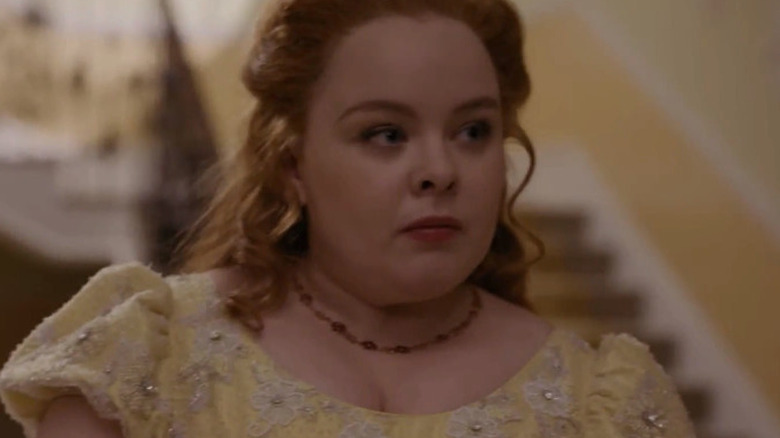 Netflix/screener screenshot
"Bridgerton" Season 2 shines a brighter spotlight on Penelope Featherington's ability to manipulate others, particularly Eloise. Her promise is to protect Madame Delacroix (Kathryn Drysdale) at all costs, but the ease in which she embroils her best friend in a scandal makes it seem that Penelope's resentment of the Ton extends to Eloise. She supports Eloise's desire for independence but not at her own expense, and it's no coincidence that Eloise's increasing criticism of Lady Whistledown contributes to Penelope's decision to besmirch Eloise's reputation. Yes, Penelope misguidedly believes that portraying Eloise as a political radical will free the second eldest Bridgerton daughter from Queen Charlotte's grasp, but it's primarily a self-serving solution.
Although Penelope is often disregarded and overlooked, her status as an outsider makes her the ultimate insider. Penelope fears the consequences of getting caught, but losing her voice, influence, and sense of self-worth is a far worse outcome.
Lady Featherington (Polly Walker) is the most dismissive of Penelope, but Season 2 shows they are more alike than either realizes. They both understand that women have limited options for self-preservation and power, and both rely on deception to get what they want, conning the Ton out of their money in distinct ways. Penelope and Lady Featherington long for acceptance, and their failure to achieve it is the primary motive behind their duplicity. Now that the Featheringtons yield power and money, they promise to be even more dangerous in Season 3.
Eloise's agonizing Season 2 downfall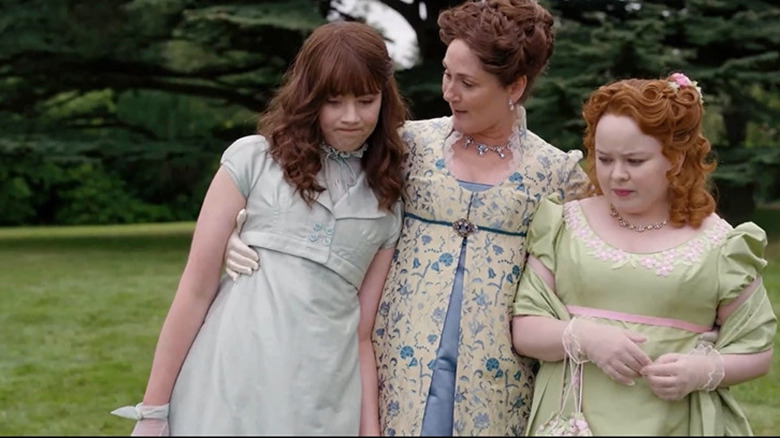 Netflix/screenshot
The only character who has a worse season than Edwina Sharma is fan-favorite Eloise. Predictably, Eloise proves to be a lackluster debutante. Still, her sharp wit, social awkwardness, burgeoning interest in women's rights, and flirtation with Theo Sharpe (Calam Lynch) make her at times the most exciting Bridgerton to watch. Eloise feels conflicted about disappointing her family in her quest for independence. But the real blows come in the finale when she discovers Penelope's multiple betrayals. The two engage in an ugly confrontation when both speak some ugly truths neither wants to hear. Although deserved, her takedown of her best friend is a bit dark and a little hypocritical.
As it stands, Eloise resents not only Penelope's lies and manipulations but her success. She has no immediate plans to out Penelope as Lady Whistledown, which begs the question, why? Because she has no proof, or despite their falling out, Eloise still loves her frenemy. Or is she plotting her revenge? Eloise's passions are sequestered for the good of the Bridgertons, and she has another season of courtship ahead of her.
Eloise's biggest problem is she has one foot in a world she despises and one on the wrong side of town, filled with kindred spirits and forward thinkers. Penelope is right when she says Eloise needs to be a woman of action and not just words. Can Eloise reconcile the two sides of herself in constant conflict, and could it be Penelope who helps her achieve this goal?
Colin Bridgerton and the return of Lady Whistledown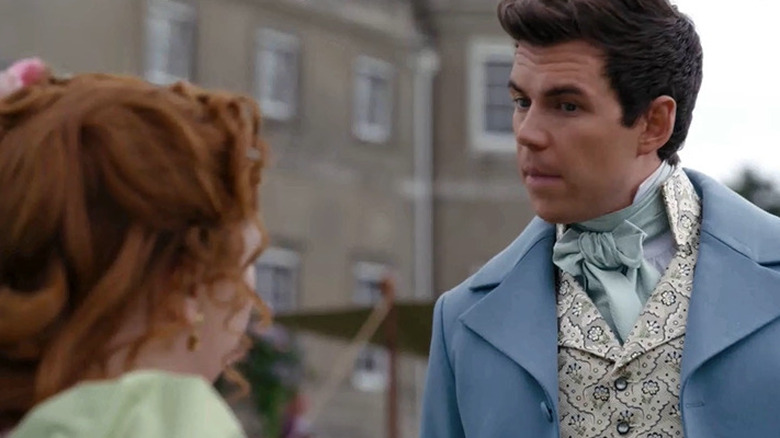 Netflix/screenshot
In the "Bridgerton" Season 2 finale, Penelope tells Eloise she's given up her gossip column. However, after overhearing Colin Bridgerton (Luke Newton) make a disparaging comment about her to his friends, she picks up her quill once again. First, let's be clear that Colin's behavior comes out of left field. He may not view Penelope as a potential love interest, but he has never spoken an unkind word against her. The sole purpose of his casual dismissal of her as a possible romantic partner is to give Penelope a reason to amp up Lady Whistledown's scathing commentary about the members of the Ton. Colin's rude remarks, coupled with Eloise ending their friendship, put both Bridgertons on the wrong side of the most influential member of high society, a woman who even manages to dictate the comings and goings of Queen Charlotte.
Why, at this point, would anyone want to see a Colin-Penelope pairing in Season 3? The fact that Colin is a total bore is an ongoing joke in Season 2, and even when he tries to play the hero, he gets it completely wrong. How can Penelope pine for a chauvinist, a man who views women as damsels in distress who need saving? On the other hand, naive might be the better word, as Colin has much to learn about women.
Hell hath no fury like a woman scorned, and Colin's rejection will shape Penelope as a woman and a writer.