Bridgerton Season 2 Confirms What We Suspected All Along About Lady Featherington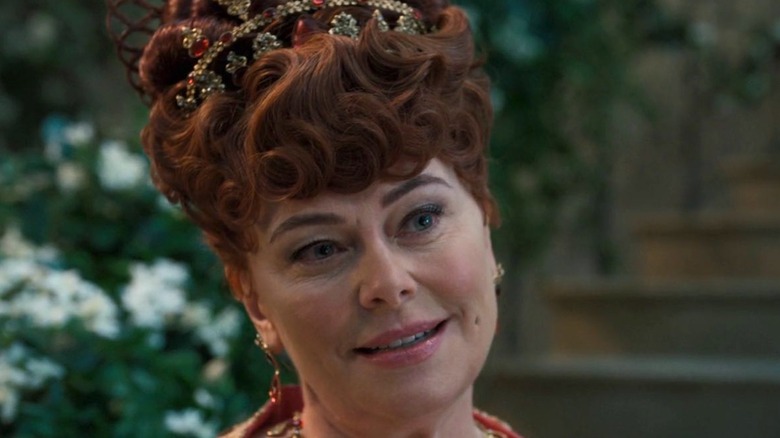 Netflix
Contains spoilers for "Bridgerton" Season 2.

Netflix's Regency-era romantic drama "Bridgerton" is back along with the who's who comprise the illustrious and notorious ton. It's mating season once again, and Viscount Anthony Bridgerton (Jonathan Bailey) is all business when it comes to securing the perfect bride. This season's "Diamond of the First Water" is Edwina Sharma (Charithra Surya Chandran), but those hoping to win the heart of young beauty must contend with her tempestuous and overprotective half-sister, Kate (Simone Ashley). Other new faces include Kate and Edwina's mother, Lady Mary (Shelley Conn), and Lord Jack Featherington (Rupert Young). Holding everyone accountable is Penelope Featherington (Nicola Coughlan), aka Lady Whistledown (voiced by Julie Andrews), and Queen Charlotte (Golda Rosheuvel), who continue to jostle for control over the hearts and minds of London's elite.
While Season 1 ends on a relatively upbeat note for the Bridgertons, the same cannot be said of Lady Portia Featherington (Polly Walker), Penelope, and Penelope's older sisters Prudence (Bessie Carter) and Philippa (Harriet Cains). Their prospects are dim following the shocking departure of their father, whose actions in Season 1 have left the family near-destitute. It might be easier to muster up sympathy for Lady Featherington if she was as devastated by the loss of her spouse than of his ill-gotten gains.
At the start of Season 1, Lady Featherington is depicted as an overbearing mother whose treatment of her daughters is ambivalent at best and disdainful at worst. She's jealous and revels in the misfortunes of others, but the Featherington matriarch proves to be more dangerous as the season wears on. As a result, Season 2 confirms what fans suspected about Lady Featherington all along.
Season 2 confirms Lady Featherington is Bridgerton's biggest villain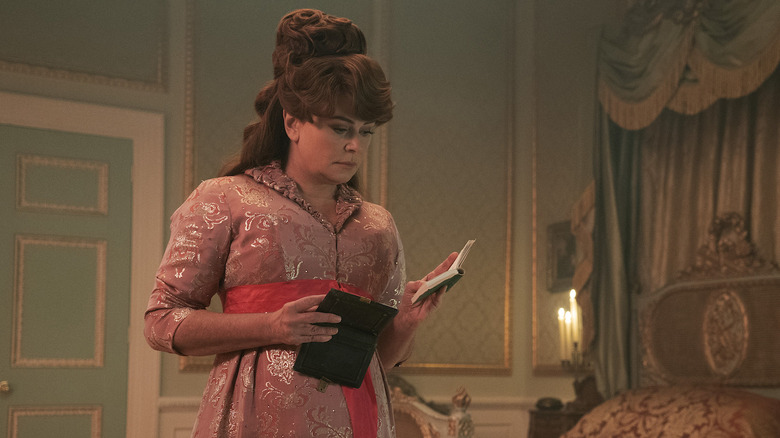 Liam Daniel/Netflix
Season 2 of "Bridgerton" proves that Lady Featherington is the show's biggest villain. Her mistreatment of Marina Thompson (Ruby Barker) and their combined efforts to trick Colin Bridgerton into marriage in the first season pales in comparison to her Season 2 antics. Although her family's social standing is tenuous, she gambles with Prudence's reputation, counting on the fact that the new Lord Featherington will propose after she puts the twosome in a seemingly compromising position. Of course, this plan blows up in her face when she learns that the distant Featherington cousin is penniless and running a con of his own, trying to land a bride with a sizable dowry.
In a Season 1-related interview with People, Polly Walker shed some intriguing light on Lady Featherington, which feels applicable this season. She stated, "I think she's a survivor, and she is doing what she can for her daughters — and for herself, of course. I mean, she's not Mother Teresa."
Additionally, Lady Featherington doesn't believe her daughters to be extraordinary; therefore, she doesn't encourage them to develop any talents. The one she overlooks the most — Penelope — possesses the ability and the means to support the family without relying on a man. Perhaps the best thing that one can say about the Featherington matriarch is that if it were not for her awful treatment of her youngest daughter, she would not have discovered her passion for gossiping or parlayed it into a lucrative profession.
Lady Featherington cons the entire ton on Season 2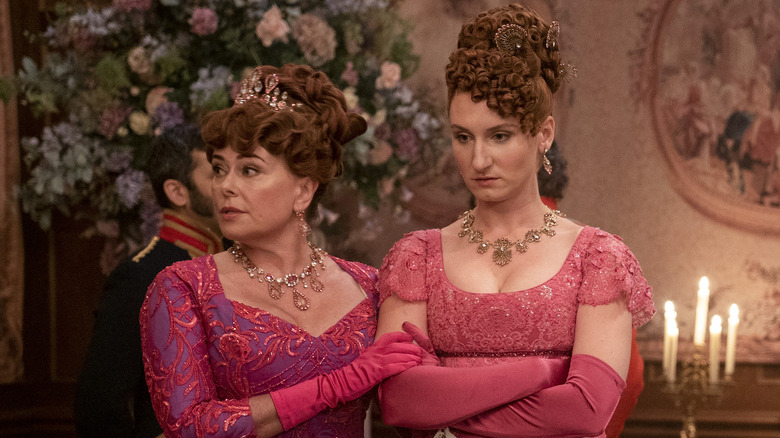 Liam Daniel/Netflix
"Bridgerton" Season 2 reveals Lady Featherington's innate talent for grifting. She hatches the plans to steal from the families of the ton, using Jack Featherington as the frontman, recruiting her clueless daughters to help with the ruse, and strategically picking the easiest marks. Polly Walker readily admits that her character is an opportunist, although she puts a more positive spin on Lady Featherington's single-minded pursuit of wealth and status. "She's doing her best to survive. She's not down for too long, and I think that's admirable," Walker told People.
Lady Featherington is wise enough not to let the new Lord Featherington embroil the Bridgertons in their scheme. However, she has a change of heart following the family's fall from grace, proving that she never misses an opportunity to kick someone when they're down.
In the Season 2 finale, Lady Featherington dissolves the partnership, escaping blame and keeping the majority of the stolen money. She claims Jack's indifference towards her daughters is the reason, and maybe for once, Lady Featherington is telling the truth, although she doesn't voice this concern until after she realizes he has been caught red-handed and will only prove to be a liability moving forward. Why abandon everything she holds dear when she can reap the benefits of living in a society where men do not believe women are savvy enough to swindle them out of large sums of money? Lady Featherington is the series' most formidable villain, making her something of a "Diamond of the First Water" herself.