The Worst Episode In Bridgerton Season 2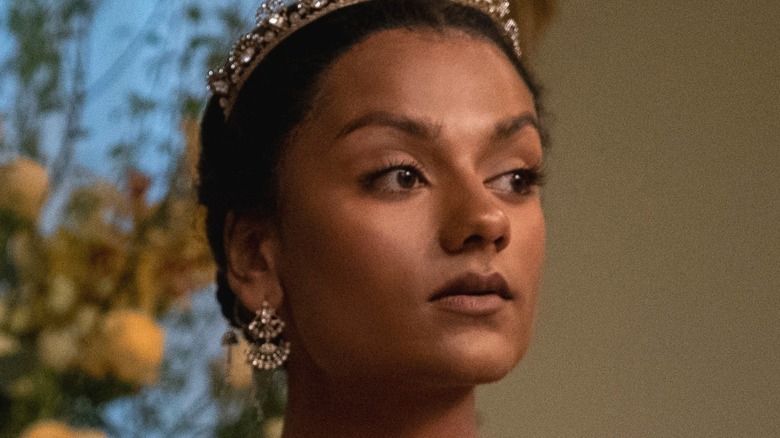 Liam Daniel/Netflix
The highly anticipated second season of "Bridgerton" premiered last month and fans were swept along on a totally new journey with a brand new couple. Based on "The Viscount Who Loved Me" by Julia Quinn, Season 2 of "Bridgerton" focuses on Anthony Bridgerton (Jonathan Bailey), the rakish head of the Bridgerton household who's ready to get hitched himself after his sister Daphne (Phoebe Dynevor) enjoyed a successful marriage last season. Here enter the Sharma sisters: Edwina (Charithra Chandran), bright-eyed and looking for love, and Kate (Simone Ashley), who has already resigned herself to a life of spinsterhood and is devoted to finding the right match for her sister. Although Anthony initially sets his sights on Edwina, he soon becomes enamored with Kate's wit, stubbornness, and beauty. What follows is an enemies-to-lovers/forbidden love triangle that quickly heats up the screen, resulting in some steamy scenes that rival that of Season 1. 
While this season was a hit with fans and critics, there was one episode that wasn't as well received as the others (via Rotten Tomatoes). If you're looking to avoid the worst episode of "Bridgerton" Season 2, then we've got you covered.
Season 2 diverges significantly from the source material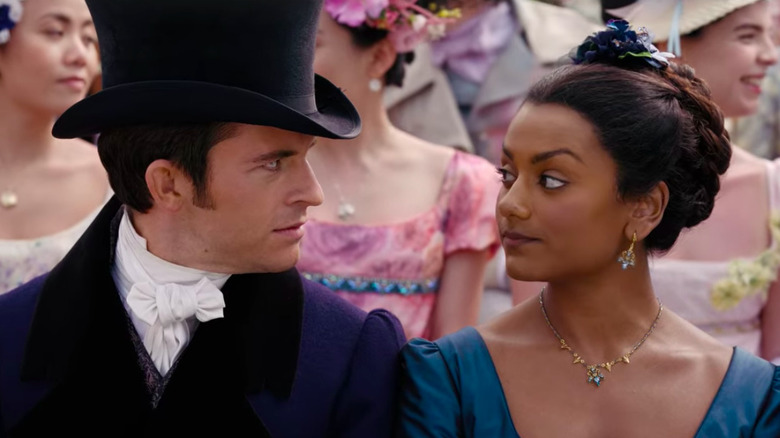 Netflix
While each episode in Season 2 featured some great scenes between Anthony and Kate, it's no secret that the plot of the show diverged significantly from the events of the novel and episode 2, titled "Off to the Races," is the biggest offender. Fans on Reddit had a lot to say about the episode, which is the only episode that completely deviates from the book. The episode also establishes some character dynamics that are absent from the book, namely, the developing courtship between Anthony (Bailey) and Edwina (Chandran), which was "uncomfortable to watch" for some viewers (as written by u/fraeuleinns). 
Some fans felt that forcing a relationship between Anthony and Edwina was detrimental to the younger Sharma's character. In the book, Anthony barely pursues Edwina before falling for Kate, and Edwina even admits that she immediately saw the magnetism between the two of them. She gives the couple her blessing right away, whereas in the television adaptation, Anthony proposes to Edwina and even gets to the altar before she notices his attraction to her older sister. "Edwina seems like a very damsel in distress type of character, which makes her feel like a very one dimensional character in the show," noted one user on Reddit, u/readandrant. Sparks clearly fly between Kate and Anthony at the horse race, but show Edwina barely bats an eye. Book Edwina would have seen it coming a mile away! 
Episode 2 could have served the plot more effectively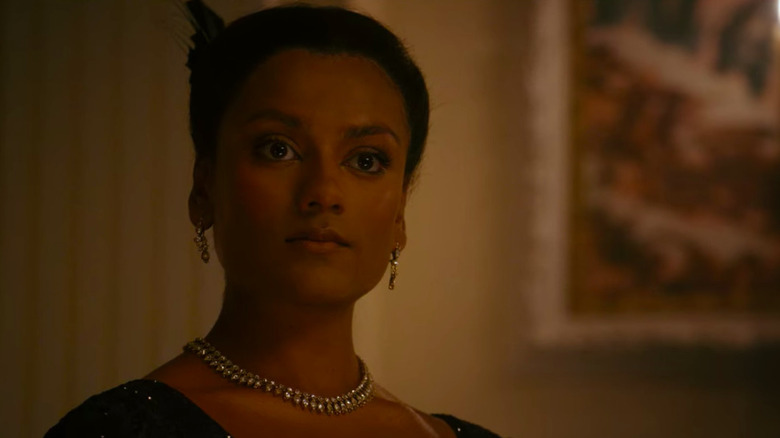 Netflix
The second episode's long-winded departure from the novel also contributes to one of the biggest unanswered questions about Season 2. In "The Viscount Who Loved Me," Kate and Anthony bond over their shared responsibility as eldest siblings and the loss of a parent. They open up to each other during a key scene in the novel when Anthony comforts Kate during a thunderstorm, of which she is extremely fearful. This scene, along with Kate's fear of thunderstorms altogether, was totally absent from the show. The plot of episode 2 could have easily been devoted to exploring more of Kate's character, which could have resulted in a more satisfying conclusion in the finale. "Off to the Races" does little to advance Kate and Anthony's enemies to lovers' story and the time spent building the tension falls flat in comparison to the excitement of other episodes.
Ultimately, the end result is the same. Anthony and Kate end up happily married, although there's plenty of tension and prolonged eye contact before they get there. Anthony and Kate get much more resolution in the book than they do on the show, so fans were relieved to hear that the new Lord and Lady Bridgerton will be back in Season 3. Unlike Regé-Jean Page, who starred as Simon Bassett before making a swift exit after just one season, Simone Ashley recently confirmed that she will be reprising her role as Kate Sharma (now Bridgerton!) in future seasons (via Deadline).