Chicago Fire Producer Andrea Newman Reveals The Actor Who's The 'Big Brother' On Set
For 10 years and 10 seasons, "Chicago Fire" has kept audiences coming back for more. The hit NBC series, which airs on Wednesday nights, follows the first responders of the fictional Firehouse 51 in the Windy City, both at work and beyond.
Featuring an ensemble cast — which includes Taylor Kinney, Eamonn Walker, David Eigenberg, and Miranda Rae Mayo, among others — "Chicago Fire" has a revolving door of guest stars and tertiary actors who appear in only one or two episodes, leaving a laundry list of names on its IMDb page. Plus, over the course of its run, the series has lost some major characters along the way, including Jesse Spencer as Captain Matt Casey, Monica Raymund as paramedic Gabby Dawson, and Charlie Barnett as firefighter Peter Mills.
Through it all, there has been one actor on set who makes everyone feel right at home, according to executive producer Andrea Newman, who was part of a roundtable interview that included Looper. Here's who she revealed as the person who acts as a "big brother" to everyone he encounters.
Eamonn Walker always 'connects with everybody' on set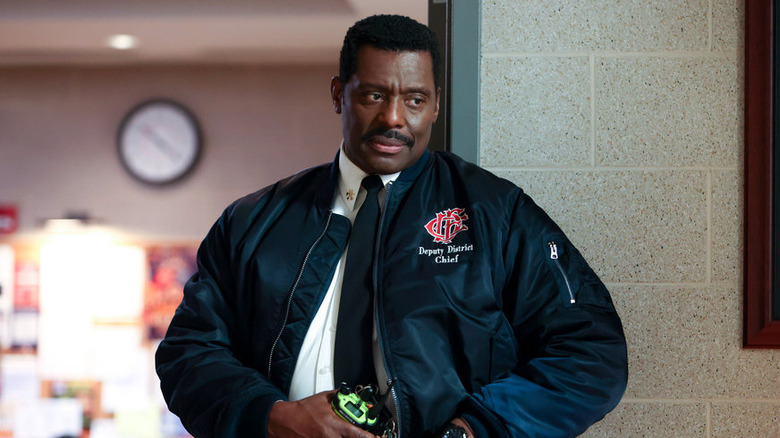 Adrian S. Burrows Sr./NBC
In addition to Andrea Newman, "Chicago Fire" co-creator Derek Haas and stars Eamonn Walker ("Chief Boden") and Hanako Greensmith ("Violet Mikami") were on hand for the roundtable. When asked to pick an actor or character from the past who has left the show that he'd like to see return, Walker refused to choose just one, saying it was too "difficult."
"We've had so many good people come through — some stay a long time, some stay a little bit," says Walker. "I have enjoyed many of the actors in the 10 years I've been here, and like the real fire service, people come and go, so we have to kind of wrap our heads around it."
While he may have been playing coy, Newman thinks something larger is going on with his avoidance of the question.
"Eamonn is one of the reasons that we've been here 10 years," says Newman. "Not only is he a fantastic performer, but he's kind of ... the big brother of everyone on set. He keeps it all together. He's always the one keeping all of the cast together as a unit. So every guest actor that comes in, he takes them under his wing. He's amazing that way. So that's probably why he can't play favorites — he connects with everybody. He's an amazing guy."
Season 10 of "Chicago Fire" airs Wednesdays at 9:00 p.m. ET on NBC.