The Marvel Movie You Likely Forgot Starred Natasha Lyonne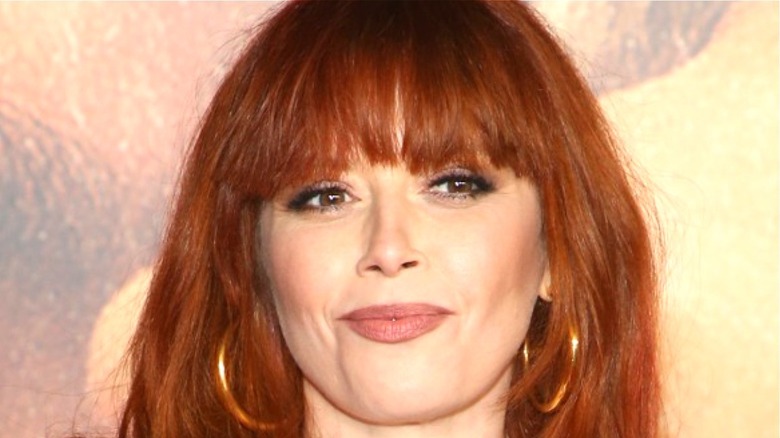 Phillip Faraone/Getty
Even before her comeback in the Netflix prison drama "Orange Is the New Black," actress Natasha Lyonne was always a charismatic and vibrant addition to any film or television show. She began her career as a child actress, playing the role of Opal in "Pee-Wee's Playhouse," but she has said she regrets starting this way: "I didn't have the best parents ... Even if they were ready to have children, it is kind of a wacky idea to put your child in business at six years old" (via Heeb Magazine). 
As a teen, she appeared in the comedy musical "Everyone Says I Love You" and played a young gay woman sent to a conversion camp in the cult classic "But I'm A Cheerleader." She was also the character of Jessica in "American Pie" and in multiple sequels. Drug abuse and health issues did hamper Lyonne's trajectory as an actor (via Access Hollywood), but she came roaring back thanks to "Orange Is the New Black," as well as the critically acclaimed sci-fi series "Russian Doll."
Lyonne has done a lot of movies and television at this point. But even avid pop culture fans may not remember the 2000s Marvel franchise she appeared in.
She played a blind scientist in Blade: Trinity
The final installment of the "Blade" trilogy, "Blade: Trinity," is often considered the worst of the original three films. After "Blade" and "Blade 2" were both well-received, "Trinity" was savaged by critics over David S. Goyer's direction as well as the script (via Rotten Tomatoes), with Jamie Russell of BBC describing the movie as "sometimes bloody, sometimes bloody awful." Production difficulties also could've contributed to this, as costar Patton Oswalt said that Wesley Snipes and Goyer had trouble working together for various reasons (via The A.V. Club).
Lyonne appears in the film as Sommerfield, a member of a team of vampire hunters called the Nightstalkers who has a young daughter. Sommerfield is the scientist of the group and works to research the vampire genome, eventually creating an anti-vamp virus called Daystar. However, she ends up getting killed by Drake (Dominic Purcell) near the end of the film, during an attack on the hideout.
Looking back, Lyonne openly dislikes her performance, but she's able to laugh about it too. On "The Late Late Show With James Corden," reunited with "Blade: Trinity" star Jessica Biel, Lyonne joked that she knew she hadn't given a great performance when Kris Kristofferson told her on set that she reminded him of Janis Joplin. "That's when I knew I'd blown it," she told the audience.