This Is What Natasha Lyonne Has Been Up To Since American Pie
In 1999's "American Pie," Natasha Lyonne played the role of Jessica. Lyonne infused Jessica with a quick wit, knowing looks, and an understated charm that allowed her to be the voice of reason within her group of friends. That knowing candor probably came easy for Lyonne, who had been professionally acting since 1986 as the adorable Opal, one of Pee Wee's kid pals in "Pee Wee's Playhouse." Directly before the success of "American Pie," the public had just begun to sing Lyonne's praises for her role as the nonplussed Vivian in "Slums of Beverly Hills," her first lead role in a film. 
In the midst of "American Pie's" cultural triumph, Lyonne became an official indie darling as the lead in "But I'm a Cheerleader," another coming of age comedy in which she stole the show. Following her success on film, Lyonne had a number of years of personal struggles with addiction. Now, over twenty years since "American Pie" first hit theaters, she has not only resurrected her sobriety, but her career as well. This is what Natasha Lyonne has been doing since her breakout role in "American Pie."
Natasha has found success in streaming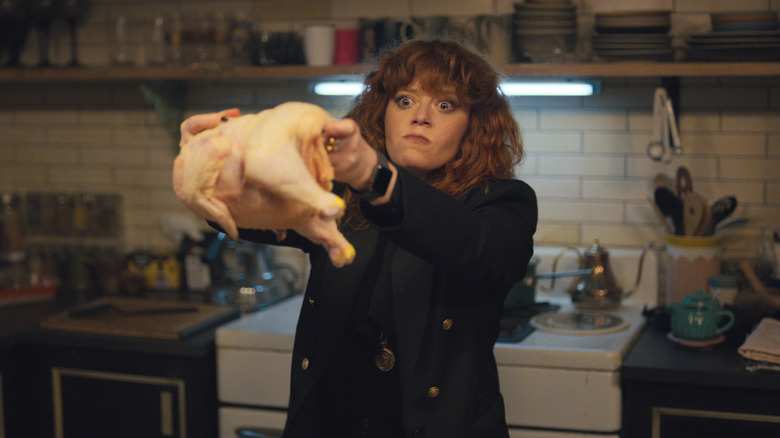 Netflix
Natasha Lyonne lived her hardest years in the public eye. The Guardian reported that in 2005, the actor suffered from a collapsed lung, hepatitis C, a heart infection, and underwent methadone treatment. But if 2005 was the former child actor's bottom, then 2013 saw the resurgence of Lyonne as a fully realized individual in "Orange Is The New Black." She played the brazen, recovering heroin addict Nicky alongside Piper Chapman (Taylor Schilling) and the rest of the incarcerated cast. Natasha told the outlet her own brushes with law and death informed her portrayal of Nicky. The two shared similarities, including undergoing open-heart surgery and the scars to prove it.
While viewers soaked in the last season of the hit Netflix show, Natasha Lyonne released her own series on the platform, "Russian Doll." The show was written, directed and produced by Lyonne. The first season gained Emmy nominations for Outstanding Writing, Outstanding Lead Actress (for Lyonne), and Outstanding Comedy Series. A second season has been announced with Lyonne at the helm once again.
In addition to the two live-action hits, and a collection of guest star roles, Lyonne also voices Suzette for Netflix's animated show "Big Mouth" and appeared in the Academy Award-nominated Hulu original "The United States vs. Billie Holiday." A lot has happened in Natasha Lyonne's life and career, but she is clearly living her best life, on and off camera.