The Surprising Connection Between Oscar-Winning Film CODA And The Mandalorian
While the 2022 Oscars ceremony was dominated (and overshadowed) by a slap, a lot more than that shocking moment happened at the annual awards show. For one, the Apple TV+ film "CODA" was the underdog surprise, taking home three Academy Awards. Not least of these was the coveted best picture award, which many critics thought would go to "The Power of the Dog," particularly once Jane Campion won best director(via Gold Derby). The film also won best adapted screenplay for writer Siân Heder. With its win, Apple TV+ made history as the first streaming service to earn best picture, toppling fierce competitor Netflix, which had two nominees in the running: "The Power of the Dog" and the Adam McKay satire "Don't Look Up."
"CODA" stars Emilia Jones as Ruby Rossi, a teen who is the only hearing member of a deaf family. Heder wanted to capture the odd position CODAs, or Children of Deaf Adults, often find themselves in, explaining to WBUR, "[CODAs] oftentimes feel more connected to deaf culture than to hearing culture, and there's this strange limbo that they exist in where they're a part of both worlds, but also a part of neither." The coming-of-age story shows Ruby's struggles with supporting her family and their Massachusetts fishing business while also trying to follow her dreams of becoming a singer.
Meanwhile, the Oscar-winning film also has a connection to another competing streaming service — Disney+ — as one of the stars of "CODA" has an important role in one of the platform's "Star Wars" spin-off shows: "The Mandalorian."  
Troy Kotsur created the Tusken Raiders' sign language on The Mandalorian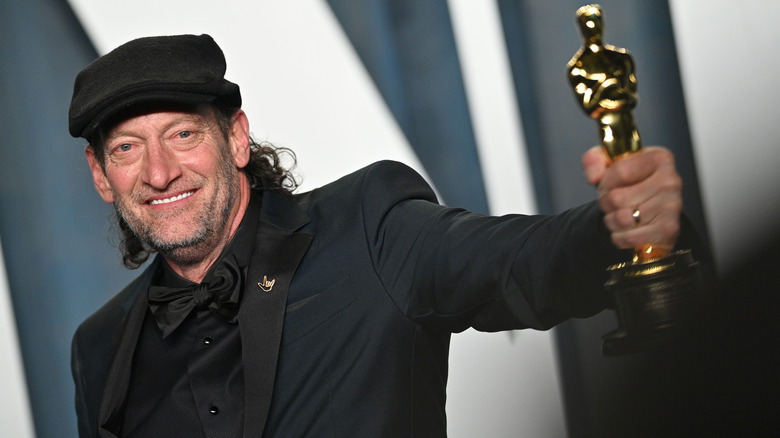 Lionel Hahn/Getty Images
The third Oscar for "CODA" was another history-making award. Troy Kotsur, the actor who plays Ruby's father Frank, took home the statue for best supporting actor. Kotsur became the second deaf actor in history to win an Academy Award; his co-star, Marlee Matlin, first won for best actress in 1986's "Children of a Lesser God." But Kotsur is also connected with the much-beloved franchise "Star Wars," which may surprise some viewers.
Kotsur appeared in Season 1, Episode 5 of the Disney+ series "The Mandalorian" as Tusken Raider Scout #1 — not that you'd recognize him in the Tusken headgear. But his appearance began a rehabilitation, of sorts, for the Tusken Raiders, transforming a group that was depicted in the original "Star Wars" trilogy as a rougher crew into a more accommodating, sympathetic race of outsiders by helping develop their (non-grunting) way of communicating.
In a 2020 interview with The Daily Moth, Kotsur explained that the script mentioned sign language, but he did not want to use American Sign Language. He stated, "My goal was to avoid ASL." Just as there are more than 300 different sign languages used around the world, depending on the nation, language, and culture, per Sign Solutions, Kotsur "made sure it became Tusken Sign Language based on their culture and environment." He also created a sign for the term Mandalorian, "based on the helmet and the 'M' hand shape." With this role, Kotsur fulfilled a lifelong dream. As he told The Daily Moth, "When I was eight years old, I dreamed to be part of 'Star Wars.' Many, many years later — almost 40 years later — it is fate."