The Major Batman Character You Likely Didn't Know Law & Order: SVU's Christopher Meloni Played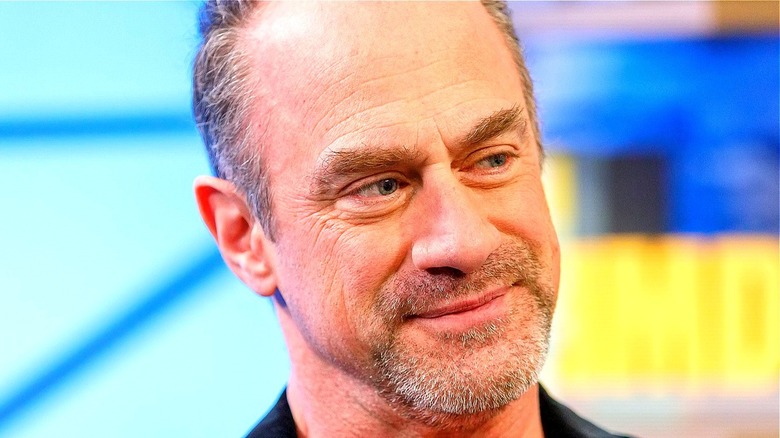 Rich Polk/Getty
With more than four decades of film and television credits to his name, Christopher Meloni has become one of the most recognizable "tough guy" types in Hollywood. With that said, as the actor's fervid fanbase can attest, Meloni's skill set reaches far beyond tough guy dramatic roles. They might even tell you Meloni ranks high among the most underrated comedic actors of his day, pointing to his show-stopping supporting turns in the likes of the "Wet Hot American Summer" series, the "Harold and Kumar" movies, and 2014's shamefully overlooked rom-com "They Came Together."
Meloni is, of course, best known for playing Detective Elliot Stabler in NBC's long-running "Law & Order" spinoff "Special Victims Unit." The actor originated that role in the first season of "SVU," and made 266 appearances on the series before his unexpected 2011 exit. After a decade away from the "Law & Order" franchise, Meloni made his triumphant return as Stabler in a run of 2021 "Special Victims Unit" episodes, and he is now fronting his very own spinoff in "Law & Order: Organized Crime."
You may not realize it, but Christopher Meloni has also been playing a major character in the Batman universe, as well. Here's which one. 
Meloni plays Gotham PD's big boss on Harley Quinn
Christopher Meloni's fans would no doubt be quick to point out the actor has been a regular in the DC Comics realm over the years. The first of his DC roles found Meloni voicing Hal Jordan in the 2009 animated feature "Green Lantern: First Flight." A few years later, Meloni made his live-action DC debut in 2013's Snyder-verse opening hit "Man of Steel," where he portrayed the fiery Colonel Nathan Hardy opposite Henry Cavill and Amy Adams.
As for Meloni's work in the Batman universe, though, it began in 2019 when he claimed a coveted voice role as Commissioner Jim Gordon in the HBO Max animated series "Harley Quinn." 
The star-studded affair finds "The Big Bang Theory" alum Kaley Cuoco voicing the DC baddie of title alongside the likes of Alan Tudyk, Lake Bell, Tony Hale, Giancarlo Esposito, Alfred Molina, and many more. If you've seen even a single episode of "Harley Quinn," you know the series acts as a comics-faithful — and at times hilariously absurd — exploration of the titular femme's various misadventures in Gotham's overstuffed criminal underworld.
The absurdly versatile Meloni has appeared in 12-episodes of "Harley Quinn" as Gotham PD's gruff big boss. To date, his comically overwrought depiction of a emotionally fragile, often completely unhinged Commissioner Gordon — a far cry from most interpretations of the character — has not only earned some of the series' biggest laughs, but helped make Meloni a standout player in a cast stacked with scene-stealing talent. And with any luck, Meloni will continue to standout in the upcoming third season of "Harley Quinn."