Every Madea Movie Ranked Worst To Best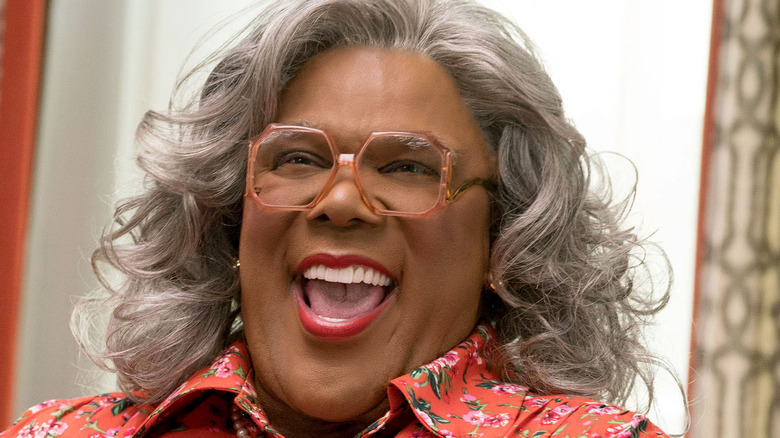 Netflix
Tyler Perry's impressive career has been built on the back of his most iconic performance: Madea, a tough older lady who doesn't play when it comes to her family. 
Initially, he became the character for his 1999 play "I Can Do Bad All By Myself," which would later receive a film adaptation that he would write and direct. Perry has created his own little movie universe built around the Madea brand, and with his return to the character in the Netflix film "A Madea Homecoming," it's time to pay respects and say 'hell-ur' to every Madea movie. ranked from worst to best.
Madea has appeared in nearly half of Perry's overall output, but this list is concentrating on the Madea films as a whole, rather than films or TV shows that she has had a cameo in. So, if you're hoping that her work on "Meet The Browns" will make an appearance, for instance, sorry to disappoint you. According to their scores on IMDb, let's take a look at the best Madea films so far. Hallelu-yer!
11. Boo 2! A Madea Halloween (2017)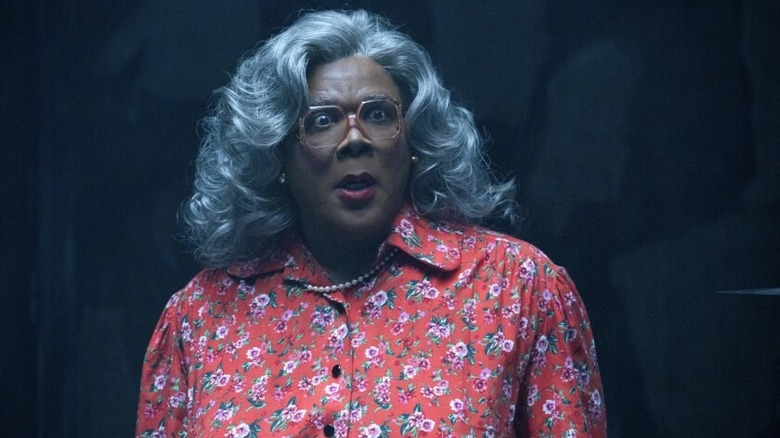 Lionsgate
Starting off the list is Perry's "Boo 2! A Madea Halloween," a sort of no-brainer sequel since the first film was a scary, silly success. Unfortunately, those behind the script also saw the film as a no-brainer.
Madea spends most of the film driving around in her Cadillac, with things going awry around her. Madea and company are being chased by a mysterious figure that they believe to be a ghost that's rumored to haunt the lake. As shenanigans ensue, it's revealed that it's all a hoax that Madea's nephew (also played by Perry) has put on in the hopes of teaching his teenage daughter a lesson. 
While audiences might enjoy some of the jump scares that mark the horror movie genre, the plot feels like a random occurrence of events strung together with no real reason. Most of the jokes in this sequel don't land, and as a result the film earned three nominations at the 38th Golden Raspberry Awards. It's safe to say, perhaps, that one Madea Halloween film was enough.
10. Madea Goes To Jail (2009)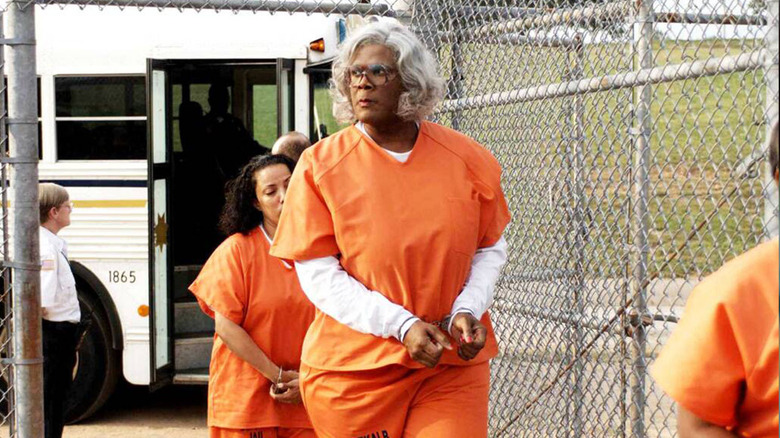 Lionsgate
Perhaps the funniest situation Madea has ever found herself in, "Jail" has her past finally catch up with her. 
In the television series "Meet the Browns," Madea was last seen in a high-speed chase from the police that resulted in her being pulled over and arrested. Instead of heading directly to jail, Madea was sentenced to anger management courses, which went about as smoothly as one would expect for somebody with Madea's disposition. 
In this continuation of the storyline, Madea's case goes to trial and she is sentenced to 10 years in prison; choosing to treat it as a vacation, Madea insists that she's not afraid. During her time in jail, Madea is able to help some fellow inmates heal and forgive those who have wronged them. Ultimately, Madea's case is overturned and she's released from prison, along with a few other wrongfully-accused women. 
While the premise of Madea in jail feels ripe for comedic potential, the film pulls a "Friday the 13th Part VIII: Jason Takes Manhattan" and spends far too little time where ticketbuyers expect the main character to go. By the time she finally gets to the prison, the movie is halfway done; it's no surprise that audiences, likely feeling they'd been a bit cheated, have given the film such a low rating.
9. A Madea Family Funeral (2019)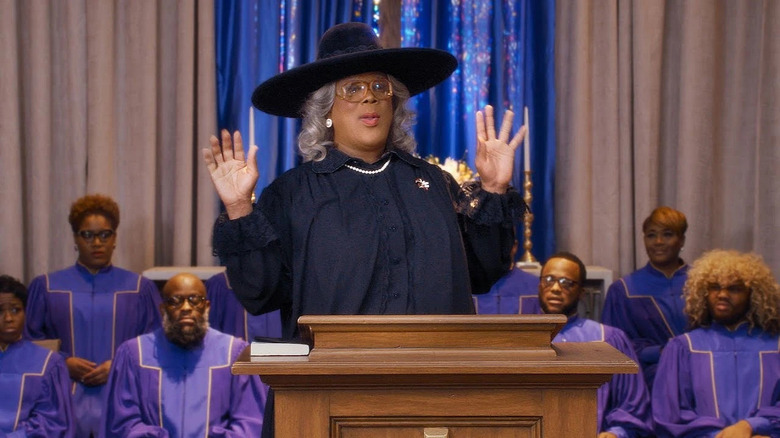 Lionsgate
Originally intended to be the final Madea story, "A Madea Family Funeral" received such lackluster reviews that it reportedly Perry convinced to bring the character back via Netflix's "Madea Homecoming."
When "A Madea Family Funeral" was first announced, audiences largely assumed the title was implying it would be about Madea's funeral. Instead, the flick had Madea planning a funeral while simultaneously hiding the cause of the deceased's death from his widower, since the man died while having an affair with his wife's friend. 
As the madcap film continues, more cases of infidelity are exposed; while some funereal jokes land, the plot never brings anything new to the table, resulting in a pretty dull way to give Madea a send-off. Like any funeral, the film wasn't much fun to sit through, and left participants wishing it had never happened.
8. I Can Do Bad All By Myself (2009)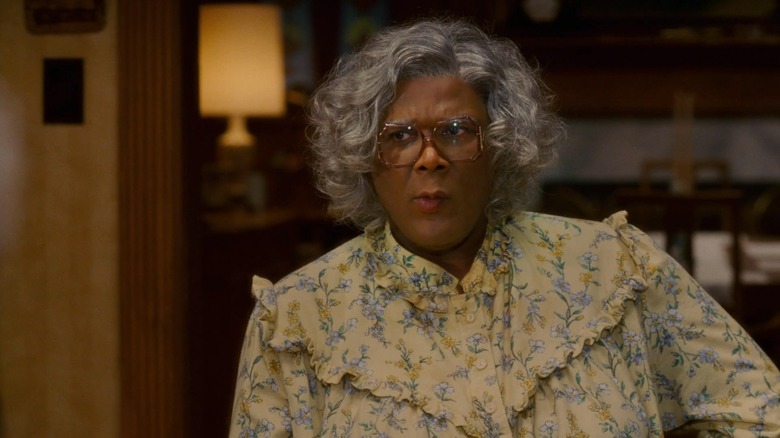 Lionsgate
Based on the play that introduced audiences to the character in the first place, a movie version of "Bad" feels like a no-brainer; nevertheless, it took Perry a few films before he was able to successfully adapt the story to the big screen. One of the most memorable Madea films, "I Can Do Bad All By Myself" has an impressive cast with Perry writing and directing, Taraji P. Henson as the star and a supporting cast that includes Mary J. Blige, Gladys Knight, and Adam Rodriguez.
While most other Madea films are light-hearted and fun, "I Can Do Bad All By Myself" takes a serious tone, leaving only sprinkles of comedy strewn about. The story follows Henson's April as she struggles with her alcohol addiction, a troubled past, and an abusive partner. She juggles all this while trying to take care of a niece and two nephews who have recently come into her life.
As a whole, this is one of Perry's most compelling films, but the lack of Madea screentime might be why this film is rated so low in the grand scheme of his canon. While Henson is solid in her role, she isn't the leading lady that audiences probably wanted to see.
7. Boo! A Madea Halloween (2016)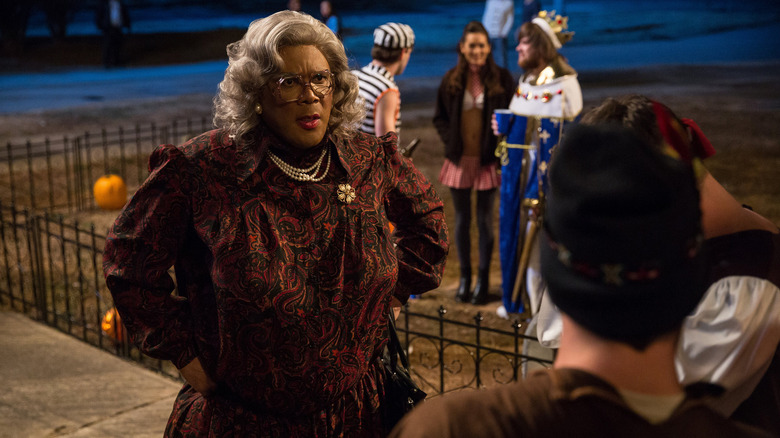 Lionsgate
Ranking slightly higher than its sequel is the first Madea Halloween film, "Boo! A Madea Halloween." While it certainly wasn't made to garner any awards season buzz, this fun mix of the Madea brand with seasonal laughs boasted quippy banter, outlandish gags and a general sense of silliness that makes it an easy watch.
Showing audiences what it takes to scare Madea, much of the film's humor is in the contrast between her frank, no-nonsense attitude and these pesky supernatural threats that keep getting in her way. Seeing Madea afraid of something is a hoot, and it's what makes this film worth watching. This is a Halloween flick content to be funny rather than terrifying, and it's all the stronger because of that mentality. Faced with ghosts, zombies, murders, and her least favorite threat of all — frat boys — Madea is determined to make it through Halloween while remaining the scariest thing in her neighborhood.
6. Madea's Big Happy Family (2011)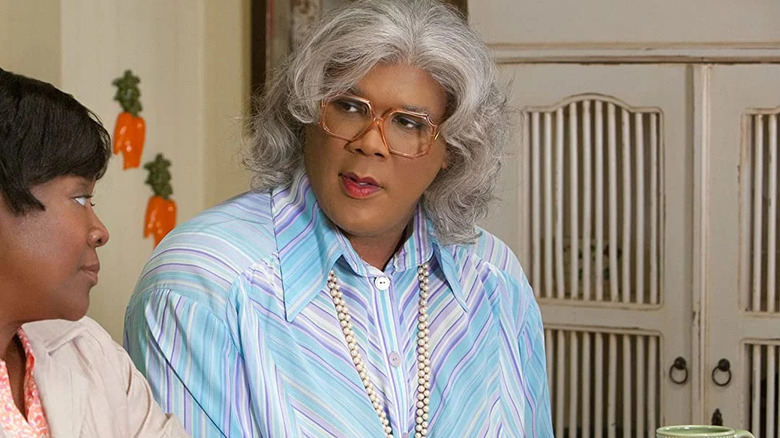 Lionsgate
Another flick adapted from one of Perry's plays, "Family" has Madea attempting to bring her incredibly dysfunctional family together after hearing the news that one family member's health is failing. Unfortunately, said family is too busy fighting amongst themselves over petty drama to hear the news of Shirley's (Loretta Devine) cancer diagnosis. When Shirley passes away before fixing her relationship with her family, Madea steps in and takes over for her, telling the family to take responsibility for their choices and make amends with one another before it's too late.
While "I Can Do Bad All By Myself" suffered from being slightly too dramatic and serious, "Madea's Big Happy Family" exists in the ideal Madea balance between comedic and dramatic tones. Despite the plot revolving around a cancer diagnosis, it manages to have a good time, with a few eccentric characters and a well-balanced tone of comedy antics to keep the film from lagging.
5. A Madea Christmas (2013)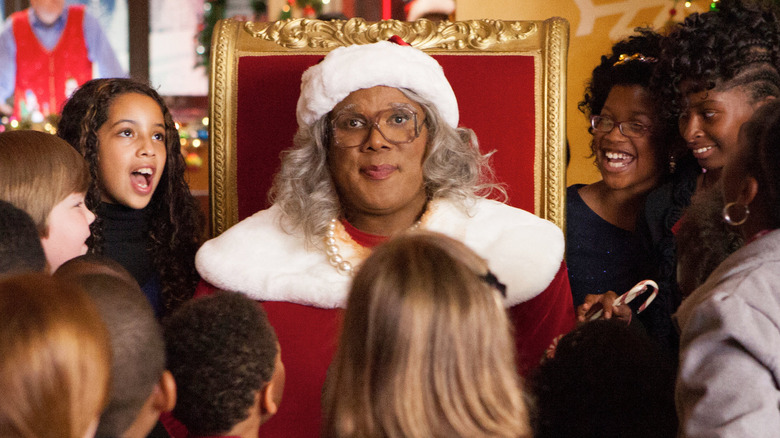 Lionsgate
The first holiday film that Perry put Madea in, "Christmas" led to the aforementioned Halloween movies – and who knows? At this point, perhaps Madea could become the new Charlie Brown. 
But while the Halloween films tried to earn laughs, Perry wanted to tug at heartstrings with this Christmas film, which explores questions of religion and how the holidays' origins can be reconciled with their modern trappings. Without ever getting overly preachy, the film softens its blows with some good yuletide gags — Madea is a comedic character, after all.
While the film reaches for a feel-good vibe, it feels very low budget, making it feel at its worst moments like a Hallmark Channel film. But this also makes it feel like more of a holiday story, since modern audiences have become so accustomed to the trappings of that genre signaling end-of-the-year, sugary-sweet stories of inspiration. Don't be surprised if by the end, it makes you want to sit on Madea's lap and give her a holiday hug.
4. Madea's Witness Protection (2012)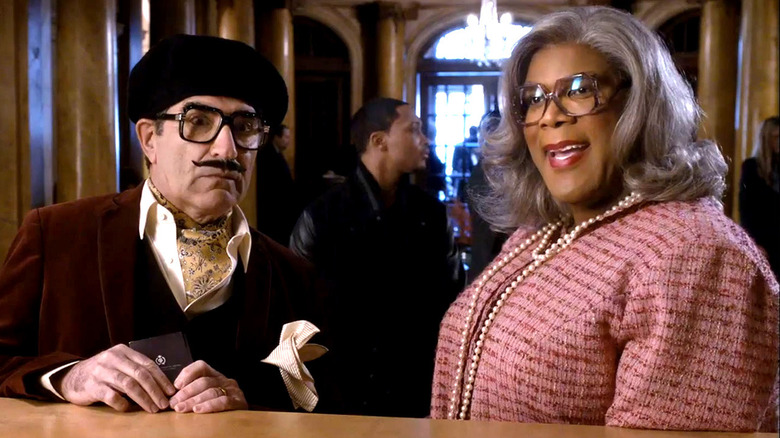 Lionsgate
According to IMDb's rating, "Madea's Witness Protection" and "A Madea Christmas" are tied in audience appreciation, and it's not difficult to see why, as "Witness" features Perry's iconic character paired with the comedic talents of Eugene Levy from "Schitt's Creek." The film's plot has a Wall Street banker and his family being forced to live with Madea as a form of witness protection from the mob. 
Absurd? Naturally. Hopelessly high-concept? Sure. But the execution is so breezy and fun it will make you want to go along for the ride.
Madea and Levy play well off each other, as the two families in the film learn to co-exist and better relate to those around them. Levy is one of the all-time great second bananas, and his straight-faced deliveries and always entertaining eyebrow arches drive a light-hearted story with a little something in it for everyone. Ultimately, "Witness" is a fun time with enough feel-good moments to make it worth watching.
3. Madea's Family Reunion (2006)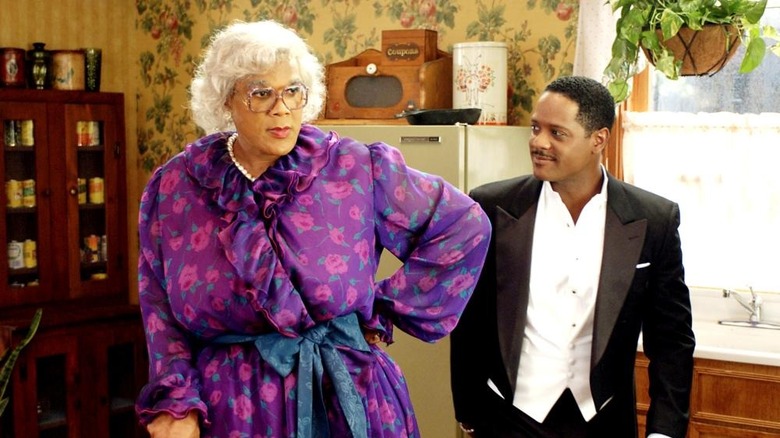 Lions Gate Films
The second Madea movie to be released after the character became a household name, "Family Reunion" was a key component in an early-career movement that Perry masterfully orchestrated, taking Hollywood by storm with one word-of-mouth hit after another, launched without the benefit of major studio advertising campaigns or major stars in lead roles.
This film follows the same early Madea formula of serious storylines mixed with humor, which have always given Perry's films a distinctly un-Hollywood feel that makes them stand out. 
This time around, Madea has been tasked with becoming the guardian of a rebellious teen. It doesn't take long for Madea to whip her into shape, all the while planning a family reunion for her large, dysfunctional clan. The film covers some dark topics, but has an overarching message of standing up for yourself and those nearest to you. Madea teaches the characters in this film that they need to be strong enough to save themselves, because no one else is going to do it for them. 
While "Reunion" may not be as funny as some of the other Madea films, its message about empowerment and finding the strength within gives it perhaps the best underlying message of the series. Plus, it has the acting support of Cicely Tyson, Blair Underwood and even civil rights activist/poet Maya Angelou.
2. Diary of a Mad Black Woman (2005)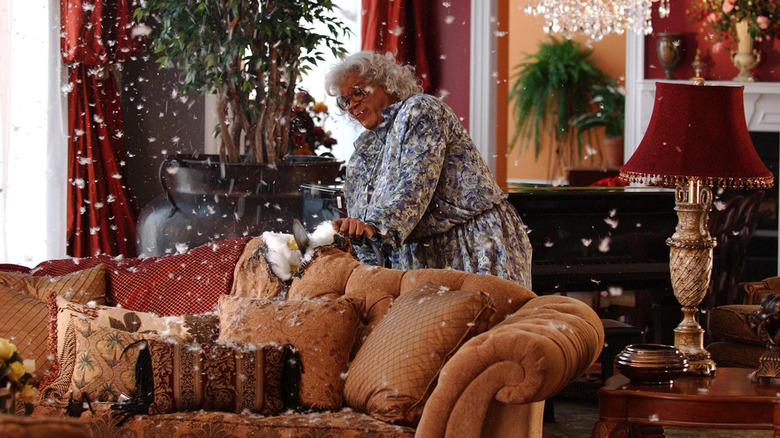 Lions Gate Films
The movie that started it all, "Diary of a Mad Black Woman" was an out-of-left-field hit that Hollywood never saw coming. Much like "My Big Fat Greek Wedding" a few years earlier, the film was released with minimal fanfare — but its filmmakers wisely galvanized underrepresented audiences, churchgoers looking for wholesome Hollywood entertainment, and strategic early screening audiences to mint a phenomenon.
Perry's debut feature film, "Diary" introduced the Madea character but didn't make her a central focus of the film. As with "Madea's Family Reunion" or "Madea Goes to Jail," the character serves as wise (if eccentric) sage, used to help others come to terms with their situations and find the strength to fight back.
"Diary of a Mad Black Woman" did a good job at balancing romantic aspects with the dramatic and emotional ones; its comedy, however, was what set it apart. Who could forget Madea taking a chainsaw to a couch, declaring that half of everything in the house belonged to granddaughter Helen (Elise)? As one of the funniest moments to result from Madea's shenanigans, it's a classic. But it's also amazing to consider the way Perry used this film to not only earn his seat in Hollywood as a power player, but launch a career (and his own cottage industry) that is still going strong two decades later.
1. A Madea Homecoming (2022)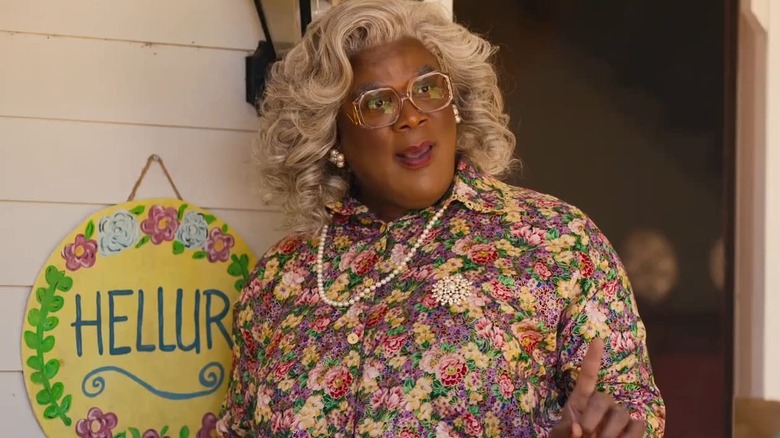 Netflix
After "Funeral" landed with a thud, this 2022 entry had Perry deciding to team up with Netflix for a film that would bring back his iconic character; it's the highest-ranked Madea flick on IMDb by fans, so clearly, that was the right decision.
While "Homecoming" has plenty of humor, it is also fueled by a theme of acceptance and understanding that makes the film engaging and heartfelt. The plot revolves around two different families that come together to celebrate a graduation and the friendship between Madea's relative Tim (Brandon Black) and Davi (Isha Blaaker), whose family arrives from Ireland to celebrate. 
"It's silly and over the top but it is entertaining and makes me laugh," says one IMDb user in their review, praising the film's breezy watchability. "I'm glad Tyler Perry decided to bring her back. Right now the world needs a little bit of mindless entertainment and laughter."