How Many Episodes Will The One Chicago Shows Have For The Current 2022 Season?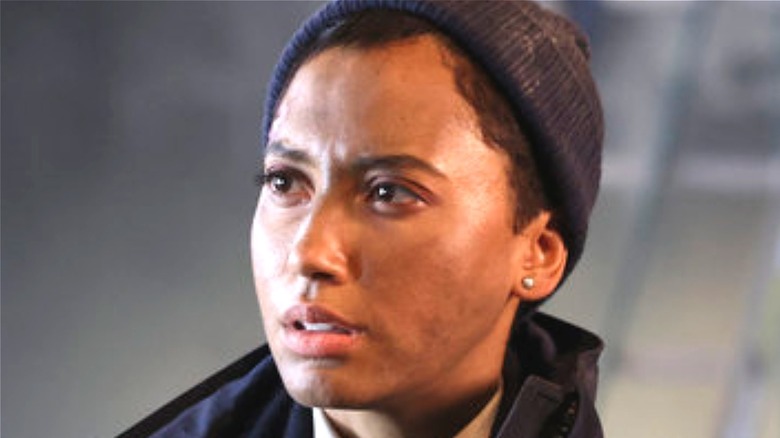 Adrian S. Burrows Sr./NBC
The "One Chicago" franchise has managed to become one of the most built-out, shared TV universes across television. Starting with "Chicago Fire" in 2012, the franchise has gone on to spawn three spin-offs: "Chicago P.D.," "Chicago Med," and "Chicago Justice," each focusing on the lives of Chicago-based professionals in the shows' titular fields, and all sharing continuity with each other. Though "Chicago Justice" was canceled after just one season, the other three shows are still going strong, and have built up a devoted following.
For NBC's current 2022 season, "Chicago Fire" is airing its 10th overall season, while "Chicago P.D." and "Chicago Med" have entered their 9th and 7th seasons, respectively. Fans have eagerly followed along with the latest installments of the shows as they release, but some may be wondering just how long these current seasons will run in total. As it turns out, the answer is a little more complicated than one would think.
The latest One Chicago seasons have 22 episodes... with breaks
In an interview with Variety discussing the current 2022 season, Steve Kern, head of scheduling for NBC, explained the strange situation surrounding the "One Chicago" shows. It turns out that while the actual seasonal length for these shows is 35 weeks long, each of them is only capped at 22 new episodes, leaving roughly 12 to 13 weeks in which their usual slot needs to be filled by reruns or other programming.
One such programming gap was filled for two weeks by the coverage of the Beijing 2022 Winter Olympics in February, and another mini-hiatus for the shows has spanned the final week of March and first week of April. This gap is set to conclude with "One Chicago Day" on April 6, an annual event which celebrates the franchise and will see each of the shows release their next respective episodes. Despite this news, it remains to fully be seen how the network will approach the rollout of the final few episodes of the season for each "One Chicago" show.
Unfortunately, all of this information means that while avid viewers of the "One Chicago" franchise know how many episodes these current seasons will have, they still don't have a perfectly clear picture of when they can expect the final handful of episodes to release. Hopefully, official air dates for the remaining episodes are imminent, and the "One Chicago" shows can smoothly conclude their current seasons.