The Biggest Mistake Linda Ever Made On Blue Bloods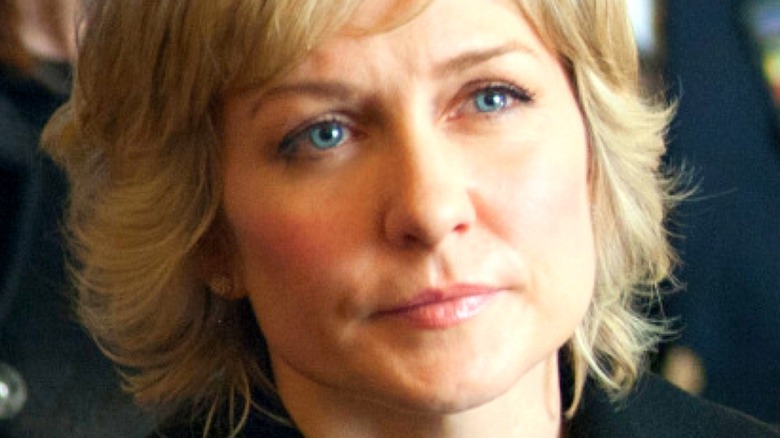 Jojo Whilden/CBS
Over the course of the first seven seasons of "Blue Bloods," Danny Reagan (Donnie Wahlberg) is grounded by his life at home. His chaotic job working for the NYPD constantly gnaws at his mental health, but at home, his wife Linda (Amy Carlson) crucially provides him a soft place to land. She does that, even though she has her own demanding day job.
Linda Reagan's time at the Reagan dinner table ended off-screen via a freak helicopter accident between the finale of Season 7 and the premiere of Season 8. During the premiere, Danny and his two sons are dealing with the grief caused by their mother's death. What would happen to the family in her absence? How would the boys respond? Would one of them fall apart? Act out? Would Danny spiral without his anchor? These are questions that the Reagans have probably had to ask themselves more than a few times, given their matriarch's selfless instincts.
There have been many moments on "Blue Bloods" when Linda puts herself in danger, and one of these is Linda Reagan's biggest mistake from her run on the show.
She recklessly put herself on the line to protect a patient
Linda Reagan takes her job as a nurse very seriously.
In the Season 5 finale, "The Art of War," a man named Hector Florez (Felix Solis) witnesses the murder of Deputy Chief Donald Kent (Dennis Haysbert), so the gangs attack him in an attempt to keep him from speaking to the cops. A boy named Curtis Turner (Denzel Whitaker) is tasked by the gangs to finish the job by killing Florez in the hospital. Linda being Linda, she puts herself between the gun and the patient. 
Turner's mother is a coworker of Linda's, and she doesn't believe he will pull the trigger. Unfortunately for her, she's wrong, and Curtis fires. After rendering aid to Florez, the other doctors and nurses notice Linda was also shot. Her life hangs in the balance as Danny searches for the killer, and the audience is left to wonder if she will survive. Although she ultimately does survive, the shooting causes serious damage to her psyche. 
While attempting to do her duty and protect her patient, she forgot an important rule — that she has to keep herself safe first. She can't help any patients, if she herself isn't safe. Her sacrifice stands as one of the many shocking moments from the annals of "Blue Bloods."